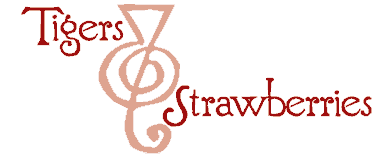 Cook Local, Eat Global
Spring is finally in full swing, with sunny days, cool nights and the warming earth is sending forth shoots, leaves and flowers to be enjoyed by all who long for fresh green vegetables after a winter of potatoes, turnips, squash, and frozen and canned veggies.
This recipe came out of what was in my refrigerator. Much of it came from the farmer's market, so it is local, but I have to admit that the asparagus was from the grocery store (and California before that) and the peas were frozen, also probably originally from California. We still have a week or so to go for fresh peas and asparagus here. BUT, as soon as I get my hands on them, and maybe some morel mushrooms plucked from our damp Appalachian earth, you can be certain that I will be making this dish again.
It started out as pasta alfredo. Except that as I was digging about in the fridge, I thought to myself, "Alfredo isn't really that nutritive, and it can be somewhat bland. Let's add some onions and garlic–ooh, I have fresh local green garlic from the farmer's market. And ooh–look, I have that asparagus I bought yesterday. Oooh. And the ramps from the farmer's market–those will certainly add flavor. And frozen baby peas. And oh, look–that fresh goat cheese I picked up at the farmer's market too. I bet that would be awesome."
So, out of the fridge and pantry came all of the aforementioned bounty, and within twenty-five minutes, dinner was on the table: pasta with springtime vegetables in a sauce made from local cream, goat cheese and a sprinkle of imported Parmesan.
I think that the only way to improve this dish, other than using locally grown peas and asparagus, would be to add morel mushrooms to it. Zak would disagree with me, but that is because he suffers from funguphobia, which is a very sad thing. Sad for me, anyway, because that means I seldom get to indulge in my funguphilia. Zak, on the other hand, is perfectly happy avoiding mushrooms.
Anyway, here is the recipe, which is simple to put together and makes a great meatless meal in celebration of the fresh springtime foods, especially if you add a spinach and leaf lettuce salad with delightful radishes like we had from the market as well.
Zak calls this dish "Twigs and Berries Pasta," because of the shapes of the vegetables and the penne I tossed with it, but I prefer my slightly more accurate name.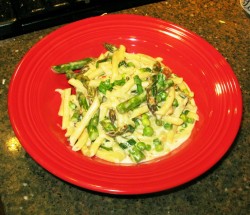 Appalachian Pasta Primevara
Ingredients:
2 tablespoons butter
3/4 cup thinly sliced onion
1/4 teaspoon salt
1 tablespoon minced green or regular fresh garlic
1/2 teaspoon Aleppo pepper flakes
3/4 pound thin asparagus, trimmed and cut into 1″ lengths
1 cup freshly shelled or frozen peas, thawed
1/3 cup heavy cream
1/4 cup freshly grated Parmesan cheese
4 ounces fresh goat cheese
1 cup thinly sliced ramp leaves
Method:
Heat butter over medium heat in a heavy-bottomed skillet until it melts, then add onion. Sprinkle with salt and cook until golden, stirring as needed. Add garlic, Aleppo pepper flakes and asparagus and cook until garlic is golden and fragrant and asparagus is bright green, but only half-tender. Add the peas and the cream, and cook.stirring until the asparagus is tender and the cream reduces slightly.
Add the two cheeses, and stir until the melt, then stir in the ramp leaves, and add cooked pasta to the pan, and toss to combine.
Serve with salad.
(You could add baby spinach leaves to this at the end along with the ramp leaves, or some morels when you cook the onions.)
10 Comments
RSS feed for comments on this post.
Sorry, the comment form is closed at this time.
Powered by WordPress. Graphics by Zak Kramer.
Design update by Daniel Trout.
Entries and comments feeds.