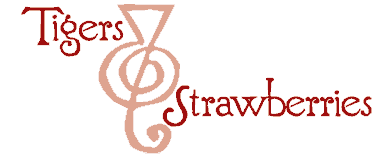 Cook Local, Eat Global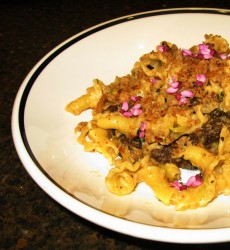 Today was a gorgeous spring day: the sun was bright, the sky was a perfect robin's-egg blue, and flowers bloomed, filling the birdsong-laden air with fragrance.
Zak's favorite tree is blooming, the tree that always says "springtime" to him–the redbud.
A native to the eastern US, particularly the Appalachian mountain regions, the redbud is a very small leguminous tree which in the spring is covered with tiny magenta-violet blossoms that look like miniature sweet pea flowers. Of course, there is a reason for that–remember I said that the tree was leguminous, meaning it is related to garden peas, sweet peas, peanuts, locust trees, beans of all sorts and lentils.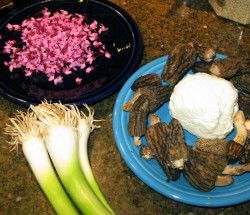 These tiny, lovely blossoms are edible, a fact little known outside of Appalachia. They are most often eaten raw in salads or used as a garnish, although they are also sometimes added to sauces or soups so they barely cook, retaining their fresh rosy coloration. Their flavor is rather bean-like, lightly sweet and somewhat starchy, with a tiny tang in the finish.
Long ago, the greenwood twigs and bark were also used to season game meats, leading to the common name, "spicewood tree" by which it is still known in isolated areas of Appalachia.
I like eating the flowers–I like the fresh sweet bean flavor, and in the past, I have mostly used it in salads and salad dressings, although I have also cooked with it, most notably in stir-fried dishes. But, as much as I enjoyed adding redbud flowers to chicken with bitter melon, the application wasn't really as seasonal and local as it could have been.
I mean, there are plenty of classic Appalachian springtime foods one can gather from the wild with redbud flowers. Ramps are a perfect example, as are morels and tiny baby sheep sorrel.
I lucked into a pint of morels at the farmer's market on Saturday which had been gathered by Chris Schmiel, founder of the Athens County PawPaw Festival, cultivator and gatherer of pawpaws, black walnuts, spicebush berries, ramps, wild mushrooms and all the other fine bounty of our Appalachian woodlands. He also makes the most delicious fresh chevre I have ever eaten in my life. Moist and soft with no chalky mouthfeel and delicately flavored with just a hint of sharpness, it is amazing. I buy some every week starting in the spring and continuing into fall, as long as his goats continue giving milk.
This afternoon while we drove off to Lancaster to pick up some sewing machine needles, as I watched the scenery pass and saw all of the redbuds in joyous bloom, I had the inspiration of combining morels, redbuds and chevre into a pasta sauce. If I'd have had ramps, those would have gone into the sauce as well, but I was out of them. Instead, I used some green elephant garlic, which I bought from Rich Tomsu at the market on Saturday.
(When I told Zak about the idea, he grinned and said that what he liked best about local foods was the seasonality of them. That you only have redbuds, ramps, and asparagus for short periods of time, so you eat a lot of them, and feast, and it is like a holiday that you look forward to all year around. Because, as he said, yeah, eating local is politically satisfying and good for the environment, but what turned him into a convert was that it all tasted so good. )
Green elephant garlic looks an awful lot like leeks, (there is an excellent reason for that–elephant garlic is more closely related to leeks than to garlic) but I discovered while I was cooking it that it smells and tastes like a milder form of ramps. The green and white stalks worked perfectly in the sauce, which I decided to call "Enchanted Forest Pasta" because the conical shape and wrinkled visage of morels reminds me of what little gnomes wearing pointy hats might look like, and because I always think that eating flowers is somewhat fey and not entirely proper. There is just something fairytale-like about eating foods gathered from the woodlands, and I cannot help but think that I eating what elves and spriggans might eat if the did indeed exist.
Like most simple pasta sauces, this dish went together easily and quickly. The morels required the most effort, being as they tend to hide grit and dirt in their hollow centers or among the wrinkled whorls and crevices of their surfaces. I rinse them briefly in water, cut them in half, trimming the bottom of the stem if it is tough, and then I shake each halved cap in a small bowl, knocking loose any remaining dirt and sand. Then, I take the caps out of the bowl and set them aside to dry until it is time to cook them.
The only non-local ingredient that I used in this sauce (the pasta wasn't local, either, nor was the Aleppo pepper, now that I think on it) was the handful of pine nuts I added to it. I just thought that they would taste good with it, and I wanted something with a bit of crunch other than the fresh buttered breadcrumbs I made out of the heel of a loaf of honey oat bread from The Village Bakery, which is just down at the bottom of the hill our house sits on. While the pine nuts were good, honestly, I think that the breadcrumbs would have been fine on their own.
So, here is the recipe–note that it has fewer ingredients than most of my recipes, and that makes it great for a weeknight for normal folks, for a weekend after a long night shift for a restaurant worker. It is a beautifully balanced dish–the meaty, earthy morels flavor the cream and thus the sauce, but are held in check from overpowering everything by the sweet sharpness of the green garlic, and the tang of the goat cheese. The breadcrumbs and pine nuts add crunchy brown notes and the redbud blossoms add as sweet, leguminous crunch and aroma. It is the essence of springtime in the Appalachian hills and valleys I have always called home.
This would be great with a baby spinach salad topped with roasted baby beet slices and dressed with a simple balsamic vinegar and olive oil dressing.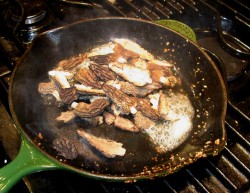 Enchanted Forest Pasta
Ingredients:
1/4 cup butter, divided
1/2 cup green elephant garlic, white and light green parts only, thinly sliced (or use regular green garlic, leeks, or the white and rose colored part of ramps–the bulb parts)
pinch salt
1 pint fresh morel mushrooms, well washed and dried, stems trimmed as needed, and cut in half longitudinally
1/2 teaspoon Aleppo Pepper flakes or a pinch of hot pepper flakes or freshly ground black pepper to taste
1/2 cup freshly ground up breadcrumbs from some really good, but somewhat stale, wholegrain bread
1/2 cup dark green parts of green elephant garlic leaves, or leeks or regular green garlic or ramp leaves, thinly sliced
1/4 cup pine nuts–optional
1/3 cup cream
4 ounces fresh chevre
1/2 cup fresh redbud blossoms, stems removed
salt and pepper to taste
Method:
Put one tablespoon of the butter in a heavy-bottomed skillet over medium heat and allow to melt. Add green elephant garlic slices and sprinkle with salt, and saute until white parts are golden, stirring constantly to break up the slices into rings. Add one more tablespoon of butter, and add the mushrooms, and cook, stirring until they shrink a bit and soften, about three minutes. Add the Aleppo pepper, the pepper flakes or black pepper, and scrape out contents of pan into a bowl and set aside.
Add another tablespoon of butter to the pan and stir in the breadcrumbs, and cook until toasted and fragrant–about two minutes. Scrape out into a bowl and allow to cool.
Add final tablespoon of butter to the pan, and add the green tops to the garlic, along with pine nuts. Cook, stirring, breaking up garlic slices into rings, until fragrant and pine nuts are lightly toasted. Add the first batch of garlic and the morels back into the pan, and deglaze pan with the cream, scraping up any browned bits that have stuck to the bottom.
Allow cream to reduce for about two minutes, then crumble the chevre into the pan, stirring until it melts and incorporates itself into the sauce.
Add 1/2 of the flowers to the pan, and stir well to combine. Add salt and pepper to taste if needed. Toss the sauce with cooked, drained al dente pasta, then garnish with the remaining flowers and the breadcrumbs.
Serves four for a main course.
Posted by Barbara on April 22, 2008 in Local and Sustainable, Local Athens Food and Foodies, Recipes: Almost Vegetarian, Vegetarian and Vegan, Recipes: Appalachian Hillbilly, Recipes: Bread, Pasta, Grains, Recipes: Fruits and Vegetables, Recipes: Italian | 7 Comments
7 Comments
RSS feed for comments on this post.
Sorry, the comment form is closed at this time.
Powered by WordPress. Graphics by Zak Kramer.
Design update by Daniel Trout.
Entries and comments feeds.