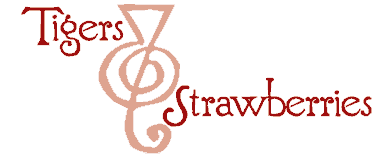 Cook Local, Eat Global
We are working on upgrading WordPress for Tigers & Strawberries. That is the good news.
The bad news is that SpamKarma2, the spam filter that keeps the porn, ads and other bullshit spam comments off my blog has decided to somehow blacklist ME, so I have not been able to comment on my own blog in about a week or so. This is frustrating. It may be that someone hacked my account and added my IP address to the blacklist on spam karma, but Zak can't really figure out what happened.
So, here is the deal. I'll keep T&S up and running while he works on it, but if you post a comment and you want me to answer it–send it to me in email as well. Because for right now, I cannot really contribute to conversations via the comments threads.
And, while I am at it, here is a question for the readers–what kinds of posts would you like to see on T&S in the future? Work has taken a lot of my time, and Kat and the rest of the family, of course, takes up a lot of time, so I am running out of ideas as to what to write about. So, if anyone has any suggestions, I would be pleased to hear from you.
Thanks for everything, and have a nice Sunday!
27 Comments
RSS feed for comments on this post.
Sorry, the comment form is closed at this time.
Powered by WordPress. Graphics by Zak Kramer.
Design update by Daniel Trout.
Entries and comments feeds.