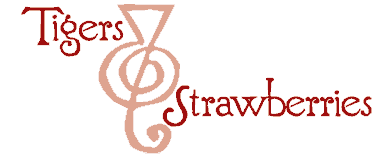 Cook Local, Eat Global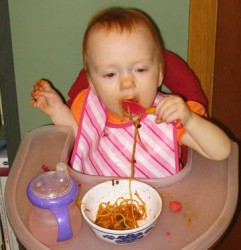 A few months ago on his blog, Anthony Bourdain was musing with horrified dread on the subject of what he would feed his infant daughter when she started eating solid food.
A lot of foodie moms (myself included) posted with the hopefully helpful advice that babies and toddlers will eat what you feed them. That is to say, if they never get a taste of Chicken McNuggets in the the first place, they won't insist on a diet that consists only of questionable chicken parts nuggetized and breaded with unknown substances and deep fried in half-degraded oil.
Watching Kat eat her own little bowl of Kiss Kiss Bang Bang Spaghetti the other day made me realize that I hadn't really talked about how toddler's tastes change and how to guide those tastes toward healthy, delicious food choices.
So far, Kat still tends to prefer flavorful, healthy foods, although she does love her ice cream, chocolate preferably. She doesn't get much in the way of cookies or cake or candy, simply because we generally don't keep such foods around our house. She still most often shares our meals with us, although there are some foods she doesn't seem to like much. Cow milk, except in the form of cheese, preferably sharp cheddar, cream, ice cream or yogurt lassi, is on her "I don't consume it" list. Meat is a sometimes food as well: some days she will refuse it, while at other meals, she cannot get enough of it. I have noticed that she tends to prefer chicken and pork to beef, but what she seems to prefer above all meat is eggs. (Kat really digs Cilantro Chicken Stir Fry–she eats that chicken so fast I can barely keep up with shredding it into little bites for her.)
She likes scrambled eggs so much that Zak has taken to calling her "The Oviraptor." She can power through one to two extra large farm fresh eggs from pastured hens in record time, gobbling them up using both a spoon and a hand, if the spoon method is too slow. She likes the way I cook them best–well beaten with a tiny bit of cream, a sprinkle of herbs and slowly cooked with a bit of butter–all local. At the end, I add a sprinkle of shredded sharp cheddar and serve it forth to her great appreciation.
Fruits and vegetables are a seesaw ride. One day she cannot get enough of oranges and tangerines, then two days later, they are the untouchables of the citrus world. Apples are beyond great one minute, and the next, she is tossing them to the cats as outcast unclean. Asparagus is viewed with suspicion when sauteed in butter, but let it be cut up in a creamy pasta dish and it is better than good and is pounced upon and gobbled up. Tomatoes are almost always the best beloved, although now and again they are given a fierce toddler glare that eloquently says, "I don't think so."
Noodles of all types, both Western and Asian, are a great hit, as is anything over or in rice. Pasta, especially long thin noodles, have the extra bonus of providing dinner time entertainment to Mommy, Daddy, Big Sister and any of the assorted dinner guests who happen to sit down with us. Tomato based sauces made with my home-canned tomatoes are greatly favored, but she also likes vegetable pastas with creamy cheese sauces too. Asparagus and spinach are great in her book if noodles are involved, and peas taste better when mixed into macaroni and cheese, a dish which we have renamed "Cheez n' Peaz." Kat loves her Cheez 'n' Peaz, although in typical toddler fashion, while she may eat peas with gusto one day, she may pick them out of her bowl and set them aside the next day.
That toddler tendency to eat a food one moment and refuse it the next is probably one of the must frustrating aspects to feeding a child of Kat's age. Some kids grow out of it by three, others continue in this irritating and confounding behavior until they are eight or nine years old. I think that the best way to deal with it is to not make a fuss about it, and if a kid doesn't eat one thing, offer something else–within reason–and then offer the once offensive food again in a day or so. Be laid back about it, though, because in my experience, the more attention paid to the behavior by a parent, whether positive, in the form of offering a dizzying array of food choices all of which the child may refuse just for the pleasure of feeling their own personal power, or negative, in the form of berating, cajoling, coercing or otherwise making a divisive issue of food, the more likely the child is to continue in the behavior, because they are rewarded by this attention.
When Kat refuses to eat something, I just shrug and offer something else. If she doesn't eat that, I figure she probably isn't really hungry. Most kids will not starve themselves, so I don't worry–I just keep an eye on what she eats over a period of days, instead of looking at what she is eating or not eating this minute. When I look at it that way, I find that she does eat a varied, nutritive diet, it just may not seem so at every meal when she pulls the bizzaro toddler trick of only eating one specific food for a meal or two.
That is my best advice to parents–take the long view when it comes to what your kids eat. Pay attention to the big trends, not the momentary whims. I find that Kat's appetite fluctuates depending on her growth patterns, her physical activity levels and her, uh, digestive status. (In other words, if she hasn't had a bowel movement in several days, it stands to reason that she might not eat much. Little bellies can only hold so much, and sometimes room needs to be made before a meal can go down.)
And when the momentary whims get you down, try and shrug your shoulders and ignore them. Feed them a varied diet in as calm and matter-of-fact way possible, and while you are at it, let them taste what you are eating, even if you think it is too spicy and they won't like it. (Within reason–no steak tartare or raw fish for babies, please!) They may surprise you and love it–Kat still adores all sorts of curries, and as you can see the allium-laden Kiss Kiss Bang Bang really was a big hit with my little highchair dweller.
Let toddlers see you and other adults and kids enjoying food, making appreciative noises and sounds. Let them experience laughter and conversation at the table, maybe even a tiny drop of wine from your fingertip, and offer a lick of garlic butter from your spoon. Start them on the sensual pleasures of food early and you will eventually have a life-long food lover on your hands.
In other words, make food fun, not a fight, not just for your kids' sake, but for your own as well.
15 Comments
RSS feed for comments on this post.
Sorry, the comment form is closed at this time.
Powered by WordPress. Graphics by Zak Kramer.
Design update by Daniel Trout.
Entries and comments feeds.