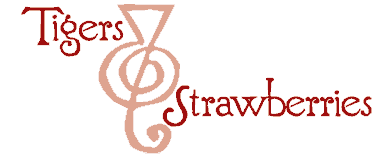 Cook Local, Eat Global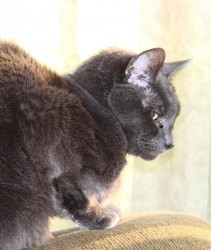 Yesterday morning was the end of an era. It was the end of the benevolent reign of the King of Cats in our house.
The day dawned sunny and warm as Zak sought out Ozy and put him into the dreaded cat carrier.
It was a measure of how tired, old and sick the King was that he didn't complain, struggle, nor attempt escape. He despised confinement, and every time Zak and I took one of our "across the countryside" moves–from Ohio to Rhode Island, from Rhode Island to Maryland, and from Maryland, finally back to Ohio–we had to tranquilize Ozy and crate him with his best pal Tristain, the ever-flighty Siamese, so as to avoid the His Big Grey Highness ripping out his teeth or claws as he tried to dismantle his carrier from the inside.
But, this one time, he didn't struggle, or fuss. I think he probably knew it was time.
It is hard to conceive of our household without Ozymandias, King of Cats. He came into our lives by showing up on my doorstep as a scrawny, underfed street kitten in Huntington, West Virginia. Zak had just said that he wanted a grey cat, for they were superior to all other cats two days before, so I called him and said, "Your cat is here on my porch. Come get him."
So, he did. He put the then nameless kitten in an unused ferret cage to transport him and was horrified at the crazed attempts the little thing waged to gain his freedom.
Ozy then got sick and Zak feared losing him, as he had his other beloved grey kitten, Mojo, to some dread disease like feline leukemia.
So, it was then that he bestowed upon the kitten a mighty name, a strong name, a name fit for a great king, which he hoped the little scrapper would grow up to be.
Ozymandias.
It turned out that the little critter was just constipated. After a mighty stench-filled series of rocks was released from his gut, he was fine, and went on to grow into a lanky, insane adolescent cat whose destructive potential was limitless.
He always had the propensity to show his displeasure by urinating on something–one time right after we flea-dipped him when he was a half-grown cat, he bounced off every bathroom wall (we locked him in there for the procedure), dashed out the newly opened door, and before Zak could close off the bedroom, he dashed in there, leaped on the bed, then squatted and soaked Zak's pillow, while staring balefully at him.
Luckily we laughed, although there were times when we would threaten to put him back out on the street for his antics.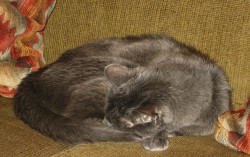 We never did throw him out, at least not permanently–we loved him too much.
And he finally grew to be a large cat in his maturity–twelve pounds, all of it lean, sinuous muscle. He was a very manly cat, although he was silly when he was younger, and could never hold his ears erect and centered–one was always cocked off-kilter, giving him a comical expression. He also was endowed with a low criminal forehead and somewhat beady eyes, which when he was younger made him look untrustworthy, but as he aged, it only gave his face character.
After about five years of life and many adventures, he finally attained some measure of gravitas, and was able to look calm, collected and dignified. (Except when the ferrets were loose–he never lost his absolute terror of those critters, and would flee instantly upon their approach.) He became a tremendous mouser, and ruled all the other cats of our household with an iron paw–well, not really. He was the King, however, and while he seldom had to cuff any of his subjects, he still would throw down and wrestle one or another of them to floor if they became too uppity.
Morganna cannot remember a time without Ozy, but sadly, Kat will never remember him at all. (Nor will she know Liriel or Nan, or dogs, nor any of the other wonderful cats who went before she arrived on the scene.)
Ozy slowed down over the years, of course, but all the other cats, even the ones younger and stronger, respected him, and bowed to his superior feline nature. Our friends imagined that he spoke with either Elvis Presley's or Johnny Cash's voice, and elaborate monologues were devised on his behalf. Many songs were sung in his honor and many fond names were given to him over the years, as he only grew in stateliness and stature.
But, over the past few years, he had begun to shrink and wither before our eyes. Old age was finally taking its toll, and he began to slow down, his eyes dimming with cataracts, his once silvery-sheened fur dulling and thinning. His purr still rumbled like thunder and rain, however, and whenever any of us cried, whether it was Morganna, myself, Zak or Kat, he would come running, and butt his head against us, purring his mighty purr in consolation.
In recent weeks that purr had quieted to a pale whisper of its former glory.
And now, it is gone forever.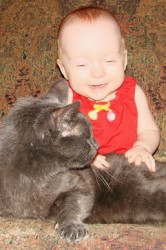 It is hard to cry now, knowing that the rumble purr won't be there to sooth my tears.
But then, I look at this picture of the King and Kat, from just a few months ago, and I cannot help but smile. He isn't here in body, but his spirit remains in my memory, just as his fur is still sticking to the back of the loveseat that he claimed as his throne. He'll always be the King to me, the greatest cat who was with Zak and I through the best of times and the worst of times, and brought us much joy and laughter over the years.
And so, in memory of our beloved King of Cats, I paraphrase Shelly:
Hail Ozymandias, king of cats: Look upon his works, ye Mighty, and despair!
26 Comments
RSS feed for comments on this post.
Sorry, the comment form is closed at this time.
Powered by WordPress. Graphics by Zak Kramer.
Design update by Daniel Trout.
Entries and comments feeds.