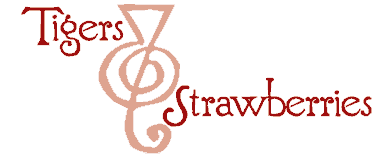 Cook Local, Eat Global
This has been a super-busy week.
We had a load of prep to do at work, and at home, we had to get our butts in gear, and get our ducks in a row and all those cliches, because we were going to be inundated by grandparents, grandparents and more grandparents, all coming together in order to witness Morganna Arianna Marks graduate from Athens High School.
And then, Morganna's friends and relations came together to celebrate.
They came and ate dinner at Salaam, which was cool–and in honor of Morganna's status as the graduate, I let her choose which dinner specials I would make for the evening. (We had Chicken Tikka Masala, Persian Cherry Kofta, Channa Masala, and Grouper a la Grecque, as well as Dates a l'Aziz as an appetizer, and for dessert, Chai Creme Brulee and Turkish Coffee Truffles.) It was a nice, relaxing evening–meaning, our business was kind of slow–so I got to sit with the party, and hold Kat so Zak could eat. Kat loved watching our belly dancer, Leah, dance–and she had fun standing on the floor and wiggling along with her. It was really, really cute.
It was nice to have a relaxing Saturday night after a busy Friday night when we had about twenty-five people lined up out the door, down the alley and around the corner waiting to come in as soon as we opened. Ten minutes after the door opened, the dining room was filled. I am not kidding. It was cool.
And let me brag on my kitchen staff here–they rocked the place. No table got food late, we screwed absolutely nothing up and we rode the wave of the rush on a steady diet of Turkish coffee and 80's music. Talcon kicked ass and took names on the dishes, Galen rocked the salad station and Morganna worked her butt off on the hot entrees, while I expedited, and manned the oven station and dished out dinner specials.
It was fun. We were high on adrenaline, Prince and Cyndi Lauper. We were singing and dancing while we pumped out the food in a steady, easy stream.
We were having so much fun that a guest, on his way back from the restroom, stopped at the kitchen door to dance and sing a bar or two of "Girls Just Wanna Have Fun" with us.
It was cool.
So, look for more posts in the coming week, although I will still probably be busy prepping at work, since this coming weekend is Ohio University's graduation, and well–that is a big restaurant event here in town. So, maybe you will hear more from me this coming week.
I sure hope so–even though I am sure I am going to be riding some big waves in the kitchen this week!
8 Comments
RSS feed for comments on this post.
Sorry, the comment form is closed at this time.
Powered by WordPress. Graphics by Zak Kramer.
Design update by Daniel Trout.
Entries and comments feeds.