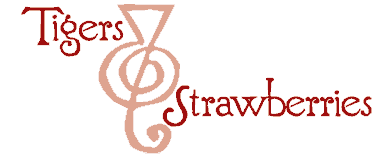 Cook Local, Eat Global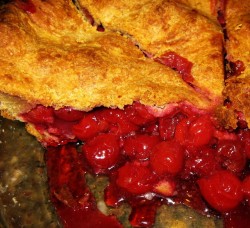 I've been meaning to try baking with King Arthur Flour's white whole wheat flour for quite some time. White whole wheat flour is ground from a different variety of wheat–hard white winter wheat, to be exact–than the usual whole wheat flour which comes from hard red winter wheat. Lacking the tannin that comes with the coloring of the bran in red wheat, whole grain flour ground from white wheat is supposed to be milder in flavor and paler in color. (Not that the color of whole wheat bothers me, mind you–even when I was a kid, I preferred my bread to be brown–it had more flavor that way.)
But alas, I didn't get down to experimenting until yesterday, when I decided to make my first cherry pie of the season using fresh local sour cherries, only a little bit of sugar, butter from grass fed cows and of course, the white whole wheat flour. Instead of just replacing a portion of the all purpose flour in my recipe with white whole wheat, I decided to try making pie with just the whole wheat.
And you know–it turned out pretty darned tasty.
I added an extra tablespoon of raw sugar to the dough to make up for the less mild flavor of the whole wheat flour, and added a tiny bit extra of water–about two tablespoons worth–to make up for the fact that the whole wheat flour is drier. Those were the only changes I made to my usual dough recipe and when the pie was in the oven, it smelled amazingly good. /it smelled like I had made the crust out of nuts or something, so intense was the deep brown aroma that wafted through the house.
How did it taste?
I really liked the flavor–it was sweet and nutty, with a strong wheat flavor–like bulgar wheat, in fact. It complimented the sour cherries rather well–their tart, sweet flavor and velvety texture went well with the rustic crust.
My one complaint was that the crust wasn't very flaky, probably because of the gluten content in the flour. Next time, I will go half and half with the white whole wheat and all purpose flour and see if I can strike a balance between whole grain goodness and flavor and the flakiness that all purpose flour provides.
But, even so, I can see using this all whole wheat crust for something other than a fruit pie. Like a quiche, one with potatoes, kale, mushrooms and a mixture of strong cheeses like extra sharp cheddar and aged gouda. I also think this crust would be great for a Jamaican meat patty–imagine a turnover baked from this nut-like pastry dough filled with meat seasoned with allspice, Scotch bonnet peppers, scallions, garlic and thyme.
Or what about a samosa pie? Bake the curried potato and pea filling for samosas into a pie. Or mattar paneer. Oooh. Mattar paneer pie.
Geez, I am drooling just thinking about it.
Anyway, here is the recipe for the low-sugar all whole wheat cherry pie I made yesterday. If any of you try it out, let me know what you think. I mean, I know that pie isn't an intrinsically healthy food, but it is kind of nice to eat it and not feel too awfully guilty over it.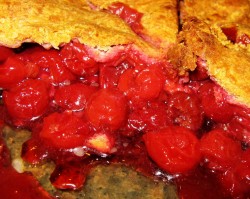 Sour Cherry Pie With Whole Wheat Crust
Ingredients:
6 cups pitted sour cherries
scant 1/2 cup raw sugar
1/4 cup cornstarch
1 teaspoon vanilla extract
2 tablespoons butter, cut into small cubes
2 3/4 cups white whole wheat flour
2 tablespoons raw sugar
1 teaspoon salt
1 cup very cold butter
1/2 cup ice water, plus two to four tablespoons if needed–start with the 1/2 cup and go from there
Method:
Preheat oven to 400 degrees F.
Toss cherries, sugar, cornstarch and vanilla extract in a bowl. Set aside.
In a large bowl, mix flour, sugar and salt together well. Cut butter into very small pieces, and scatter over the top of the flour. Using a pastry cutter, cut the butter into the flour until the pieces resemble coarse crumbs, with the largest being the size of a a large pea.
Add the 1/2 cup of water, and with your hands, bring the flour and butter mixture together until it forms a dough. If you need more water, sprinkle more over the dough a tablespoon at a time. Handle the dough as little as possible, gathering it together and patting it into a ball. Do not compress it or squeeze it together.
Cut the dough into two roughly equal pieces. Pat these pieces into discs about 1″ thick. Wrap them in saran wrap and place them in the refrigerator to firm up.
Roll out one disc of dough for your bottom crust. Place in a pie pan and trim so that 1/2″ inch from the rim of the pie pan. Add cherry mixture and sprinkle the two tablespoons of butter cut into small pieces over the filling. Roll out the second disc, drape over the pie and trim to the same size as the bottom crust. Pinch dough together at the edges and flute using your fingers and thumb to make a decorative edge.
Cut a few holes in the center of the pie for steam to vent.
Put into the oven for thirty minutes. After thirty minutes, turn the oven down to 375 degrees F. and turn the pie 180 degrees. If the edges of the crust are browning too much, cover them with strips of foil to protect them. Bake for 35 more minutes or until crust is deep golden brown and the cherries are bubbly and the juices are thickened.
10 Comments
RSS feed for comments on this post.
Sorry, the comment form is closed at this time.
Powered by WordPress. Graphics by Zak Kramer.
Design update by Daniel Trout.
Entries and comments feeds.