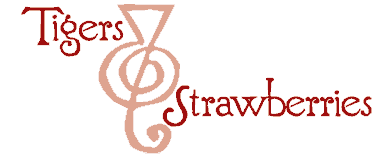 Cook Local, Eat Global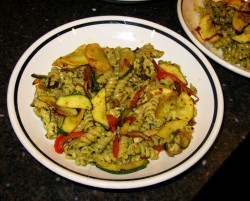 I want you to look at that delicious bowl of pasta pictured here.
This is what I tossed together for dinner tonight, because it was quick, easy and nutritious, and all of the ingredients except the pasta, olive oil, salt, Parmesan cheese and Aleppo pepper were local.
Very local, in fact–everything else was grown right here in Athens county.
The onions, squash and garlic came from Rich Tomsu's organic farm. Shade River farm supplied the organic sweet pepper, tomato and fennel. Green Edge Gardens, another organic farm, grew the fresh shiitakes, and the absolutely delicious chicken breast (one, shared between four people and a baby) came from Bridlewood Acres. Oh, and the chevre was made by Chris Schmiel of Integration Acres, and the spot of cream that went into the sauce came from Snowville Creamery, which is one county over from us in Meigs county.
And the wedding bouquet-sized bundle of basil that got turned into pesto came from up on my deck. I have so much of growing so lushly up there I swear you'd never know I cut any.
So, what is my point, other than bragging about how grand it is to live in Athens, Ohio in the summer where you can get amazingly fresh, delicious, organic food?
Well, it is this. With all the local goodies I listed above, we ate organic pasta.
From somewhere else. (And I have no idea where–it is a product of the USA, but there is no telling where the wheat was grown. Probably in several different states.)
And ounce for ounce, we ate just as much pasta as we did everything else.
So truly, while we can eat like kings on the local bounty here in Athens, there are still significant gaps in our food supply–it is difficult to impossible to find locally grown staples such as grains and grain products and dried beans. This is not only a problem here in Athens–it is endemic to the way in which the United States food supply works. Staples tend to be grown in large farms which practice monoculture, with each staple being grown wherever the climate is best for it, and then it is shipped all over the country, and the world, for that matter, after they are harvested and processed.
But a pair of farmers here in Athens wants to study the feasibility of growing staple grains and legumes here in Athens county, and the USDA has given them a grant to do just that.
Brandon Jaeger and Michelle Ajamian are using a grant from the Sustainable Agriculture Research and Education (SARE) project of the U.S. Department of Agriculture (USDA), to test the feasibility of growing staple crops such as grains and beans in southeast Ohio.
According to the Athens News' front page feature story, the first crops to be tested during the next two growing seasons include buckwheat, millet, amaranth and quinoa, plus azuki beans, a highly nutritious Asian type of legume, and flour corn. Both the beans and corn are growing this year, and the pair plan to sell the corn to The Village Bakery where it will be ground and made into fresh tortillas.
I applaud Jaeger and Ajamian's work, and I hope that they have good results and high yields in their test plots. I'd love to be able to buy locally grown grains and beans myself, and I am hoping that what they discover with these varieties will be applicable to the growing of more familiar staple crops such as wheat, oats and any number of native dried bean varieties.
In fact, the only flaw I can see in their plan, is that while I love quinoa and azuki beans myself, I hardly think it is likely that a bunch of Athenians switching from eating pasta made from wheat and refried beans made from pintos or black beans to the more esoteric varieties these farmers are testing. Sure, the adventurous vegetarians, vegans and hippies among us will dive in with gusto, but the more conventional sorts will likely pass these offerings by, no matter how nutritious they are.
For one thing, not many people know how to cook quinoa, amaranth, or millet.
Cornmeal, we know from, but millet–to most Appalachians, that stuff is birdseed.
And, local these grains and beans might be, but I know that I won't give up my rice or my red beans for anyone, because, well–I like them too darned much. (And the likelihood of anyone successfully growing rice in Athens county is pretty low, so I figure that one of my non-local foods is just going to have to be rice.)
But the point is, as much as I love trying new things and being an adventurous cook, I doubt I would ever, unless forced into it, switch from eating wheat, rice and corn-based foods to the lesser known grains listed above.
I might integrate these ingredients into my pantry, but they would be additions, not substitutions, for the staple items already in place.
My solution is this–in addition to trying out the new and different staple foods, why not continue the experiment with more familiar grains and beans?
I know for a fact that wheat grows pretty well in Ohio, and I figure that since our second largest cash crop in this state is soybeans, why not try to grow some pinto beans, black turtle beans or red beans. Horticultural beans grow beautifully here, and they dry perfectly, as do Christmas limas–I still have some in my pantry grown by a local farmer last year, so why not give other, more familiar legumes a shot, too?
That said, I wish these intrepid farmers luck and a grand harvest. I hope that they do find a combination of staple grains and beans we can grow easily here in southeastern Ohio, ones that are not only nutritious and delicious, but also familiar enough to the average eater and cook to give them a try.
Oh, and look for a recipe for the pasta dish above tomorrow!
8 Comments
RSS feed for comments on this post.
Sorry, the comment form is closed at this time.
Powered by WordPress. Graphics by Zak Kramer.
Design update by Daniel Trout.
Entries and comments feeds.