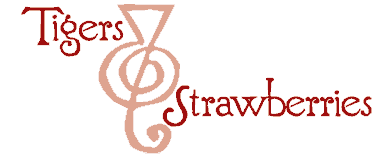 Cook Local, Eat Global
At Restaurant Salaam, we use a lot of basmati rice; it is the main starch which accompanies our curries, our kofta and dals. Twice, sometimes three times a day, we fill up our large electric rice cooker with basmati and water and in about twenty-five minutes we have perfectly fluffy, steaming hot rice.
Which is wonderful, because cooking it is a no-brainer for all of us; the rice cooker does all of the work.
But sometimes, particularly during the summer months, business is unpredictable, and we will have a large amount of cooked rice left over at the end of a shift.
Even if we were not dealing with rising food prices and food shortages around the world, I am loathe to waste any perfectly edible food, so I am constantly working to come up with new and different ways to use cooked rice.
My new favorite is to make a salad from it, and use it to stuff ripe, juicy local tomatoes.
The version pictured here has feta cheese on top, but the truth is, you could leave that out and have a wonderful vegan entree. Even so, as a vegetarian entree, the rice and tomato salad sold out last Friday night when I ran it as a special–it tasted so good you would never know that I put it together to use up leftover cooked rice.
To make it, I broke up the clumps of rice so that it all fell apart into individual grains, and then seasoned it with chopped raw red bell pepper, scallions, chopped Kalamata olives, Aleppo pepper flakes, finely diced red onion, toasted pine nuts, finely chopped parsley and lots of fresh basil. I also mixed into the dish leftover cold squash and eggplant simmered with onions, garlic, sweet peppers and tomatoes which I chopped roughly in the food processor. (You could use leftover ratatouille for this purpose, or just saute lots of onions and garlic, then add sliced green and red bell peppers. Finally add chunks of eggplants and squash and cook for a few more minutes before adding fresh or canned tomatoes and salt and pepper to taste.)
Then, I seasoned the rice salad with a simple lemon and olive oil vinaigrette, and let it chill.
The tomatoes were large fresh ones that I cored and then cut into quarters by cutting in a cross shape from the top almost all the way to the bottom. That way, the tomatoes fell open in a flower-shape, and that is where I stuffed the rice salad.
To assemble the salad, I used a mixture of baby spinach and romaine lettuce as the base of greens. Over that, I put a generous scoop of the rice salad, which makes a nest for the tomato to rest in–it keeps it from rolling around on the plate. Then, I put the tomato on top, stuffed it with another couple of scoops of rice salad, sprinkled it with feta cheese and then garnished it with a mixture of finely diced green and red bell peppers and red onion, a lemon twist and some chopped basil. I put a little bit of the same lemon olive oil vinagrette that I used in the rice in a cup on the side, and the dish was done.
I was clever and made up a salad to keep on the bar for the servers to carry to each table as a visual example of what the special looked like. The beauty of it is what sold it, and people loved it. It was light, yet still satisfying and was perfect for a hot, humid late-July night. It was also easy to make and a great way to use up rice that might otherwise have gone to waste–something which I hate to see happen.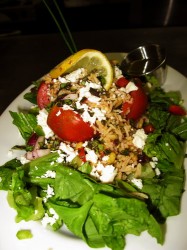 Local Tomatoes Stuffed With Mediterranean Rice Salad
Ingredients:
5 cups cooked cold basmati or other rice
1/2 cup finely diced red bell pepper
1/2 cup finely diced red onion
1/2 cup thinly sliced scallion
1/2 cup minced fresh parsley
2 cups packed basil leaves, minced
1 cup kalamata olives, roughly chopped
1/2 cup toasted pine nuts
1/2 cup ratatouille or just eggplant and squash cooked with tomatoes, chilled and half-pureed in food processor (optional)
1/2 cup lemon juice
1 1/2 cups olive oil
1/2 teaspoon salt
1 tablespoon Aleppo pepper
1 teaspoon minced fresh mint
black pepper to taste
5 or 6 large tomatoes, cored and cut into quarters almost to the bottom of the tomato into a flower shape as explained above
1 pound mixed salad greens
5 ounces feta cheese, crumbled
1 cup mixed finely diced red and green bell pepper and red onion
thinly sliced lemon
finely minced fresh basil
Method:
Break apart any clumps in the rice and put it into a very large mixing bowl.
Add bell pepper, onions, scallions, parsley, basil, olives, pine nuts, and ratatouille, and using your hands, mix together until everything is evenly distributed.
In a separate bowl, whisk together lemon juice, olive oil, salt, Aleppo pepper, mint and black pepper, and when it is emulsified, pour 2/3 of the vinaigrette over the rice salad. Mix with your hands to combine again, then cover and chill in the refrigerator.
Let tomatoes come to room temperature.
On each serving plate, place a mound of greens, then a mound of rice salad. Put one of the cut tomatoes on top of the rice salad and then fill the hollow of the tomato with more rice salad, mounding it up. Sprinkle with feta cheese, and then garnish with sprinklings of the pepper and onion mixture and the basil, and top the rice mound with a lemon twist.
Assemble all five salads the same way, and pass remaining vinaigrette for each diner to drizzle over the salad as they choose.
3 Comments
RSS feed for comments on this post.
This looks delicious, and I bet it would be just as delicious with barley or spelt orzo instead of rice. Yum!

Hi Barbara

This sounds delicious, especially for summer! Husband's been making vegetarian rice cakes with leftover risotto and any vegetables that need using up. We both hate food waste. I order my fridge so that older vegetables sit on the top shelf and recently bought ones sit on the middle shelf. Hardly anything gets thrown out this way!

Comment by Helen Yuet Ling Pang — August 11, 2008 #
Sorry, the comment form is closed at this time.
Powered by WordPress. Graphics by Zak Kramer.
Design update by Daniel Trout.
Entries and comments feeds.