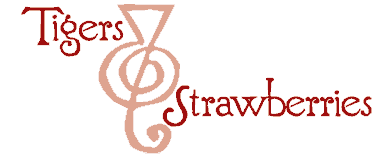 Cook Local, Eat Global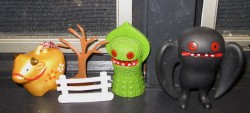 This is just a quick post to welcome in The Year of Ox!

Here is our little Lunar New Year mascot, on the left, Sammo, the Lucky Ox.
He came to us all the way from China, but his friends are pure Appalachian mythology–two crypto-critters from the West Virginia UFO flaps of the 1950's and 60's. (This heroic trio of beasts lives on the windowsill in my kitchen where I can look at them and smile while I do the dishes.)
The green guy is Flatso, the Flatwoods Monster which was sighted after an apparent meteor crashed in the woods surrounding Flatwoods, West Virginia in 1952. You can read all about Flatso on Loren Coleman's excellent blog, Cryptomundo.
The rather sinister looking black critter with the burning red eyes and menacing wings is none other than the Mothman, who was seen in and around Point Pleasant, West Vriginia, 1966, in the months preceding the tragic collapse of the Silver Bridge, which spanned the Ohio River between Point Pleasant and Gallipolis, Ohio.
I grew up steeped in the stories of these two mythical creatures and in fact, have relatives and friends who swear they have seen the Mothman or something akin to him, one in the 1970's, and three in the 1990's.
So, here's to a happy, healthy, abundant New Year for everyone, including Flatso and Mothman, wherever they may or may not be.
3 Comments
RSS feed for comments on this post.
新年快乐 – Happy New Year!

Comment by JoAnn — January 26, 2009 #

Hello Barbara,

Happy New Year! I have read your blog for a few years now (from Sydney, Australia and now in Melbourne, Australia), and thought it was an appropriately festive time to say thank you for sharing your life and your family and your recipes.

I have never written a comment on any blog or forum before, but have always felt the same concern that other readers expressed when you were busy in the real world. You come back so bravely each time, with generosity and good humour, and it is always good to know that you are well.

Hope this new year brings you and your family much health and happiness.

With thanks,
Jennifer

Comment by Jennifer Wong — January 26, 2009 #
Sorry, the comment form is closed at this time.
Powered by WordPress. Graphics by Zak Kramer.
Design update by Daniel Trout.
Entries and comments feeds.