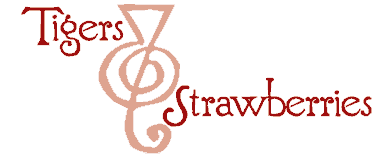 Cook Local, Eat Global
This second installment of my weekly posts on my sewing, quilting and crafts projects features the Totoro apron that I made for Kat for Christmas, which she wants to wear all the time.
It was really easy to make–the apron itself took me only a couple of hours to cut and sew together. It is called The Four Corner's Apron and you can get the kid's sized version here. Or, you could look for the pattern at your local quilt or fabric shop. The pattern is really easy to use and the apron comes together quickly and easily–I have now made three of these aprons–two adult sized and one tiny one for Kat, and they were all easy and all took really well to embellishment.
I can't say enough good things about the patterns from Vanilla House Designs–the instructions are simply and clearly written–which is a rarity in the world of sewing patterns. And this particular design makes a beautiful apron that looks good in whatever fabrics you choose to use and which takes really well to all sorts of embellishment as you can see here.
For Kat's apron, I used two reproduction fabrics from the 1930's that also had an Asian look to them. I wanted them to also have the feel of nature about them, so I picked the flowery field and the butterflies flying over a pattern of tiny blossoms. The reds, blues, yellows, greens and purples of the prints also are very cheery and cute for Kat, who likes all sorts of brilliant colors in her clothing.
The little white Totoro, also known as the Chibi (or tiny) Totoro, was drawn by Zak on his computer using Painter 6. He then sized it and printed it out for me. I traced his drawing with a transfer pencil, then ironed the design onto a piece of white flannel. I then hand-embroidered the eyes on it, then cut it out and using fusible web interfacing, ironed it onto the finished apron. Then, I made black satin stitches all the way around the Totoro to secure the edges with my machine. Then, I cut two cute little feet from pink felt and tacked them on with nearly invisible stitches by hand.
The soot sprites or Makkuro Kurosuke, as they are called in Japanese, I appliqued by hand. These were made three-dimensional by cutting circles of fabric roughly twice the size that I wanted the finished sprites, which were then hand-sewn into what are called "yo yos." These little round flat rosettes were very popular in the 1930's for quilt-making–they were sewn together into blankets and quilts. Now you can make them easily using these Clover yo-yo makers, and they are gaining popularity as trims for clothing purses, accessories and home decor items.
I made them out of black hand-dyed material to give them a dimensional look, and then cut and sewed together felt oblongs in black and white for their googly eyes. Then I placed them on the apron for the cutest effect. My favorite ones are the one I placed so it is peeking out of the pocket, and the one I stitched to the end of one of the apron ties. (That one is made from two yo-yos, one with eyes for the front and a plain one for the back!)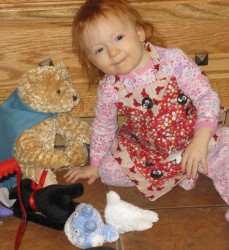 Kat loves the apron! After she opened it on Christmas morning, she put it on and would not take it off! She pretty much wore it most of the day over her sleepers, and then over the set of clothes she changed into after her nap. I loved making it so much–and as Morganna and Brittany said, it looks exactly like something that Mei, the little girl in the movie, "My Neighbor Totoro," would wear.
I think it is one of my favorite aprons I have made yet, and it was truly fun to create.
I am thinking of making one in greens and browns with acrorns and Totoros for myself.
4 Comments
RSS feed for comments on this post.
Sorry, the comment form is closed at this time.
Powered by WordPress. Graphics by Zak Kramer.
Design update by Daniel Trout.
Entries and comments feeds.