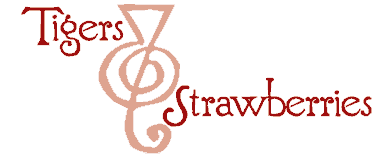 Cook Local, Eat Global
I want to thank everyone who left such supportive, loving comments on the last post I wrote. It is very uplifting to read them when I don't feel well enough to bother writing.
I was hoping to know something to report by this time, but no, the blood tests have not come back yet. They also did additional blood work on Tuesday, checking me for thyroid dysfunction, (both hyperthyroidism and hypothyroidism run in my family on both sides) as well as arthritis and other stuff.
The doctor I saw on Tuesday, who is not my regular physician, but the one I could get in to see on short notice in the same practice because I suffered from a really bad day of chronic pain and bone-weariness on Friday, mentioned the possibility of fibromyalgia, which, probably not coincidentally, has been diagnosed in two of my female relatives, both of whom also have thyroid problems. Fibromyalgia is a chronic pain disorder that is related to Epstein-Barr, otherwise known as chronic fatigue syndrome. There are various theories as to what causes it, including some sort of dopamine malfunction in the body–and considering that my sleep disorder and depression have both been successfully treated with medications that either are dopamine reuptake inhibitors or artificial dopamine, I would not be surprised to know that dopamine had something to do with my chronic pain as well.
As for my digestion issues–apparently, irritable bowel syndrome goes along with fibromyalgia, so that may be what is going on, rather than celiac or wheat allergy/intolerance.
So, I am not going to change focus on Tigers & Strawberries quite yet–we will see what is going on before I go running off half-cocked and start changing my diet completely.
Once again–thank you all for your great comments–you are a wonderful bunch of folks.
9 Comments
RSS feed for comments on this post.
Sorry, the comment form is closed at this time.
Powered by WordPress. Graphics by Zak Kramer.
Design update by Daniel Trout.
Entries and comments feeds.