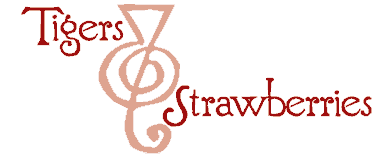 Cook Local, Eat Global
Asparagus is one of my favorite seasonal spring foods, and I have cooked it many different ways. Sauteed, stir-fried, steamed, raw in a salad or simmered into a soup, I love it every which way. And I am always seeking new recipes for it–not because I am bored with it, but because I want to taste it as many different ways as possible. It is too fascinating to me how the texture and flavor of asparagus changes depending on which cooking technique is employed for me not to want to play with it when it is in season and plentiful.
Thus, every spring, I try to come up with at least two new variants for cooking asparagus.
I have to admit that while I love the flavor of roasted asparagus, I have not made it often.
Why, I am not certain, but there we are.
Last night, I decided to change all of that, in large part because I had picked up some really beautiful, organically grown fat green spears with delectably violet tips at the farmer's market, and they were perfect, just perfect for roasting.
That is the way of it–the thick tender spears are best for roasting. The spindly thin spears which are fine blanched, steamed, stir-fried or sauteed, if roasted or grilled, will turn stringy and tough. But the juicier fat spears have enough moisture in them to withstand the high heat required to roast the asparagus to perfection.
Most recipes for roasting asparagus include an oil of some kind–usually olive oil, in order to keep the vegetable from drying out and to also enhance the natural flavor of the vegetable. When I decided I wanted to use garam masala with the asparagus, I could have used canola or peanut oil, but I decided to use melted ghee instead. The nutty, buttery richness of ghee would taste very well with the spice mixture, salt and Aleppo pepper flakes I was using to flavor the asparagus, while its richness would impart a certain velvety texture to the mouthfeel.
After the spears were done, I squeezed lemon juice liberally over them–the tart acidity of the juice balanced the rich ghee.
The asparagus turned out delicious–sweet and nutty, unctuous without being cloying and tender yet firm. It went perfectly with a curry and rice pillau for dinner last night. And the leftovers will be great in an omelet for tomorrow's lunch.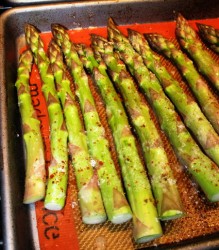 Asparagus Roasted With Ghee and Garam Masala
Ingredients:
1 pound of thick (1/2″ thick, preferably) spears of asparagus, trimmed, rinsed and dried
2 tablespoons ghee,melted
1/8 teaspoon salt (or to taste)
1/4 teaspoon Aleppo pepper flakes
1/8 teaspoon ground garam masala
Juice of 1 lemon
Method:
Preheat oven to 400 degrees F.
Rub spears with ghee, coating each spear completely. Spread them out in a single layer on a non-stick baking sheet or one lined with a silpat. Sprinkle evenly with salt, pepper flakes and garam masala, and put the sheet in the oven.
Allow to roast for seven to ten minutes–or until the spears are fork-tender.
Just before serving, squeeze lemon juice over the spears.
2 Comments
RSS feed for comments on this post.
I was so thrilled to see fresh asparagus at the local market. The supermarkets have had it for a while, but it's all from CA and honestly not that great. My part of the world – near Hadley, MA – has a long asparagus growing tradition, and damn has it ever figured out how to grow some fine sparrow grass.

I definitely need to fire up the grill again tonight and have some more asparagus.

Comment by Michael Leuchtenburg — May 4, 2009 #
Sorry, the comment form is closed at this time.
Powered by WordPress. Graphics by Zak Kramer.
Design update by Daniel Trout.
Entries and comments feeds.