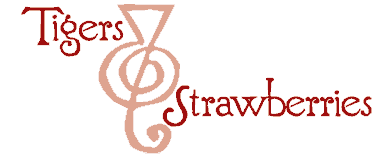 Cook Local, Eat Global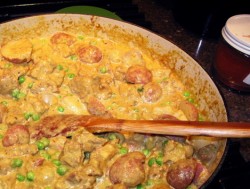 Here is a great recipe for a vegetable curry that uses the bounty of the spring garden mixed with a plethora of delicious aromatics and spices and finished with creamy yogurt. It is quick and easy, and can be made by anyone out of a few easily available fresh and frozen vegetables, although, frankly, you can substitute any vegetables you prefer to make the curry.
The spices are easily available at either an Indian market or even a grocery store, and if you can't find one or two of them, you can substitute with a different spice that you prefer. I didn't add chilies to this dish, but you could if you wanted to, by adding them with the ground wet or dry spices. The basic techniques used to make this curry are malleable and adaptable, and allow the cook to customize the flavors to their own palates.
I used frozen peas for this curry, but you could use fresh ones if you like–just blanch them in boiling water until they are lightly cooked and turn brilliant kelly green, drain them and add them in the same point of the cooking process as you would the frozen ones.
You can use either portabello mushroom caps or fresh shiitake mushrooms in this curry, or even fresh button mushrooms. Or, if you are not a mushroom lover, leave them out entirely. The truth is though, you could use any kind of mushroom for it–morels would be lovely and they are in season now, so if you can find them, go for it. Just clean them out well–remember to cut them in half and dust any bugs or bits of dirt and leaf mold out of their interiors before you cook them.
Here, I call for you to cook the potatoes separately, then add them to the curry sauce. This way you can cook them ahead of time–perhaps you can cook extra potatoes for a recipe the night before, or you can cook them in a separate pot while the onions are browning.
You can also cook them in the curry sauce by adding water to the sauce–enough to cover the potatoes, and then lowering the heat, covering the pan and simmering until the potatoes are completely done. Then remove the lid, and allow the sauce to reduce until it will almost coat the back of a spoon. Then continue on with the recipe.
Finally–the pearl onions.
If you cannot get fresh ones at your farmer's market or grocery store, you can get them frozen and use them that way–but still, brown them nicely in some hot ghee or canola oil before you cook them in the curry. Treating them this way brings out the sweetness in the pretty little alliums and gives them a lovely golden color that is very visually appealing.
Easy Every Day Vegetable Curry
Ingredients:
3 tablespoons canola oil or ghee
1/2 pound fresh pearl onions, trimmed and peeled or 1/2 pound frozen, thawed and drained
2 1/2 cups thinly sliced onions
1 teaspoon salt
2 1/2″ cube fresh ginger, peeled and ground into a paste
8 cloves garlic, peeled and ground into a paste
2 teaspoons cumin seeds
2 1/2 teaspoons coriander seeds
1 teaspoon fennel seeds
8 green cardamom pods
5 whole cloves
1/4 teaspoon ground cinnamon
1 teaspoon ground turmeric
1/2 teaspoon ground sweet paprika
8 ounces fresh mushrooms, sliced (if you use portabello caps, cut them into 1/2″ cubes)
1 pound new potatoes, well scrubbed, cooked, drained and cut into halves or quarters depending on how large they are
2 cups Greek style yogurt or regular yogurt, preferably full fat, divided
8 ounces frozen peas, thawed
1 1/2 cups water or vegetable broth
salt to taste
1 cup roughly chopped cilantro leaves
Method:
Heat oil or ghee in a heavy-bottomed, deep skillet or dutch oven and add the pearl onions. If you use the frozen ones, pat the surface of the onions dry before you add them to the pan or else the oil will sputter and spit itself out of the pan all over your stove and yourself.
Cook, stirring as needed, until the surface of the onions is compleely a deep golden brown. Remove with a slotted spoon and put into a bowl and set aside. Add the thinly sliced onions and sprinkle with salt, and cook stirring, until the onions are golden yellow in color. Add the ginger and garlic and continue cooking. While the onions, ginger and garlic are cooking, grind the spices, then add them all to the pan. cooking for a minute or two. Then add the mushrooms, and cook, stirring until they brown lightly and the onions are a deep reddish brown.
Add the cooked, drained potatoes, the browned pearl onions, one cup of the yogurt and one cup of the water or broth, reserving the other 1/2 cup of water to use as needed. Turn the heat down to low, and simmer, stirring as needed until the water cooks away and the sauce is quite thick, coating the back of a spoon.
Stir in the rest of the yogurt, the peas and salt to taste. If the curry sauce is too thick, thin with a little bit of the reserved 1/2 cup of water or broth.
Just before serving, stir in the cup of cilantro leaves.
1 Comment
RSS feed for comments on this post.
I've read through this recipe several times, and finally decided to give it a try this morning. It was my first attempt at a curry ever, and it was indeed easy, as advertised.

It's also incredibly delicious. Thank you so much for sharing!

Comment by Jenny — January 16, 2010 #
Sorry, the comment form is closed at this time.
Powered by WordPress. Graphics by Zak Kramer.
Design update by Daniel Trout.
Entries and comments feeds.