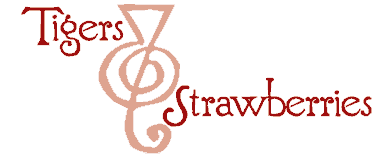 Cook Local, Eat Global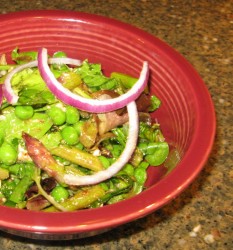 So, what do you do when you have leftover roasted asparagus?
Well, you could put it in an omelet the next morning for breakfast or brunch.
Or, you could add it to pasta with a creamy mushroom sauce.
Or, you could bake it into a casserole, puree it into a soup or mix it into a cheese sauce and use it to top baked potatoe.
Or, you could toss it to a salad made of other sweet spring vegetables and fresh goat cheese then dress it with a simple vinaigrette, which is what I did for dinner last night.
It was probably the most simple way of using up the roasted asparagus I could have come up with–and I have to say it was amazingly tasty,
The salad was a combination of mixed young leaf lettuces, tender baby spinach, julienne strips of sweet red onion, blanched baby sweet peas (you could just use thawed frozen peas if you cannot get young fresh peas), a chiffonade of ramp leaves and tangy, super fresh chevre, all from the farmer's market. The dressing was a perfectly simple vinaigrette of balsamic vinegar, olive oil, dijon mustard, local honey, sea salt and Aleppo pepper flakes. (Freshly ground black pepper would be great, too.)
It went deliciously with the rest of our dinner–and I think that with the addition of some chopped up boiled egg and toasted black walnuts, it would make a great light lunch.
If only I had some leftover roasted beets to add to the salad–then it would have been perfect! (Not only because the beets would taste great with the asparagus, peas, red onions and greens, but because the color would have looked amazing in the salad. The red onions brought out the reddish violet highlights in the tips of the asparagus spears, and I can only imagine that the rubine translucence of beets would have brought them out even more.
One thing about using leftover roasted asparagus–if you used a solid fat like ghee or butter to roast the vegetable, be certain to warm your asparagus slightly in the microwave in order to melt the fat that is clinging to the spears just before you add it to the salad and toss it with the dressing. Otherwise, you risk having globs of cold ghee or butter in your salad which is just not very appealing.
If you used olive oil or canola oil–any oil that is liquid at room temperature, really–to roast your asparagus, you don't need to worry about heat it up a bit before serving. Straight out of the fridge will work, though I think it tastes better if you bring it to room temperature before making the salad.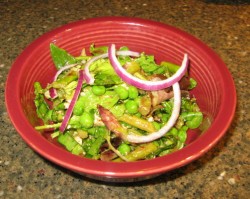 Spring Green Salad With Roasted Asparagus
Ingredients:
2 cups mixed leaf lettuces, washed, dried and torn into bite sized pieces
3 cups baby spinach leaves, washed and dried with any large stems removed
1 cup baby peas, shelled blanched, drained and chilled (or use thawed frozen peas)
1 1/2 cups roasted asparagus spears cut into 1″ lengths and brought to room temperature
1/2 cup red onion, cut into julienne
1/2 cup crumbled fresh goat cheese
1/4 cup chiffonade cut ramp leaves (or use green garlic leaves)
1/4 cup balsamic vinegar
3/4 cup olive oil
1 tablespoon dijon mustard
2 tablespoons honey
1/8 teaspoon salt
Aleppo pepper flakes or freshly grond black pepper to taste
Method
Toss the lettuces, spinach, peas, asparagus spears, onion, cheese and ramps in a large bowl.
Whisk together the remaining ingredients until an emulsion is formed. Drizzle as much dressing as you like over your salad and toss to combine.
Serve immediately.
1 Comment
RSS feed for comments on this post.
It looks delightful, but I do not understand the concept of "leftover asparagus".

Comment by Fernmonkey — May 6, 2009 #
Sorry, the comment form is closed at this time.
Powered by WordPress. Graphics by Zak Kramer.
Design update by Daniel Trout.
Entries and comments feeds.