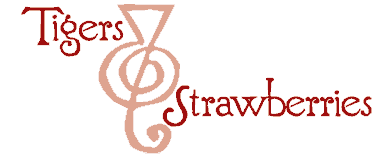 Cook Local, Eat Global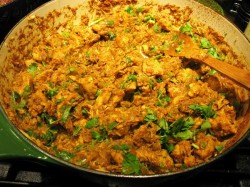 Xacuti–pronounced shakooti–is a Goan preparation of prawns or chicken cooked with roasted spices and toasted fresh coconut. There are browned onions, ginger and garlic in the dish as well–and all of this toasting, roasting and browning makes for a very warming, comforting, sweet and savory curry indeed.I have eaten several different versions of the dish and read many different recipes for it–my favorite versions are fairly dry, with the onions, spices and grated coconut bits clinging tightly to the chicken pieces, and leaving bits of browned goodness in the pan which are just waiting to be scraped up and mixed with steamed rice. There are other versions that have a gravy, which is fine–but as I said, I like the way I make it with all of the tasty nutty bits clinging to the chicken and the sides of the pan. It is just all so very tasty that way.
As with most Indian foods, I read about Xacuti long before I ever tasted it, but even from the description of it, I knew–I just knew–that I would love it. I read about it in my first ever Indian cookbook–Madhur Jaffrey's Indian Cooking, put out by Barron's. This is the cookbook I checked out from the library several consecutive times when I was first in college umpteen zillion years ago. I read it about five times before I got up the nerve to try to cook anything from it–and it wasn't Xacuti. I could not convince Morganna's father who lived with me at the time that coconut and chicken belonged anywhere near each other.
Oh, but in my heart, I knew he was wrong (and he was, about so many things, but I digress) and I knew that one day I would taste this delightful-sounding dish.
And I did–years and years later in Providence, Rhode Island, and later in Columbia, Maryland, at my beloved Akbar.
And finally, I got around to cooking it myself–and I have to say–it is even better at home.
The key to making this curry amazing is roasting the spices before they are ground. This gives them a special, delicate, almost floral, aroma that is very different from the scent you get when you cook ground spices in oil. It gives the curry a special sweet browned flavor that is only deepened when you carefully toast the grated fresh (or frozen–that is what I use–it comes already grated in a bag in the freezer section of your Indian or Asian grocery store) coconut just as you did the spices. And then, you brown the onions, and what happens is a delightful synergy between the three browned ingredients that makes Xacuti knock-your-socks-off wonderful.
It sounds like a lot of work, but really it isn't that hard. I did it all in about an hour. If the work sounds too daunting, save Xacuti for a weekend meal.
But do cook it–it is really, really good.
Oh, and one more thing–most of the time, this recipe is made with skinned chicken pieces on the bone–which take longer to cook. I didn't have any chicken on the bone, so I cut up boneless skinless breasts and the curry turned out just as tasty and moist as I could want. If you want to make it more traditionally, just add more water and cook the curry longer in order to get all of the meat done to the bone. (A note here–I think this curry tastes better with chicken on the bone–the bones add a lot of flavor–but it is also perfectly amazing without chicken on the bone. So, really, it is up to you.)
Chicken Xacuti
Ingredients:
1 bay leaf
1 tablespoon coriander seeds
2 teaspoons cumin seeds
a 1 1/2″ stick cinnamon broken into several bits
5 whole cloves
1/2 teaspoon black peppercorns
2-4 whole dried Indian chilies–depending on how hot you want it
1 bay leaf
2 cups grated fresh or frozen coconut
4 tablespoons canola oil or ghee
2 large onions, peeled and very thinly sliced
1 teaspoon salt
2 pounds skinless chicken–either on the bone in small pieces or cut off the bone and cut into 1″ cubes
8 large cloves garlic, peeled and ground into a paste
1 1/2″ cube fresh ginger, peeled and ground into a paste
1 teaspoon ground turmeric
1 1/2 tablespoons sweet paprika
water as needed
1 tablespoon tamarind concentrate (Or lemon juice if you have no tamarind)
salt to taste
roughly chopped cilantro for garnish
Method:
Put all the spices in a heavy-bottomed deep skillet and roast, shaking the pan constantly, over a medium-high flame. Cook until the seeds turn brown, and the chilies and bay leaf take on brown spots. Remove from heat immediately, and grind into a fine powder. Set aside.
Toast the coconut in the same pan–if using frozen coconut, cook it straight from the freezer. Put coconut into pan, and cook, stirring, until it is mostly colored a nice rich tan with flecks of white. If using frozen coconut, just break up the clumps as much as you can before you put it in the pan, and bash the rest of the clumps out with your stirring implement. When the coconut is brown, pour it into a bowl with the spices.
In the same pan, heat oil or ghee over medium high heat. Add the onions, sprinkle them with salt and cook, stirring, until they are a nice deep golden color. Add the chicken, and cook, stirring until the chicken is lightly browned with still some pink showing, and the onions are a nice reddish color. Add the spices and coconut, the ginger and garlic pastes, and the turmeric and paprika, and cook, stirring, for another couple of minutes.
Add enough water to come about halfway up the chicken. Add the tamarind or lemon juice. Stir well, turn the heat down and simmer briskly, uncovered, stirring as needed until the chicken is done and the sauce is mostly gone–all of the goodies should cling to the chicken bits and the sides and bottom of the pan without sticking.
Taste for salt and adjust as needed, then stir in roughly chopped cilantro and serve with steamed basmati rice.
9 Comments
RSS feed for comments on this post.
Sorry, the comment form is closed at this time.
Powered by WordPress. Graphics by Zak Kramer.
Design update by Daniel Trout.
Entries and comments feeds.