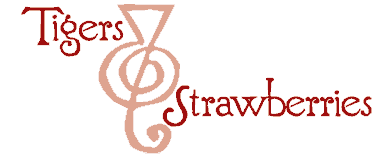 Cook Local, Eat Global
I like simple, unfussy desserts like tea cakes or fruit crumbles in the summertime because I prefer to showcase the natural flavors of seasonal fruits than play with finicky torte layers or rich buttercreams when it is hot and sticky outside. When it is hot, I don't really want to eat much in the first place, but it is a shame to not use fruit in its season when it is at the height of freshness. Sure, I eat plenty of berries and cherries out of hand in their natural state, but I also like to try showcase them in new and different baked goods each year.
This Sour Cherry Almond Tea Ring is an example of the kind of baked goodie I like in the summer–full of fresh fruit, and made simply without a bazillion futzy steps that would try my patience enough on a nice cold blustery winter day, but on a summer day become so onerous as to seem impossible.
You could serve this cake as a dessert, or have it as a breakfast sweet to accompany coffee or tea.
You could use any sort of summer berry or cherry you like for the filling and topping, and you could start with frozen instead of fresh. I like sour cherries myself, but you could use sweet cherries instead. I tend to use less sugar in my sour cherry sweets than most cooks–because I see no reason to take sour cherries and add so much sugar to them that they lose their character. If you are going to do that, use sweet cherries! (The recipes that I really don't understand are the ones that start with sour cherries, add a gigantic amount of sugar to sweeten them, and then some lemon juice to bring out the acidity again. How about just using less sugar in the first damned place, or does that just make too much sense for some folks?)
The amount of sugar I used in the fruit filling/topping is variable. You might find the results with my measurement to be too tart for your palate, and that is fine–add more sugar. Or, if you are using blueberries instead, use less sugar because they are inherently sweeter. Blackberries might take the same amount of sugar as the cherries or a little more or less depending on their character.
You can also leave out the nuts entirely or use different ones to reflect your taste. Walnuts would be great with blueberries, while pistachios would be wonderful with raspberries.
Finally, you can use sour cream instead of Greek style yogurt for the cake batter. Either yogurt or sour cream will lend a tender, moist texture to the cake while giving a subtle tang to its flavor profile. I have found you can save some calories by using lower fat yogurt instead of the sour cream without sacrificing texture or flavor at all.
Anyway, without further ado, here is a recipe meant to help you start your week on a not-too-sweet but still delectable note.
Sour Cherry Almond Tea Ring
Ingredients for Streusel:
1/2 cup all-purpose flour
1/2 cup raw sugar
1/2 cup sliced almonds
1 /2 teaspoon ground cinnamon
1/4 teaspoon ground cardamom
6 tablespoons butter
Ingredients for Fruit Filling/Topping:
3 cups fresh sour cherries, pitted
1/2 cup raw sugar
1/2 teaspoon almond extract
1 1/2 tablespoons cornstarch dissolved in 2 tablespoons cold water
Ingredients For Cake:
1 cup raw sugar
1/2 cup softened butter
1 cup Greek yogurt or sour cream
2 eggs lightly beaten to combine yolks and whites
1 teaspoon vanilla extract (I used Penzey's Double Strength)
1 1/2 teaspoons almond extract
zest from 1 lemon
1 tablespoon lemon juice
2 cups all-purpose flour
1 teaspoon ground cardamom
1 1/2 teaspoons baking powder
1/2 teaspoon baking soda
1/2 teaspoon salt
Method:
Preheat oven to 325 degrees F.
Prepare a tube shaped cake pan with butter and flour or oil and flour spray. Set aside.
Mix together dry ingredients for streusel topping. Cut in butter with pastry blender, fork or two knives until mixture resembles coarse crumbs. Set aside.
Mix together all ingredients for cherry filling/topping except the cornstarch. Allow to stand until the sugar pulls some juice from the fruit–about 20 minutes. Put into a pan on the stove and bring to a boil and cook for about five minutes. Pour in cornstarch mixture, and stirring constantly, cook until it is thickened and glossy–about three to five more minutes. Pour into a metal bowl and allow to cool until you can dip your finger comfortably into the fruit without burning yourself terribly.
Beat butter and sugar on high speed until the mixture is creamy. Add in the yogurt, eggs, extracts, and lemon zest and juice and beat until well combined. Mix together remaining dry ingredients until well combined, then add to batter mixture and beat on low speed until just combined. Do not overbeat.
Scrape 2/3 of the cake batter into the pan, and spread it to cover the bottom of the pan completely. (The batter is quite thick and doesn't pour) Put 1 cup of the cherry filling over the cake by dropping it by spoonsfuls and spreading it gently. Dot the top of the cherries with the remaining third of the batter and spread it to mostly cover the cherries.
Crumble streusel over the top of the cake and put into the preheated oven. Bake for 45- 50 minutes (if you have a convection oven, bake for 35-40 minutes.)
Remove and cool on rack. Remove from pan while still lightly warm to the touch and pour remaining cherries over the top of the cake just before serving. (I like it best slightly warm from the oven.)
If you have extra sliced almonds, sprinkle them on top of the cherries as a garnish–I, alas, did not have any last night!
1 Comment
RSS feed for comments on this post.
Today for my work snack, I took a small container of sliced strawberries and blueberries tossed with a little sugar. I then poured a small amount of whipping cream over top. By the time I ate them for my mid morning snack, the cream had thickened slightly and it was absolutely delicious. (It was a really small amount (about 1/4 cup) so not a problem. Very nice.

Comment by Grace — June 30, 2009 #
Sorry, the comment form is closed at this time.
Powered by WordPress. Graphics by Zak Kramer.
Design update by Daniel Trout.
Entries and comments feeds.