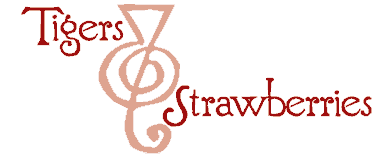 Cook Local, Eat Global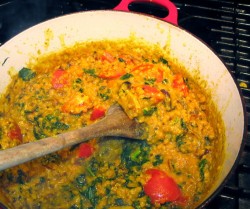 Dal is one of the most perfect vegetarian meals imaginable. Paired with Basmati rice and perhaps yogurt or raita, it is a complete meal, elegant in its simplicity, filled with protein, vitamins, minerals and amazing flavor.
For those who are not acquainted with the beauty which is dal–the word refers in Indian cuisines to any split lentil or bean. It can be split and skinned or just split–in the case of this dish, I used split, skinned brown lentils, which are referred to as masoor dal. Once the dull brown skins are removed from these lentils, they reveal a lovely brilliant orange interior which cooks quickly up to a soft yellow puree.
Dal is most often cooked simply in water, with a few bare seasonings at first–I always use a pinch of hing or asafoetida–a powdered resin from a plant which has the aroma of garlic and onion mixed together and has the effect of lowering the amount of gas that the lentils will produce in the digestive system. I also grate fresh ginger root into the lentils at the very beginning of the cooking process, not just to flavor them, but also because ginger aids in the digestibility of all legumes.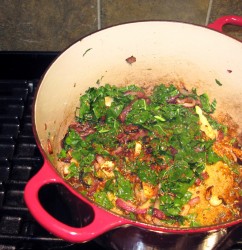 After the lentils are cooked, the main seasoning of dal is cooked in a separate pan.
This is technique is called "tarka."Tarka consists of heated ghee or oil, and a fairly large quantity of thinly sliced onions. These are cooked until they are a dark golden brown, and then garlic is added, perhaps some sliced fresh chili peppers, and spices, usually whole. These are cooked until the onions are a deep reddish brown, the garlic is golden and the spices are brown and toasty and the entire room is filled with the divine aroma of browned onions and cumin. Then the whole thing is poured into the lentils and stirred quickly in. A lid is clapped on the dal, trapping the aromas inside.
Now, in the summertime, I like to add seasonal vegetables to my dal. There are a couple of ways to do this–you can cook them with the lentils, which is perfect for crunchy, long-cooking root vegetables like carrots and potatoes. For vegetables that you want to be kind of crunchy, like fresh green beans, you simply put them in when the lentils are half-cooked. Or, you can put them in at the end of cooking, right before stirring in the tarka; this method is great for soft vegetables like tomatoes which you don't want to melt right into the dal, so you cook them minimally in this way.
Finally, if you want to get the great browned flavor of the tarka in the vegetables, you can cook them in the tarka. This works perfectly with mushrooms–put them in with the garlic and spices–and works great with hardy greens like kale or collards. With the greens, you cut them into thin ribbons and stir them into the tarka for the last couple of minutes it is cooked–just long enough to cook out some of the water from the leaves, and to lightly brown the edges of them.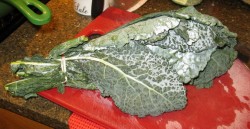 This is my favorite kale–it is an Italian variety called "Lacinato," but most people call it "Dinosaur Kale," probably because of its interesting bumpy, lumpy surface texture. Its leaves, in addition to being bumpy, are rounded with a narrow but rounded lance-head shape, and their central veins are not tough or stringy. It is also the sweetest, most flavorful of the varieties of kale, and it is good starting at midsummer to well past the first frost. Whenever I see it, I buy it and cook it in many different ways–in quiches, soups, stews and stir-fries, but this is the first time I used it in a dal.
It will not be the last! When I stirred it into the tarka, and let it cook in the fragrant ghee, it picked up the nutty flavors of the caramelized onions and toasted cumin and mustard seeds, while adding its own note of sweet green flavor.
I served this simply with basmati rice and no chutney or raita, but now is the perfect time to make any number of vegetable-based Indian condiments to go with your dal.
One more thing–you will notice that I didn't use very much masoor dal in this dish–I wanted the vegetables and the lentils to hold equal weight in this dal–I wanted very much to have the vegetables be bound together with the lentils, not the lentils overwhelming the vegetables. What ended up happening was the lentils were almost like a sauce, bringing everything together into a delicious, smooth and fragrant whole.
If you want, you can use more lentils for a dish that is heavier in lentils than vegetables. That is completely up to you.
Kale and Fresh Tomato Dal
Ingredients:
1 1/2 cups masoor dal, picked over, rinsed and drained
1/4 teaspoon asafoetida or hing
1 teaspoon grated fresh ginger
1 1/2 teaspoons ground turmeric
water to cover lentils by 1 1/2 inches
3 tablespoons ghee, canola oil or butter
2 cups thinly sliced red or yellow onions (red onions look prettier in this dish)
1 teaspoon salt
2 large cloves garlic, peeled and thinly sliced
1 tablespoon Aleppo pepper flakes or thin fresh chili slices to taste
1 tablespoon brown mustard seeds
1 1/2 tablespoons cumin seeds
2 cups thinly sliced lacinato kale leaves
5 small fresh vine ripened tomatoes, cored and cut into six wedges each (about 1 pound)
salt to taste
Method:
Put lentils, asafoetida, ginger, and turmeric in a pot. Add water to cover the lentils by about 1 1/2 inches. Bring to a boil, stir and turn down heat to a simmer, and cook, stirring as needed, until the lentils are tender. Add water as needed to cook them into a medium thick puree.
When lentils are cooked, cover the pot and remove from heat.
When lentils are about halfway cooked–after about ten to fifteen minutes simmering time–heat ghee or canola oil in a heavy frying pan. Add the onions, sprinkle evenly with the salt and cook, stirring, until the onions are a deep golden brown. Add the garlic, the chili flakes or slices and the mustard and cumin seeds, and cook, stirring, until the onions are deep reddish brown, the garlic is golden with browned edges, the cumin is toasted and the mustard seeds have popped. Add the kale leaves, and continue cooking for another couple of minutes, or until the leaves have deepened in color and wilted, with slight browning on the edges.
Open the lentil pot and scrape in the tarka, then toss in the tomatoes and stir everything in together. Taste for salt, and correct seasoning as needed, then clap the lid on the dal to trap in all of the delicious spicy aromas, and keep warm until serving it with rice, chutney and raita.
4 Comments
RSS feed for comments on this post.
Sorry, the comment form is closed at this time.
Powered by WordPress. Graphics by Zak Kramer.
Design update by Daniel Trout.
Entries and comments feeds.