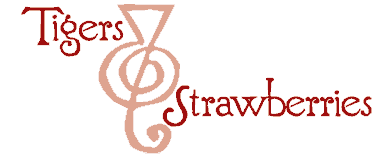 Cook Local, Eat Global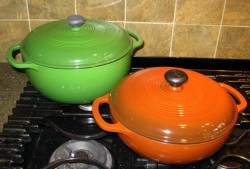 I have a small collection of Le Creuset cast iron: a grill pan and a round French oven that were gifted to me by Zak's grandmother when she became too frail to lift them anymore, a tiny skillet I got free for registering for Le Creuset back when Zak and I got married (fifteen years ago or so) a large braiser and a skillet that were given to me by Karl and Tessa for my birthday last year.
And I LOVE, absolutely love these pieces and I use them all the time.
I wanted to get a few more pieces of enameled cast iron, considering my new fascination with French cookery and braising, so I looked at the oval French ovens and tried hard not to flinch at the price. I say tried–because I failed. I still flinched.
Now, I could have gone on eBay, and gotten either Staub or Le Creuset cast iron at pretty great prices, but I remembered somewhere in the back of my mind that Lodge, the makers of the old American standard cast iron skillets (both traditional and pre-seasoned, both of which are fantastic) beloved by chefs and grandmas everywhere, had taken up making enameled cast iron cookware.
Hrm.
I looked on Amazon and found that not only is Lodge making colorful enamel-coated cast iron, so were a bunch of other manufacturers, most of them in China, and many of them sold under the names of famous chefs and cooks, such as Paula Deen and Mario Batali.
Mind you, the Lodge enameled pots are made in China as well, but I read that they had the same number of layers of enamel coating, fired between each coating, as the Le Creuset models, and I read that they have been reviewed favorably by Fine Cooking Magazine.

I trust Fine Cooking, so I decided to get a smaller, round casserole dish (3 quarts) to replace the buffet casserole that I gave to Morganna when she moved out (another gift from Zak's grandmother) and a Dutch oven that is larger than the French oven I have–it is a four quart model, and I bought Lodge's six quart oven.
I bought them from Amazon.com with free shipping, and paid easily two hundred dollars less for the larger pot and one hundred dollars less for the smaller one than I would have paid for the French cookware.
They are very pretty, as you can see. The three quart brown one has graduated color that is absolutely lovely, and the green is very similar the old style green that you can only get in Le Creuset these days from Williams Sonoma. They look great in my kitchen, which is all greens, browns, and blacks.
They are also just as hefty as their French counterparts (actually, they are a bit heavier as the walls a tiny bit thicker)–it takes a significant strength to hoist these babies up and down, around and through. That's fine–I have strong arms!
How do they cook?
The truth is, I can detect no difference between these pieces and the French ones. They all cook like a dream. Food sticks if anything, a bit less in the Lodge cookware, perhaps because of the thicker walls, though in truth, few foods stick to either the Le Creuset or Lodge enameled surfaces. They both heat evenly and hold heat perfectly, allowing the cook to use less energy to cook braises, stews and roasts than they would in pots made from other materials.
Alas, however, Lodge doesn't make oval ovens that you can use to roast or braise a whole chicken, so I will have to look into other possibilities.
I am thinking Staub for my next enameled cast iron purchase, though I might try out one of the cheaper Chinese manufactured ones -if- I can stand to buy something with Paula Deen's face on it. (That said, I'd be more likely to get one from Mario Batali, just because I like the persimmon color a lot and the folks on Chowhound seem to like them!)
Does anyone else have a favored brand of enameled cast iron cookware?
14 Comments
RSS feed for comments on this post.
Sorry, the comment form is closed at this time.
Powered by WordPress. Graphics by Zak Kramer.
Design update by Daniel Trout.
Entries and comments feeds.