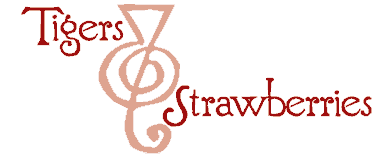 Cook Local, Eat Global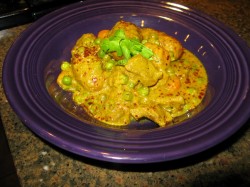 Don't worry–there isn't any curry powder to be found in this stew.
Or curry.
Or whatever it is. You could call it either a stew or a curry, or heck, you could call it Marge if you want to, but the fact is, it is both a stew and a curry. It is a hybrid between the two, because I wanted something that had lots of vegetables in it like a stew, but I wanted it to have the delicious flavor and rich sauce of a curry. So, I figured I would make something that was probably cooked for some British folks during their occupation and colonization of India by an Indian household cook who was directed to make lamb stew by his or her employers.
But of course, lamb stew is, to the Indian palate, somewhat bland and sad and flavorless, so I imagine that the cook in question might have felt the need to give it a little lift by using their own spices and curry-making techniques. Some turmeric for color, and some deeply caramelized onions for flavor, spices for fragrance and yogurt for a creamy, rich finish, and voila! A formerly rather plain stew of lamb cubes, tiny potatoes, carrots and peas becomes something delightful.
This isn't a hard recipe, mind you–but it does take quite a few spices that I would prefer you grind yourself. I leaned heavily on some of the sweeter spices in this mixture: cardamom, fennel seed, cloves, cinnamon, and coriander seed, though there are smaller amounts of the musky, darker savors of cumin and fenugreek seeds. And to give it a tiny bit of tingle, there is black peppercorn and some chili pepper, though not nearly as much as I usually put in my curries.
The point of this mild curry is to be soothing, comforting and lip-smackingly delectable. It isn't supposed to prove how butch you are because you can eat mouth-searingly hot chilies and sauces. This is a curry for kids, for in-laws and for those unfamiliar with Indian food who perhaps are intimidated by it to be eaten in the company of people who love Indian food, but who also understand that it can be just as delicate and subtle as it can be bodacious and bold. It is a happy curry, made to please as many people as possible.
Now, because this is based on the British/European idea of lamb stew, you can add or subtract the vegetables that go into this curry. Pearl onions would go splendidly in here as would baby turnips or mushrooms. Any vegetable that you like in your lamb stew can go in this curry, in fact, and you can add more or less of them as you like. (In point of fact, you could leave out the lamb altogether and just make this a delicious vegetable stew with fingerling potatoes, baby carrots, pearl onions, wild mushrooms, peas and baby turnips. I cannot imagine that it would taste anything less than uncommonly good. You'd also just have to leave out the beef and chicken broth or stock and replace them with vegetable stock or broth.)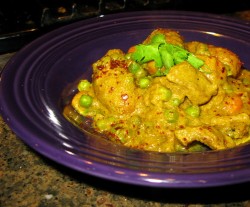 Anglo-Indian Curried Lamb Stew
Ingredients:
3 tablespoons ghee, butter or canola oil
2 1/2 cups thinly sliced yellow onions
1 teaspoon salt
3 large cloves garlic, sliced
1 tablespoon cardamom pods
2 teaspoons fennel seeds
1 1/2 teaspoons coriander seeds
1 teaspoon cumin seeds
5 whole cloves
1/2 teaspoon ground cinnamon
2 teaspoons turmeric
1/2 teaspoon fenugreek seeds
1/2 teaspoon black peppercorns
1 fresh thai chili pepper
1 pound lamb leg meat, trimmed of fat and cut into 1″ cubes
1 pound lamb shoulder meat, trimmed of fat and cut into 1″ cubes
1 cup beef stock or broth
1 cup chicken stock or broth
1 bay leaf
1 cup thickly sliced carrots
1 pound whole, scrubbed fingerling potatoes
1 pound frozen peas
1 1/2 cups whole or 2% Greek yogurt
salt to taste
cilantro leaves for garnish
Aleppo pepper flakes for garnish
Method:
Heat ghee, butter or oil in a heavy-bottomed pan and when hot, add onions, and stir them into a nearly single layer. Sprinkle with salt and cook, stirring, until they turn a deep golden color.
While you are cooking the onions, grind the garlic, the spices and the chili pepper into a fine paste with a food grinder or use a food processor for the garlic and chili and a coffee grinder for the spices.
When the onions are deeply gold take your spice paste, and add it to the pan, and cook, stirring, until the onions turn a more reddish brown color and the spices are fragrant. Add the meat and brown.
Deglaze the pan with the broths or stock and add the bay leaf. Bring to a simmer, and either put the whole lot into a pressure cooker, bring to a boil, clap on the lid, lock it down and cook it at full pressure for twenty minutes, then let the pressure subside naturally, or put a lid on it and cook until the meat is halfway tender. At that point, add the potatoes and carrots. (If you used a pressure cooker, however, cook the potatoes and carrots in a separate pot until they are tender, then drain and hold them until the pressure is reduced and you open the pot. At that point, add in the vegetables and continue the recipe as written.
Once the meat, potatoes and carrots are cooked, uncover the pot and on fairly high heat, reduce the liquid by about 1/3. Add the yogurt and the frozen peas and cook, stirring as needed, until the sauce thickens enough to lightly coat the back of a spoon. Add salt to taste and serve with naan or roti and garnish with the cilantro and Aleppo pepper flakes.
No Comments yet
RSS feed for comments on this post.
Sorry, the comment form is closed at this time.
Powered by WordPress. Graphics by Zak Kramer.
Design update by Daniel Trout.
Entries and comments feeds.