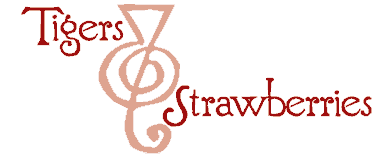 Cook Local, Eat Global
This isn't really, truly a confit.
It's almost a confit. It has both sugar syrup and olive oil in it, both of which can be used to cover and preserve the item in question, which in this case is caramelized tomatoes.
Technically, since I am not meaning for the sugar and the oil to preserve the caramelized tomatoes , I guess we should call this a relish, but really, I don't much care what it is called, because this sweet, tart, rich and smooth tomato confit is really delicious.
It's also really easy to make, too.
First, start off by caramelizing about five pounds of roma tomatoes. When you prepare them for caramelizing, only seed about half of the tomatoes, because you want them to release more juice for the confit. It is the juice, in fact, that contains most of the flavor for this dish.
After the tomatoes are done, there should be plenty of juice on the baking sheets. Drain this into saucepan, and to that juice, you add 2 tablespoons sugar and about 1/2 cup dry red wine. Bring it to a boil. Turn the heat down and reduce the liquid by half.
While this is going on, chop up your caramelized tomatoes roughly.
Once this is done, you should be left with a thick, deep burgundy-colored syrup that easily coats the back of a spoon. Add a tablespoon of balsamic vinegar and two tablespoons of olive oil, and you have the basis of your confit. Pour this over your tomatoes and stir well.
The rest is simple–add a couple of cloves of mashed roasted garlic and one cup of caramelized onions, (cook them in olive oil) and stir it all up well. Taste for salt and adjust as needed.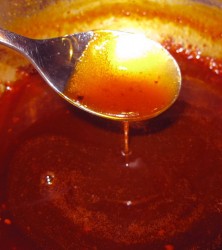 You can also add freshly ground pepper to taste or Aleppo pepper flakes, and just before serving, you can add finely chopped fresh herbs like basil, tarragon or oregano.
Now, what do you do with this tasty stuff?
I served mine alongside the Rabbit Braised in Marsala Wine with Wild Mushrooms and Garlic Mashed Potatoes. The tomatoes added a tangy-sweet note that cut through the richness of the braised rabbit.
But you could use it to top bruschetta, or as a basis for a dip or spread (mix it with some sour cream or cream cheese), or you could use it as is in place of ketchup on a really fancy bison burger with havarti cheese.
Or, you could use it warm as a sauce for grilled pork tenderloin.
Or, you could add some roasted chilies and use this as a barbecue sauce.
As you can see, this stuff is versatile. And if you keep it in a tightly sealed jar, it will keep in your fridge for a couple of weeks, which is less than a real confit, is still nothing to sneeze at.
1 Comment
RSS feed for comments on this post.
Sorry, the comment form is closed at this time.
Powered by WordPress. Graphics by Zak Kramer.
Design update by Daniel Trout.
Entries and comments feeds.