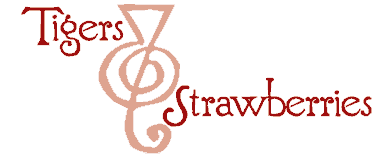 Cook Local, Eat Global
I want to thank everyone who has written me messages on my blog, sent email, and tracked down my husband on LJ to express concern, encouragement and good wishes. Your love and thoughts meant a great deal to me while I was recovering from the surgery, and I cannot really express how much it means to me that people from all around the world have been thinking of me while I was recuperating.
Let me tell you how I am doing.
Physically, I am absolutely great. I look better than I have in years (that would be the gallbladder diet, I expect), and for the first time in over three years, I have had a cessation of the nausea that plagued me off and on, as well as the phantom fevers which would come and go like heat lightening in summer. Both my GP and my surgeon think that my gallbladder was acting up for a long time, it was just that until the upper-right quadrant pain started, there was no reason to think that my symptoms had diddly to do with my gallbladder. The nausea was attributed to various medications, anxiety and post partum depression, and everyone just shrugged about the fevers, since they were low-grade and never lasted longer than a day, usually less than that. But I feel amazingly fine. I've lost enough weight to wear size 12 jeans again, and for the first time in years–I can eat anything with impunity.
I am back to having a cast iron stomach, it seems. Well, I still don't eat shellfish, being that allergies can kill, but other than that, I can eat whatever I want and I don't get sick. Lots of folks who have their gallbladders removed are not so lucky, and I feel for each and every one of them and I thank God every day that I was so lucky. No pain. No nausea, no intestinal issues, no gas–that is the best–I can eat beans, dal, broccoli–tons of onions–and nothing gives me gas. Nothing. I am eating dal like a madwoman!
But what is interesting, is I don't eat nearly as much as I once did. I eat smaller portions, and am perfectly satisfied. I am wondering if my stomach shrank down to a more normal size for the month when I was living on basically rice, lettuce apples, and crackers. (At the end, it was just the crackers. And water. Nothing else but coffee. That, I refused to give up.) Whatever the reason, I just do not eat as much. My stomach tells me when it is full, and I stop, and all is well. For a long time, I had been having trouble knowing when I was full, and so I would eat more than I needed and that contributed to weight gain.
But I guess not anymore.
Emotionally–well that is another issue.
See, the truth is, the reason I didn't write for so long is that I am going through really heavy therapy right now to help me get over the trauma that happened nearly twenty years ago during my divorce and custody battle with my ex-husband. Things go so scary and screwy and messed up that I now have two highly qualified therapists telling me that I have post traumatic stress disorder. And–they are right. I can read a textbook–and I know my symptoms, and yeah, yeah, it's there all right.
A few months back, I had a breakdown and ended up with a friend helping me find a good therapist who specializes in trauma cases and women's issues, and so I have been seeing her once a week for a couple of months. And we are dredging out the painful memories and slowly, going back and letting me feel the emotions that I could not express then, and express them now in a safe situation. And, in turn, we are disconnecting the emotional content to these memories so that when I remember–I do not have to relive the situation.
So, right before the gallbladder surgery, the therapy also got very intense, and so, frankly, that is what I have been dealing with. The holidays always make everything worse for me, and so that was where I was. In a not so pleasant place in my head, and in no way, shape or form, was I up for writing about food, or really, much of anything.
But–I am back. I am feeling much better emotionally, and am on a much more stable footing. I feel stronger than I have in, well, forever it seems, so I am back on duty, and will be blogging at least three times a week for the rest of the year, and hopefully, even more when the new year rolls around.
Once again, thank you all so very much for your kindness. It has blown me away.
Love and peace to you all.
25 Comments
RSS feed for comments on this post.
Sorry, the comment form is closed at this time.
Powered by WordPress. Graphics by Zak Kramer.
Design update by Daniel Trout.
Entries and comments feeds.