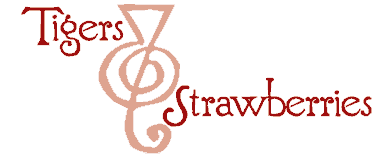 Cook Local, Eat Global
Hello to all of my readers.
First–I want to thank all of you not only for sending emails and posting comments of concern here after I dropped off the face of the Internet again. You all have and still do mean a great deal to me–having so many friendly readers and a community of folks who post incisive, interesting comments that spark discussion is like having a huge extended family that spans the globe. The joy I have taken from writing with you–because I do think of this blog as a collaborative effort–you ask questions, start discussions, suggest topics–has been a huge part of my life for over five years, and I will never, ever forget it. The love I have felt from all of you has buoyed me up on many a dark day or even darker night when despair has threatened to cast a pall that even the sun cannot lift.
But, the truth is this–I cannot write Tigers & Strawberries anymore.
Not because i don't love my readers, and not because I don't love food.
It's because of this–I am tired of lying. Or, rather, I am tired of not telling the whole truth. The truth should not be a burden, it should be a lodestar to our lives, but in my case, it had become something of which I was ashamed, so I avoided it.
The simple truth is this–the way I have portrayed my childhood and experiences on this blog, while true, only show a part of the experiences that make up my existence. Yes, my grandparents had a farm, and yes, I grew up learning all of the food-growing and preparing skills that people commonly learned in the 19th and early 20th centuries. Yes, I loved my grandparents and they loved me. Yes, the story about my father and the cow is 100 percent true, and yes, I went to culinary school and was a caterer, and was a chef and all of that. Everything I have written here is true.
But, I ignored the other half of my truth. I ignored the fact that I grew up in an extremely dysfunctional family situation which continued until my mid-twenties, one which continued to affect my life deeply until a few months ago when I started intensive therapy to deal with all of the rage, fear and horror I had repressed that had to do with this background.
Having a really good therapist listen to the other side of things, to the darkness that lay hidden in my heart and mind which poisoned my very body with ill-health and which threatened my life, cracked open the walls I had built around myself, and made me look objectively at how I had molded myself and contorted my true personality in order to not only repress that truth, but also to conform to what my family, and later, everyone else, expected of me.
When light poured through the cracks in the wall and illuminated my understanding of my past, present and future, I realized that I didn't really know myself anymore. I had been so busy crafting a personality of perfection, a woman who was in strict control of her emotions, whose childhood and early adulthood had been scrubbed of all unpleasantness (it isn't that I forgot the unpleasantness, I simply ignored it and never spoke of it to anyone) that I lost sight of the genuine person who I had been trying to protect behind that carefully crafted facade.
Unfortunately, I am now trying to figure out who and what I am! And because so much of Tigers & Strawberries is tied up with that image of a farm girl who had a nearly idyllic life in the country, I find I cannot keep writing here.
And, frankly, I'm kind of tired of taking pictures of every dinner I make! Sometimes, I just want to cook and eat, and that is okay.
But, truly–I do miss you all. And I want to keep writing, but I just cannot keep writing only about food. I just can't right now.
So, it is time to stop writing here and start writing somewhere else.
I will keep T&S up and active here so folks can still get the recipes, and post comments asking questions. I will still monitor the site for questions and answer them when I see them. I still want folks to be able to use this site as a great cooking resource, because the truth is, I am proud of what i have created here and I don't want it to disappear.
I am going to start a new blog, probably on Blogger, which is not my first choice of venue, but which is convenient. It will be a much more general blog, though, you know me, there will be recipes and pictures of food! We can't get around that! But the topics I write about will range from ruminations of fiction writing, news on various projects I am working on (yes, including books, hopefully), my adventures with fabric, news on how the Kat is growing and tales of the adventures of various members of my household. There will probably also be tales that are from the darker, sadder part of my life, because, well, that truth deserves to be told. There is no way to appreciate light if we ignore the darkness.
So, I will post one more time here to give a link to the new blog, which is likely to be called, "Summoning the Muse," because that is what I am trying to do. I am trying to find my inner self, the one who is full of inspiration and courage, the one who has kept me alive all of these years. She's been waiting a very long time to get out and see the sun, and I think she deserves a chance to stretch her wings and tell her tale for a bit.
Thank you all again. I can never, ever articulate how much all of you have meant to me. I hope that some of you at least follow my new adventures in the new blog, but I understand very much that many of you only really want to read about cooking. For those of you, I wish you all a fond and loving farewell.
For the others–thanks for coming along with me into uncharted territory.
I appreciate the company,
114 Comments
RSS feed for comments on this post.
Sorry, the comment form is closed at this time.
Powered by WordPress. Graphics by Zak Kramer.
Design update by Daniel Trout.
Entries and comments feeds.