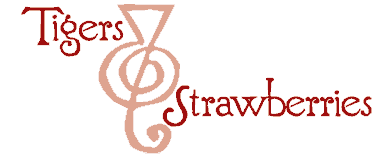 Cook Local, Eat Global
Hello, everyone.
I'm back again. I couldn't stay away. Writing and cooking, cooking and writing, sewing, writing and loving are just too much a part of my life for me to stay away from blogging forever.
I am here, back in my cyberspace kitchen, ready to share again.
And I am grateful.
I am grateful for all of the emails, comments and other communications from my readers I have received over the past year or so, wishing me well, giving encouragement, support, advice, understanding and love. I cannot begin to tell you all how much your words have meant to me. They have been a balm to soothe a wounded heart, and have made me smile on the darkest of days.
Over the past year, whenever I felt truly down on myself or even humanity in general (like whenever I read the news!) I could go to my last post and read the comments and feel instantly better. Or, I would open my inbox and there would be another email from a reader telling me I was missed and loved and it was hoped that I am my family are well.
I don't think that I can ever thank all of you enough. I guess, in return, I will just have to write another year or so's worth of recipes for everyone!
I am also grateful for the love and support of my family. I am so grateful for my two beautiful daughters who grow more wonderful every day. Kat is in preschool and is learning to read and even has started learning elementary addition and subtraction; Morganna has a high B average in college and works the saute station at one of the two fine dining restaurants here in town.
I am grateful for my husband Zak, who has gone back to college to finish an elementary education degree he started years ago, and was interrupted by a lengthy family crisis. I am grateful for his patience over the past year and his enduring faith and love. He has grown a lot, too–he plays music out now, not just in his studio–and he has been raising money for a local food charity with his music.
I am grateful for my brother, Dan, who not only has been an unwavering personal friend and support, but he also redesigned this blog and managed to update my software, all while he was going through the process of starting his own business and moving into a new home with his fiancee.
I am grateful to my Aunt Judy, whose words of wisdom and kindness have kept me sane and helped me along my path toward healing.
Besides all of this–I am grateful for the world itself. Grateful for being able to write again, to be able to cook, read, think and dream again. I am grateful for the sun and the rain, for the grass underfoot and the trees overhead. I am grateful for the birds in my garden, and the flying squirrels in my windowsill. (Yes, we have flying squirrels in our house….they sure are cute wee buggers.)
I am grateful for everything. Whereas this time last year, I was a bundle of anxiety and pain, now, I am peaceful, calm and happy. Truly happy.
I am truly blessed.
I want to end this post with something that a high school friend I just found on Facebook said the other day. Carlos, who sang in our school choir with me all through middle and high school said this–and it spoke directly to my heart:
Remember this, as you are blessed in various areas of your life and your the life of your ministry, you are called to be a blessing to others.
So, here I am, hoping to be a blessing to others through my words and my recipes, as I have been blessed with so much over the past year.
It's time to share the love.
Happy Thanksgiving to you all.
56 Comments
RSS feed for comments on this post.
Sorry, the comment form is closed at this time.
Powered by WordPress. Graphics by Zak Kramer.
Design update by Daniel Trout.
Entries and comments feeds.