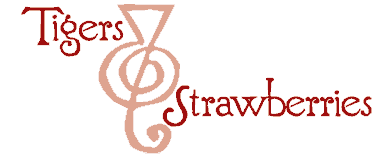 Cook Local, Eat Global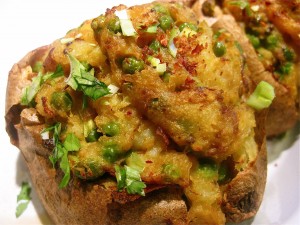 I thought of this dish the last time we had baked potatoes with dinner, which was oh, just last week. I thought of it, because while I love twice baked potatoes, I hardly ever make them. Why is that?
No good reason, really. I guess that while I like them, I just don't much often think of making them, because the usual ingredients: cheese, butter, sour cream and bacon–while all delectable, mind you–just seem to take a perfectly good vegetable and turn it into an orgy of saturated fat.
Don't get me wrong. I love me some saturated fat, but there are limits. I'd rather spend my saturated fat calories on butter and lard pie crust, bacon-filled waffles and any egg dish than on a twice baked potato.
That said, I have to admit to loving the way my Grandma made them. Hers were the first ones I ever tasted, mind you, so I suspect that her version biased me by its brilliance. She used Grandpa's beloved Kennebec potatoes (which have a wonderful earthy flavor all their own) from the garden, and paired them with no bacon, only a little bit of butter, no sour cream and two vegetables: broccoli and green onions. Oh, and cheddar cheese. LOTS of cheddar cheese. (She had to make up for no bacon, only a little butter and no sour cream, you see…..)
It was the broccoli and green onion that did it for me. I just loved the way that the blanched broccoli and uncooked green onion melded together with the sweet, lightly nutty potato, and then was enhanced by the cheese. Wonderful stuff, that.
But, I never make it that way at my house, unless it is for a solitary lunch, because Zak is no fan of either broccoli or uncooked green onions.
So, until I thought of these, there were no twice baked potatoes at my house!
However. Now that I've come up with these, Zak is a convert, and has requested we have these more than just this once. In fact, next time I make them, he has requested that we do the second baking on the grill so the woodsmoke flavor can permeate the potatoes and make them just that much more exciting!
How did I come up with the idea for this Indian spiced version?
It was easy.
I was craving Samosas.
And lacking them and lacking the will to haul off and make the pastry dough myself (it is a minor pain in the tuckus), my mind fixated on the baked potato I was eating. And, like a bolt of lightening, my imagination could taste both the baked potato in my mouth and the filling of my favorite samosas–potatoes and peas.
(Here I will fess up. As much as I love meat, the best samosas are the vegetarian ones with the potatoes and peas. The ones filled with keema–while I love keema and I love samosas–in my mind they are two great tastes that don't taste great together.)
So, I decided I had to make the samosa-inspired twice baked potatoes happen, and why not on Mother's Day? What's more fun than kitchen experimentation on a holiday? Especially when the experimentation follows an afternoon of planting herbs and flowers and is fueled by a celebratory mojito? So, that is what I did.
When you look at the recipe, you will note several things–one that I use ghee and Greek yogurt as the dairy components of the dish. You can use butter and either regular yogurt or sour cream instead, but I will tell you–the dish won't taste nearly as good. It just won't. The nutty aroma of the ghee is part of what makes the filling taste really Indian, and the Greek yogurt, being strained, is thicker and thus adds body to the filling, not just its lovely tangy flavor. So, at least try to use the dairy products I used.
One final thing before I present the recipe–you will notice that I use a tiny bit of curry powder in the filling. You will seldom see me use it, but here it serves a distinct purpose. It gives the filling just the right fenugreek seed and turmeric flavor (and color) without accidentally using too much ground fenugreek seed. If you don't ever use curry powder, you can substitute the same amount of powdered turmeric mixed with 1/4 teaspoon ground toasted fenugreek seeds.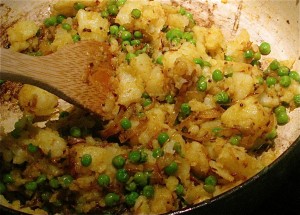 Indian-Spiced Twice Baked Potatoes
Ingredients:
2 large and one medium to small baking potatoes
canola oil
1 tablespoon ghee
1 large yellow onion, peeled and thinly sliced
1 teaspoon salt
3 fresh curry leaves
2 thai green chilies, thinly sliced
4 large cloves garlic, finely minced
1″ cube ginger, peeled and finely minced
1 1/2 teaspoons whole cumin seed
1 teaspoon whole black mustard seed
1/4 teaspoon mild curry powder
1/4 teaspoon smoked paprika
2 cups frozen peas (or fresh, blanched shelled peas)
2 tablespoons ghee
1/2-3/4 cups whole milk or 2% strained Greek yogurt
salt to taste
2 tablespoons minced fresh cilantro leaves
1 tablespoon thinly sliced green garlic tops or green onion tops
Aleppo pepper and minced cilantro leaves for garnish
Method:
Preheat oven to 400 degrees F. Wash potatoes well, scrubbing the skins with a vegetable brush. Dry potatoes, and prick in three or four places with a fork. Rub the skins all over with oil.
Place potatoes directly on oven rack and allow to bake until completely done–about one hour. Remove from the oven and allow to cool until you can handle them.
While the potatoes bake, heat the first tablespoon of ghee in a heavy-bottomed, deep frying pan. Cast iron is perfect. Add onions, and sprinkle with salt, then cook, stirring, until the onions have turned a nice warm golden color. Add the curry leaves and the chilies and keep cooking, stirring all the while, for another minute, or until the curry leaves are very fragrant. Add the garlic and ginger and the whole cumin and mustard seeds, and cook, stirring, until the onion's color deepens to a reddish golden brown, and the mustard seeds sputter and pop like miniature popcorn.
Stir in the curry powder and smoked paprika, then add the frozen (or blanched) peas. If using frozen, they do not need to be thawed. Cook, stirring until the peas thaw and begin to take on a yellowish tinge–just a couple of minutes.
Add the rest of the ghee to the pan.
While the onions are cooking, cut the two large potatoes open using two cuts made perpendicular to each other in the center of the potato. Scrape out the potato flesh, leaving enough connected to the skins to make a nice shell that can stand upright on its own. Cut the smaller potato in half lengthwise and scrape all the potato out of it. Put the potato innards into the pan with the peas and spices, and cook, stirring and lightly breaking up the potato with the back of your spoon, until the potato has turned yellow, is mostly mashed up, but with some definite lumps remaining. DO not think to puree the potato-it ruins the texture.
When the potato mixture has taken up the color of the spices and onions in the pan, add the Greek yogurt and stir well to combine it over heat. When it is combined completely, take off heat and stir in the cilantro and green garlic or onion tops. Salt to taste.
Refill the potato skins with the potato-pea mixture, mounding the filling up and out of the potato shell. (You will likely have a few tablespoons left over. Save them to eat later or give them so whoever is hanging out in your kitchen watching you cook to eat.)
Turn the heat of the oven down to 300 degrees F. and put the potatoes into an oiled baking dish so that they will stay upright. Put into the oven and bake until the top of the filling is lightly browned along the edges.
Remove from the oven, sprinkle with the Aleppo pepper and cilantro leaf garnishes and serve with a large salad filled with seasonal greens and root vegetables like radishes and carrots. Another good dish to go with this would be saag paneer–or mild cheese fried and then cooked with mixed greens.
1 Comment
RSS feed for comments on this post.
This is so exciting! I love samosas, but I don't like the idea of eating that deep-fried pastry shell too often. This is an awesome alternative.

Comment by Laura B. — May 9, 2011 #
Sorry, the comment form is closed at this time.
Powered by WordPress. Graphics by Zak Kramer.
Design update by Daniel Trout.
Entries and comments feeds.