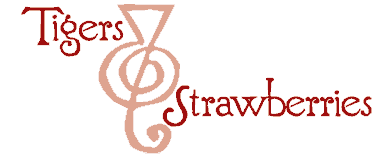 Cook Local, Eat Global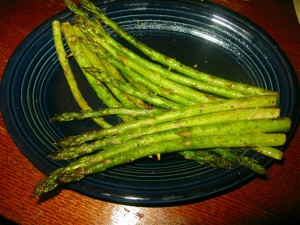 So, I've been quiet recently, and that means I have lots of great recipes to share because I did cook while I was quiet, but didn't write them down. So, a flurry of recipes will be coming your way in the next few days. (By the way, the quiet is because I had a bad cold with a cough that morphed into a really horrible ear infection. So bad I woke up every night with enough pain that I had to get up and take pain killers and wait for them to work before heading back to bed. So, I was awake enough to cook, but not awake enough to write about cooking, because really, the blogging is the hard part.)
Anyway, this isn't so much a recipe as a technique with ideas for seasoning.
This spring, Zak and I worked on getting grilled asparagus right.
Last year, we put big spears of blanched asparagus on the grill, but never got a great result. Often it was overcooked–in large part because taking the time to turn each of the spears with tongs took forever and a day. And a couple of spears were lost between the grates of the grill, sacrificed to the fire god, and this made Zak howl in primal sorrow and pain each time because he was loathe to loose one morsel of sweet, delicious fresh asparagus.
This year, Zak picked up a grill pan and used raw thin spears of asparagus which he just turned in groups with a spatula, all willy nilly and that would have worked well enough except he found that it was really easy to overcook even unblanched thin spears on the grill.
Back to the drawing board we went, although this time, before either of us could screw up more asparagus, here was an intervention by Chef Steve Raichlen. And not in book form this time.
By chance, we happened to be watching PBS rather idly one rainy and cold Saturday, (there were lots of those this spring) when Primal Grill came on. Kat adores cooking shows (much like Morganna before her who was enchanted by Madeline Kammen and loved Martin Yan when she was three and four respectively), and its about grilling, so I figured we'd watch. Zak even got sucked in, and we learned how to cook shrimp on the grill (which is useless information to me since I am, alas, allergic to the delicious seabugs now), and then, lo and behold, Steve showed us how to grill asparagus.
He showed a neat trick where he threaded four or five fat daddy spears of raw asparagus that were cut to all the same length on long round toothpicks, then marinated them and put them on the grill. They were so easy to turn all stuck together in a row like that, and baste, and put on and take off the grill–it was such a good idea.
So, we tried that and voila! Steve just did not let us down–we managed to perfect grilled asparagus at our house. And once you know how to do it it's the essence of easy.
All you do is make a sauce/marinade that includes a fat and either an acid, sweet and/or salty component, preferably all three.
You either soak your uniformly cut and skewered asparagus in said sauce/marinade for ten minutes or you brush it on just a few minutes before cooking, and then, you put it on a pre-heated charcoal fire grill that has soaked wood chips to make smoke and cook it, turning once, for two to four minutes.
That's all there is, folks.
And here you thought making those pretty little asparagus rafts was just a gimmick because they looked all cute and everything. Nope, they're actually practical because you can just lift each raft with tongs and whup them over on the grill as fast as a duck diving after a June bug.
Here are some ideas for seasoning sauces and marinades. The first one was inspired by Raichlen's original recipe, while the rest were all me.
Sesame. Honey and Soy Sauce
Doesn't that just sound great? To one tablespoon of each of toasted sesame oil and honey, add 2 tablesppoons of tamari soy sauce and a pinch of Aleppo pepper or whatever other crushed chili flakes you like. Sinfully simple.
Ghee with cumin seeds, mustard seeds and lemon juice.
This is just what it says–a tablespoon of melted ghee with pan-toasted cumin and mustard seeds–about 1/2 teaspoon each and 1 tablespoon of freshly squeezed lemon juice.
Finally, what about olive oil, balsamic vinegar, freshly minced basil, sea salt and minced fresh garlic?
This is a delicious way to turn any plain vegetable into a wanton temptress. Brush on equal parts oil and vinegar, and sprinkle with basil sea salt and freshly minced garlic on both sides of the "raft."
And grill.
And then, eat.
And enjoy.
That last part shouldn't be too hard, should it?
Unless, of course, you're unfortunately allergic to potatoes. (That's even worse than becoming allergic to shrimp in your old age….)
1 Comment
RSS feed for comments on this post.
I knew the toothpick/skewer trick with shrimp but never thought to do this with asparagus. Great idea. BTW – have you grilled artichokes yet? They are wonderful on the grill.

Comment by Maureen — June 1, 2011 #
Sorry, the comment form is closed at this time.
Powered by WordPress. Graphics by Zak Kramer.
Design update by Daniel Trout.
Entries and comments feeds.