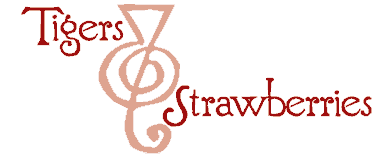 Cook Local, Eat Global
Mixing and matching fruit and vegetables in salads is great fun; it's even more fun when the combinations are suggested by what is ripe that moment in your garden.
Strawberries and snap peas both ripened in my garden plot at the same time, though I have to admit that the strawberries pictured above didn't come from my garden. Mine were stolen by someone who passed by; he was caught and confronted by another gardener and simply shrugged, tossed the strawberries he picked into his backpack and sauntered away. No worries, we're going to be erecting a fence now. Kat and I were left with one ripe berry apiece
BUT, it was the sight of the peas and strawberries ripening at the same moment which gave me the idea for combining the two with some of the beautiful salad greens which were also ready for harvest and herbs to make a delicious June seasonal salad.
I happened to have some strawberries at home from a local farmer, as well as some of the last of the season's thin asparagus spears, so I decided to add them to the salad.
I like asparagus perfectly well raw, but blanching it brings out a brighter shade of green in the spears, as well as enhancing the flavor a bit. The same goes with snap peas–lightly blanching them brings out the color and enhances the sugary flavor.
To add a bit of extra crunch, I lightly toasted some sliced almonds and sprinkled them on top of the salad, right before tossing the lot with a simple olive oil and balsamic vinaigrette.
A word about balsamic vinegar–the nicest version you can afford really makes a difference in this salad. The rich and lightly sweet flavor of a premium, naturally fermented balsamic vinegar perfectly enhances the strawberries. When flavors are simple as in this salad, it pays to use the best ingredients you possibly can.
Summer Strawberry and Snap Pea with Balsamic Vinaigrette
Ingredients:
6 cups of fresh salad greens, washed, dried and well chilled (Include spinach if you can)
1 cup sugar snap peas, stringed and washed
1/2 cup thin asparagus spears, trimmed to 1 inch pieces and washed
1 cup sliced, hulled strawberries
1/4 cup fresh herb leaves, roughly chopped (I used cilantro, spearmint, basil and lovage)
1/2 cup lightly toasted almond slices
1/3 cup balsamic vinegar
1 cup good extra virgin olive oil
2 tablespoons honey
salt to taste
Put salad greens into a chilled salad bowl and set aside.
Bring water to boil in a large pot. Add snap peas and cook just until they turn a bright green color. Scoop them out with a skimmer and rinse under cold water in a colander. Add a couple of ice cubes to the colander and toss to chill. Remove snap peas and pat dry with paper towels. When dry, sprinkle over the salad greens.
Repeat process with the asparagus spears.
Sprinkle the strawberries and herbs over the salad greens.
Make vinaigrette:
Whisk ingredients together in bowl and season to taste with salt. Use about 1/2 to dress salad, keep the rest refrigerated. It will stay good for about two weeks.
3 Comments
RSS feed for comments on this post.
This salad looks great. I love salads with fruit in them especially in the summer. I have never seen one with snap peas however. I am excited to try it out.

-Rob
Recipe Contests

Comment by Rob — June 19, 2011 #

splendid! i returned perfectly good swordfish to the platter in order to have seconds (and thirds) of this salad.

Comment by nancy — June 20, 2011 #

I'm allergic to strawberries, but there are probably several other fruits that would work quite well in this salad. Looks superbly wonderful!

Comment by Nancy V. — June 22, 2011 #
Sorry, the comment form is closed at this time.
Powered by WordPress. Graphics by Zak Kramer.
Design update by Daniel Trout.
Entries and comments feeds.