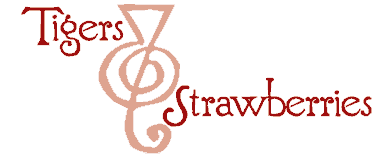 Cook Local, Eat Global
"Carola" is one of my favorite all-time potato varieties.
Which might seem weird to some folks–I mean, a potato is a potato, right?
Well, no. At least when it comes to locally grown or home-grown potatoes, there are distinct flavor and texture differences between potato varieties.
The same can not always be said of supermarket potatoes. There are differences in texture and color, but I cannot say the same for flavor. Many supermarket potatoes seem to have no flavor whatsoever, which leads to the addition of copious amounts butter, sour cream and other flavor enhancers in an attempt to create flavor where none exists naturally.
I grew up eating "Kennebec" potatoes grown on my Grandpa's farm, and to this day, they are my favorite potato for mashing. They have an earthy, nutty flavor and mash up creamy and fluffy, never starchy and sticky. I use a few garlic cloves boiled with the potatoes and then mashed with them to give a hint of sweetness to the mixture and then enhance it all with smaller amounts of butter and Greek yogurt than I usually use when I make mashed potatoes with random russets or reds from the grocery store.
But, I'm not talking about Kennebecs here–I'm talking Carolas, which I love even more than my old friend from Maine. Carola is a potato variety originally from Germany, and it is considered a "midseason" potato with an exceptionally creamy texture and a sweet, lightly nutty flavor that is amazing when parboiled and then sauteed.
The skins are thin and tender with an earthy, never bitter flaver, and the sunny yellow flesh not only carries other flavors with it, but always retains its nutty sweetness whether roasted, fried or boiled.
My favorite method of cooking these potatoes, especially when they are tiny babies (about 1″ round) is to parboil them whole and when they are fork tender, drain and dry them, then saute them in butter with minced fresh German Extra-Hardy garlic and perhaps some fresh rosemary or thyme leaves. Salted and lightly peppered, these wee potatoes are a highly anticipated late spring and summer treat at our table.
When the Carolas grow a bit larger, I still cook them by the same method, but instead of sauteeing them whole, I cut them into quarters after parboiling and draining them. This keeps the flesh from absorbing too much water, and improves the texture of the potato mightily.
I also roast the larger potatoes in a hot oven by tossing the quartered pieces with olive oil, salt and Aleppo chili pepper flakes, then cooking them until crisp and brown. Sometimes I sprinkle the potatoes with fresh minced garlic and rosemary during the last five to ten minutes of cooking, but not always. Sometimes, plain potatoes are just plain old spectacular without adornment.
But, sometimes, even a potato as fantastic as the Carola wants a bit of gussying-up, so last night, I decided to take my usual parboiling and sauteeing method a step further and give it a zing of flavor from the Indian subcontinent.
The recipe is still very simple and the flavors are clean and fresh, with a musky, earthy depth provided by the fresh curry leaves and cumin and mustard seeds, and a richness from the crispy browned garlic and ginger.
Give this technique a try–and if you can find Carolas at your farmer's market, please use them for this recipe. (I am also told that Carola potatoes make great potato salad, but I cannot speak to the veracity of that statement myself, having never tried it. But, I suspect it to be true–if any readers have ever used them in a potato salad, please let me know how they worked.)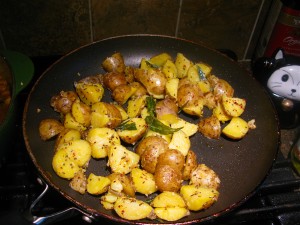 Indian Style Carola Potatoes
Ingredients:
1 pound young Carola potatoes, well scrubbed
2 tablespoons ghee or butter
10 fresh or frozen curry leaves
2 large cloves garlic, minced
1/2″ piece fresh ginger, peeled and minced
1 teaspoon cumin seeds
1 teaspoon black mustard seeds
salt to taste
Aleppo chili pepper flakes to taste
Method:
Put the potatoes into a deep saucepan and cover with cold water. Bring a boil and cook until fork tender. Drain and dry the potatoes well. If the potatoes are larger than about 3/4″ in diameter, quarter them.
Melt the ghee or butter in a deep saute pan over medium heat. Add the curry leaves, and cook until they are fragrant–about a minute. Add the garlic, ginger and spice seeds, and cook, stirring constantly, until the garlic and ginger are fragrant, but not at all browned–about a minute.
Add the potatoes and cook, stirring and tossing, until the mustard seeds sizzle and pop and the garlic and ginger turn golden, and the potato skins crisp up a bit. This takes about five minutes of constantly moving the potatoes around in the skillet–I both stir and toss, but one or the other works just fine as well.
Add salt and Aleppo pepper flakes to taste and serve hot. These are good with grilled meats or as part of a vegetarian meal with Channa bhatura or Mixed Mushrooms and Greens Dal.
2 Comments
RSS feed for comments on this post.
These look really tasty. I'm afraid I don't know what types of potato I usually use but I'll look out for these ones.

Welcome back from vacation… Love the idea of curry in potatoes… need to give these a try

Comment by Dave at eRecipeCards — August 4, 2011 #
Sorry, the comment form is closed at this time.
Powered by WordPress. Graphics by Zak Kramer.
Design update by Daniel Trout.
Entries and comments feeds.