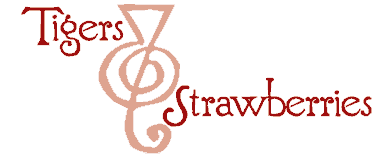 Cook Local, Eat Global
Filming on our food documentary has paused briefly this week while Dan finishes up some design work for a local non-profit organization, so I'm taking the time to do some administrative and writing work on the project. You know, work that doesn't require the knowledge of how to work a huge expensive video camera!
Last week, however, the two of us conducted our first on-camera interview and shot some beautiful footage of cows, grass and morning sky out at Snowville Creamery. We interviewed Warren Taylor, the enthusiastic and articulate founder of the creamery and got to the farm just in time to get some beautiful shots of the cows walking to the milking barn in the clear, gold-tinged morning light.
This meant that two night owls had to pretend to be early birds and be up and out of our houses at 5:15 AM, and because it was so early, we got lost on our way out to the farm, BUT thanks to Dan's GPS and navigational skills, we got there and got set up before the sun rose so it was all just fine. The light was so beautiful, we resolved to get up as early as possible for all on-farm shoots from now on.
Thank God for coffee, is all I can say.
The end result, however, was that the video and the stills we shot turned out beautifully, and gave the two of us more of an idea of how the trailer for the film, and the film itself will look. It helped us crystallize the surprisingly simpatico vision that exists in our two separate heads into one vision, and indirectly, it ended up giving Zak the idea for what will now be the title, not the working title, of the film.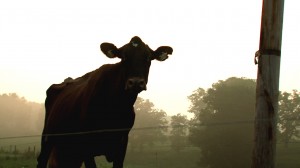 Zak, who is doing the soundtrack for the film on both acoustic and electric guitar and Native American flute, came up with the title while he and I were driving back from Columbus on Tuesday.
"Hand to Mouth: The Athens, Ohio Food Cycle."
Hand to mouth, of course, is an phrase that is often used in Appalachia to describe folks who are so poor that everything that they do is centered around having enough to eat. In this context, we want to turn the phrase on its head and show something that is usually a negative stereotype about our region–and reclaim the phrase, as it were, to mean, that which we grow and produce with our hands turns right around and feeds us instead of being shipped half a country away. The "food cycle" part of the title refers to the cycles of agriculture–the seasons, a time to plant, a time to reap, circular movements rippling outwards, ever moving and changing and growing.
So, that's the news on the documentary. In the next few weeks, as soon as Dan is done with his current freelance project, we'll return to a flurry of activity, going out to shoot in various locations around Athens and the surrounding counties, collecting footage to then turn into the trailer which we hope to have ready by the end of September, though we make no promises.
No Comments yet
RSS feed for comments on this post.
Sorry, the comment form is closed at this time.
Powered by WordPress. Graphics by Zak Kramer.
Design update by Daniel Trout.
Entries and comments feeds.