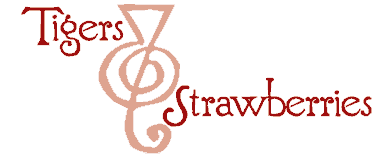 Cook Local, Eat Global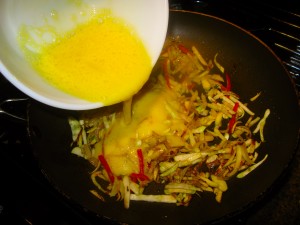 So, here's the deal.
I like vegetables.
A whole lot. Like, when I was a kid, it was way easier to get me to eat my vegetables than it was to get me to eat most meats. (Bacon, lamb, trout fillets and good fried chicken were exceptions. I always loved those.)
In fact, for years, I was certain I didn't like steak, because I associated that word with pieces of chewy, grey dried-out shoe-leather on a plate.
Yeah, lots of folks in my family overcooked meat.
But vegetables, man–even if I didn't like them overcooked, if Mom served them to me raw, I was all over that. Green beans–cooked or raw–were my favorite. But carrots came a close second. Turnips, yeah!
So, let it suffice to say I've always been a big fan of the members of the vegetable kingdom.
But I've also always loved eggs.
Boiled, scrambled or fried, eggs have always had a fond place on my plate. This is probably because I grew up eating really good eggs from Grandma and Grandpa's farm–I'm a great believer when it comes to truly fresh eggs from truly happy hens who spend their lives eating a varied diet of insects, greens, grain and kitchen scraps will convert most egg-haters into lovers of the beautiful hen-fruit.
But you know what's weird?
I went through most of my childhood without ever having the two combined into one glorious dish.
No one in my family made omelets, and I'm pretty sure know one had even heard of a frittata.
And this is a sad thing.
It wasn't until I was a teenager on a summer road trip/vacation to Monticello with my parents that I tasted a Western omelet at a roadside diner somewhere in rural Virginia. It was listed as a "specialty of the house" and was made with onions, bell peppers and sausage bits fried together then folded into the eggs with some really nice melty cheddar cheese. Well, actually, I think it was American, but that's beside the point.
That was the first time vegetables and eggs were combined in my mouth and it rocked my world.
And so, I took to learning how to cook eggs and vegetables together.
Which leads to this post, which was supposed to be about making frittatas, except I forgot what I was doing about halfway through making mine and folded it and OOPS–made an omelet.
I'm sure you'll all forgive me.
But it's a weird omelet, in that it's browned on the outside the way a frittata is, and I cooked the vegetables first in the pan I cooked the eggs in, like you do a fritatta. In fact, it's a fritatta, except I didn't flip it or stick it under the broiler, but instead half flipped it and half-folded it and damned if it didn't turn out tasty as well.
This is another of my posts where I remind people not to fear failure in the kitchen. Failures often result in something interesting that you might not have discovered if you'd done everything right the first time. Besides, if it tastes good, is it really a failure, even if it didn't come out as you meant it to? Besides, remember what Julia Child said about you being alone in the kitchen, so who's to know if you make a mistake? No one if you don't tell them, that's who.
So, never apologize, even if your frittata turns out to be more omelet-like than you intended.
That said, do try making something like this recipe. It is quite good, and serves two to three people for a good brunch or a light lunch. I like it a lot with some sourdough bread toasted with great butter, but nothing is stopping you from replacing that with a salad, or even better, a salad with some garlic bread on the side.
Oh, and what to call this? The Frisky Frittata? The Almost Omelet? Plain old Eggs and Vegetables?
I like calling it Oeufs Verts, which is, of course, French for "Green Eggs" as in "Green Eggs and Ham."
No, the eggs aren't green themselves, nor is ham involved, but I like the sound of it, and if you use green vegetables (in this version, I used scallions and zucchini along with sweet red peppers) and herbs, I think that takes care of the "verts."
Besides, this is a nice vegetarian dish and you cannot get more "green" than that, can you?
Besides, everything sounds better "en Francais."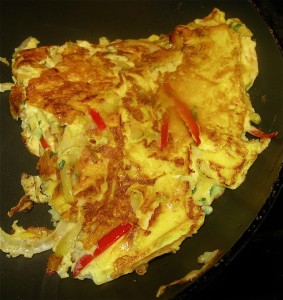 Oeufs Verts
Ingredients:
1 1/2 tablespoon olive oil or butter
2 scallions, cut into thin slices on the diagonal
1/4 teaspoon salt
freshly ground black pepper to taste
1 small zucchini, cut julienne
1/2 small red bell pepper, cut julienne
4 eggs, well beaten, then blended with 1 tablespoon of milk
1 teaspoon butter
2 teaspoons or more to taste of freshly chopped fresh herbs–I used basil, Italian parsley and tarragon
3 tablespoons grated sharp cheddar cheese or any strong cheese of your choice
Method:
Heat the olive oil or butter in a heavy-bottomed 9″ in diameter non-stick or well seasoned cast iron pan on low heat.
Add the scallions and sprinkle with salt then season to taste with freshly ground black pepper, and cook until it's just beginning to turn golden. Add the zucchini and peppers and cook, stirring until the onions are browning and the edges of the zucchini are brown and the peppers show a bit of browning action, too.
Add the teaspoon of butter, and melt, turning pan this way and that to distribute the melted butter and to spread out the sauteed vegetables. Use a spatula if you need one to get the vegetables into a uniform single layer on the bottom of the pan.
Pour in the eggs off heat, then put them back on heat again and let them begin to set on the bottom. Sprinkle with the herbs.
As the eggs cook, push the cooked edges toward the center of the pan with a spatula and then tip the pan to let the uncooked egg slide toward the outer edges. Keep doing this until there is a uniform layer of cooked egg on the bottom and most of the inside is starting to look a bit dry.
Sprinkle on the cheese and then carefully slide your spatula (A large vinyl fish spatula works best for this) under the eggs and lift it up, tipping the pan away from the eggs as you lift. Carefully fold the eggs over, so that you overfold it slightly, letting the last of the uncooked egg and some of the cheese to hit the hot bottom of the pan. Set it back on the stove and cook for about thirty seconds to one minute longer, then remove your mostly half-moon shaped eggs and vegetables from the pan and set it on a serving plate.
Cut it into wedges to serve.
You can saute any vegetables you like in this dish, just adjust cooking times accordingly. I like lacinato kale sauteed with onions and garlic in this dish and if you use a lot of it, it really makes the eggs green.
No Comments yet
RSS feed for comments on this post.
Sorry, the comment form is closed at this time.
Powered by WordPress. Graphics by Zak Kramer.
Design update by Daniel Trout.
Entries and comments feeds.