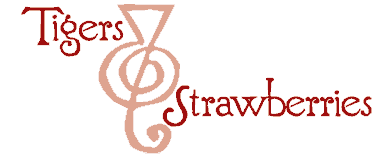 Cook Local, Eat Global
Okay, I just read something that got me het up enough to get political in my food blog again. It is about the conflicting messages that nursing mothers are given when it comes to feeding their babies.
I got up this morning early to send a fax to my mother, and so, while the fax machine was whirring away, I sat down with tea and decided to read the New York Times online, and a headline catches my eye: "'Lactivists' Taking Their Cause, and Their Babies, to the Streets."
The American College of Pediatrics urges all women to breastfeed their babies, because as we should all know by now, breastmilk is the best food for all human babies to have for the first year of their lives. Their bodies are made to digest it, mother's bodies are made to make it–it seems to be a simple, logical process to decide to breastfeed one's own child. And, according to this article, it is becoming an overwhelming choice for a majority of mothers: apparently, 70% of new mothers are nursing their babies at least for the first few weeks of life, which is a huge jump from the nearly 0% who were breastfeeding their kids thirty-nine years ago when I was born and the 50% of women doing so in 1990. (I am proud to say that I was one of those 50%.)
This is great! This is good news, not only from my perspective as a chef, and a woman interested in public nutrition, but from my perspective as a mother. I am glad to see more women getting the message that breastmilk is the single best food for infants and not only is nutritionally superior to both dairy and soy-based formulas, but also confers greater immune system strength to the child, through the influence of the mother's immune system. No formula can do that, and the result is healthier babies who would require much less medical intervention.
The American College of Pediatrics estimates that if all women followed their guidelines and exclusively breastfed for the first six months of life and then continued to breastfeed in addition to supplementing with solid foods for six more months, health care costs for sick infants would be reduced by 3.6 billion dollars per year.
Doesn't that sound good? Don't we all want our babies to be healthy? Don't we want every baby to be healthy, happy and well-fed?
Apparently not.
While 70% of new mothers are breastfeeding upon leaving the hospital, only 36% are still breastfeeding at six months, and 17% at twelve months. Only 14% are exclusively breastfeeding at 6 months.
Houston, we have a problem.
What is happening here? Why are few mothers able to stick with breast feeding, even when they know conclusively that it is the best nutritional choice they can make for their babies?
It isn't a lack of knowledge or experience out there; in 1990, when I was breast-feeding my daughter, I was one of the lucky women who had female relatives who had breast-fed and could help me figure out how to do it effectively. My grandmother and mother-in-law both had experience breast feeding and could teach me how to go about it; contrary to popular belief, breast-feeding is not an instinctive skill among we higher primates. Gorillas, chimps and humans all learn to feed our babies by watching others go about it. (When a captive gorilla in a zoo kept having trouble feeding her babies, the zoo administrators found a lactating human mother to sit outside the enclosure and feed and care for her infant where the gorilla could observe her. When the gorilla had her next baby, she fed it like a pro.)
Most other women who were breast-feeding at that time, however, were hard-pressed to get good information. Few doctors and nurses were trained in the mechanics of human lactation, and while there were chapters of La Leche League in larger cities, it was difficult to find any books on the subject, save for a few copies of their Womanly Art of Breastfeeding, which while supportive, wasn't that technically useful.
Today, there is a plethora of titles available to teach the techniques of breastfeeding to the increasing number of new mothers who want the best for their babies. A survey of some of the best include Bestfeeding, The Ultimate Breastfeeding Book of Answers and The Breastfeeding Book.
In addition to books, most hospitals have lactation consultants available on staff to answer questions and support new mothers in learning how to nurse their babies effectively. In addition, there is simply a larger pool of peers available who have breastfed or are breastfeeding, and there are support groups for lactating women in big cities, small towns and rural communties across the nation. And of course, there is the Internet, which is teeming with information and support on the subject of breastfeeding.
So, obviously, it isn't a lack of information or medical support that is causing this drop-off in mothers who breastfeed. What is happening?
According to research by the FDA cited in the New York Times article, one of the greatest barriers to women continuing to breastfeed thier infants is the degree of embarrassment women feel about nursing. This factor was found to have more influence over women's decision over whether or not to breastfeed than household income, maternity leave or employment status.
Women feel icky about it, in large part, because women are made to feel icky about our bodies in general, but our breasts in specific.
Why?
Because breasts, particularly in the United States, have been sexuallized to the point that women feel weird using them for thier primary function, which is feeding their babies.
And even if a woman herself doesn't feel strange about putting her baby to her breast, there are plenty of Americans who will feel weird about it if they see her doing it, and will go out of their way to make her feel ashamed of doing the right thing for her baby. Women have been asked to go to the bathroom to feed their babies when they are in public places, because other people are uncomfortable watching them.
This is a ludicrous situation. Do you eat while sitting on a toilet? I didn't think so. So why should a baby be sent to a room where defecation and urination happens, which are less than sanitary activities, in order to eat?
The answer, my friends is this: they shouldn't.
And apparently, new mothers are tired of these mixed messages, and have taken to the streets over it, organizing "Nurse-ins" across the country in order to bring awareness to the fact that they are doing nothing wrong, dirty, shameful or disgusting and that there is no reason that they and their babies should be hidden away in their homes or a bathroom stall just because other people are made uncomfortable by the sight of babies eating in the way that nature intends them to.
In response, six states have passed legislation which require that women be allowed to nurse their babies in public without being harrassed or intimidated. Other states are following suit, while many corporations such as Starbucks and Burger King are making policy changes which allow nursing on premises without being asked to leave.
Perhaps, by 2010, Americans will have grown up enough to deal with the "horrifying" sight of women feeding babies that the Surgeon General's Goal for Healthy People might be met wherein 75% of mothers nurse their babies at hospital discharge, 50% are still nursing at six months, and 25% are still nursing after a year.
Until then, let us all stand up for nursing mothers and babies and give them emotional support and positive reinforcement. If you see a mother being harrassed, stand up for her, and tell the harrasser to look away if the sight of a baby being fed bothers them so much. Write to your elected officials and tell them what you think about the issue. And if you have a baby of your own, breastfeed him or her for as long as you can, and if you need help learning how, ask for it without shame or embarrassment.
It takes a village to raise a child–and sometimes, it takes a village to help feed that child, too.
15 Comments
RSS feed for comments on this post.
Sorry, the comment form is closed at this time.
Powered by WordPress. Graphics by Zak Kramer.
Design update by Daniel Trout.
Entries and comments feeds.