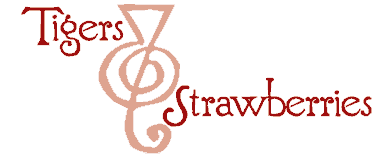 Cook Local, Eat Global
A week or so ago, I posted a comment on my blog entry entitled "Alice Waters Goes to Washington," where I noted that people who whine that they "can't eat meat that looks like it came from an animal" were a hot button for me.
It is an issue for many reasons, one of which is quite simply this: if you cannot deal with the fact that an animal has to die so you can eat its flesh, then, you shouldn't be eating that animal in the first place. It isn't necessary for most humans to eat meat anymore–human knowledge of nutrition and the global marketplace have made vegetarian diets more pleasant, palatable and nutritionally sound than ever before.
So, if you don't -need- to eat meat for its nutritive value, and it squicks you out to think of eating an animal, then why not just stop eating meat, and while you are at it, stop whining about it?
Doesn't that make sense? Isn't that a sound bit of reasoning? Isn't it nice, tidy and logical?
Ah, yes, but there is a problem with that–humans are not nice, tidy and logical beings, and that is where the issue becomes thorny, sticky and problematic.
The answer I often get from people who say, "I don't like to eat meat that looks like it comes from an animal," when I retort, "So don't eat meat," is the following sentence, usually stated in a plaintive wail:
"But I like the way meat tastes."
This always works my very last nerve.
Why are people like this? Why do people insist on eating meat, but complain if it looks like it came from the carcass of an animal–which, even if it is minced and turned into sausage or trimmed into boneless cutlets, or cooked, shredded, ground and pressed into the shape of cartoon characters, is whence all meat comes? Why is it so hard to wrap one's head around the fact that meat is the product of slaughtering an animal for the purpose of human consumption?
There are a lot of reasons, but I think the main problem, particularly here in the United States, lies with the way in which food is produced and distributed.
It used to be that local farmers produced most of the food of a given locale, and local butchers, grocers and small markets sold that food to the public. At the turn of the century up until the 1950's most meat animals were raised reasonably close to the marketplace. Small to medium-sized local slaughterhouses and meat markets were common in all cities and towns and in every neighborhood, there was a local butcher shop.
At these businesses, the public could see animals in various states of preparation on their journey to comestibility. Herds of cattle were sometimes driven through town on their way to the slaughterhouse; in my home town of Charleston, West Virginia, they were offloaded from barges on the river and driven to the slaughterhouse owned by my great-grandparents.
The public didn't exactly go through the Fisher and Fruth slaughterhouse, but once the animals became skinned, eviscerated and headless carcasses, they were sent next door to our meat market. There, one could go in, look at whole sides of hanging beef or whole hogs and either buy the entire carcass, or order a specific primal cut to be delivered to their home, or just pick up some frenched lamb chops for dinner.
My mother and father have photographs of my great-grandfather and his sons and business partners in the butcher shop, with carcasses in various states of being cut hanging from the ceiling and being displayed in cases.
People thought nothing of walking into a butcher's shop and seeing the carcasses of cattle, calves, sheep, lambs, hogs, piglets, chickens, geese and ducks. Rabbit, deer, goat and turkey carcasses were common as well.
It was the way of things.
People at that time were closer to the source of meat; in fact, people at that time were closer to death in general. When someone died back then, the person was laid out and the funeral took place at home. And often, the relatives of the departed did the job of washing, dressing and laying the person in the casket in the parlor.
And no one thought anything of it–because that is how things were done.
With the coming of the supermarket–(and the funeral home) the public became estranged from death and the its relationship to meat. Meat is now cut far from the eyes of the meat buying public–it happens behind closed doors in the meat department in the supermarket–or, as is often the case now–farther away at a centralized slaughterhouse. Meat is neatly wrapped in tidy plastic and presented in styrofoam trays, which is all so sanitary, cleanly and neat. These plastic-encased, vacuum-packed boneless bits of meat are far removed from the bloody truth that meat is the product of death.
People have forgotten, that in order for us to eat a hamburger, a cow dies. Most Americans live sheltered lives where the fact that in order for us to celebrate Independance Day with fried chicken and barbequed ribs, chickens and hogs must die.
This is utterly alien to my experience. I grew up with those aformentioned pictures of the meat market, framed and displayed proudly in our livingroom. Furthermore, with my own hands, I helped butcher steers, hogs and chickens, and have cleaned countless fish. From the time that I was strong enough, I helped my grandparents produce the meat our entire family ate. And I never thought that there was anything odd about it.
We named our hogs and cows. The chickens–well, when you have fifty of them and many of them look much alike, they are harder, but I still had some that I named every year, because they had distinct personalities or looks, and I could recognize them. We named the steers were were going to eat, and my cousins and I, when we marked the wrapped packages of meat, would put the name on the package, along with the cut and the date.
For example, we had an Angus-Hereford cross steer we named Raisin. So, when we butchered him, we put on the package of a chuck blade roast, "Raisin, chuck blade roast, 11/74, 2 lbs."
And when we sat down to eat that chuck blade roast, Grandma would say, "This is from Raisin." And whoever said grace would say at the end, "and thank you, Raisin, for being such a nice steer and making such good meat for us to eat, amen."
I remember telling that story to some kids at culinary school, when we took a meat-cutting class. Some of them were horrified, and they look at me as if my people were a bunch of barbarians for naming a steer, petting it and feeding it treats through its life, and then killing it swiftly and painlessly, without frightening him, then butchering him, and then thanking his spirit after he was dead for letting us eat him.
These were the same students who objected to learning how to cut up an already plucked, bled, eviscerated, beheaded chicken into cooking parts, "because it is gross."
Only a couple of other students got what I was saying.
Of course, they had grown up on farms as well.
I tried to point out that the really awful parts were done, but most of them wouldn't listen. To make matters worse, several of them said at lunch, when we were served beef ribs, "Oh, I hate to eat meat that looks like it comes from an animal. It just makes my stomach hurt."
I mostly kept my tongue behind my teeth, and my lips clamped shut.
The only students I felt bad for in that class were the two vegetarians. They didn't even eat meat, yet, they diligently worked to learn how to cut it up and cook it, even though they found it to be distasteful. I had a lot of respect for them, and I found myself volunteering to work with them for the remainder of the class. Compared to the whining meat-eaters in the class, the vegetarians were models of ethical adult behavior.
It isn't just young people who are confronted by a full side of beef in a culinary class who will make stupid remarks about meat. I have heard idiotic statements at the dinner table as well, by persons old enough to know better.
Once, I was at Zak's cousin's house for Thanksgiving, and we were in the middle of dinner, when the rather twitchy lady next to me eyed the turkey platter that was near her, and sniffed as another guest took up the drumstick and tucked in. "I cannot stand to see meat that looks obviously like it is from the animal. It upsets me so."
She then speared a piece of breast meat from her plate and ate it.
The irony didn't seem to bother her, but it nearly made me choke.
I swallowed, blinked, stared at the woman, and blinked again. Determined not to make a scene, I opened my mouth and closed it, and looked across the table at Zak's cousin's brothers and mother.
Let me explain to you about this family–for several generations they have been involved in the food industry in Baltimore. They had owned and run a restaurant, and at the time of this Thanksgiving, one brother was working as a meat cutter, while the other was a caterer. Their mother, who was sitting directly across from the lady who was still wrinkling her nose at the turkey platter, had grown up in the Jewish community of Baltimore, and had a lot of experience in the food industry.
Her name was Selma. Selma, a lovely older woman, looked down her elegant nose at the other woman, and raised one eyebrow. The corner of her mouth quirked up and she took a sip of wine then said, "Oh, that is so strange to me, because you know, I grew up buying live chickens at the market and carrying them home by their feet. And then my mother or father would butcher them out in the backyard in the summer, or down in the basement in the winter, and I always helped pluck them. They were lively birds, you know–the livelier, the better, my mother always said, and she would wring its neck and then we would bleed it–you know, you have to bleed it all out to make it kosher."
I glanced at the woman next to me whose face was turning a whiter shade of pale than her shining silver hair. I couldn't look at Selma too long, because her eyes were twinkling with wicked glee, as she watched the woman squirm, so I glanced at her sons, who had barely disguised contempt written on their faces. But, like me, they stayed quiet, and let thier mother speak.
Selma continued to describe the process of going from live chicken to matzoh ball soup, and then shrugged and said, "And they were the best tasting chickens I have ever eaten. Really, until you eat such a fresh bird, you do not know what you are missing."
The woman next to me opened her mouth and shivered. "I just couldn't do that. I don't know how you could. Just seeing the meat on the bone bothers me."
Selma fixed her with a strong stare and said, "So then, eat vegetables. There are plenty around to eat–I bet Barbara over there could tell you how to go about eating the right kinds of vegetables to stay healthy." She gave a barely perceptable wink, and then went back to eating her turkey.
I took the hint and carried the conversation forward to a discussion of vegetarian cuisine and cookery, which then evolved into a discussion of dessert–always a safe topic.
That happened years ago, but it was not the last time I heard someone whine about eating meat that looked as if it had once been alive.
I suspect that I will never stop hearing that particular complaint, at least until humans figure out how to safely clone and culture animal muscle cells in vats, like they do in some of Lois McMaster Bujold's science fiction novels. I jokingly made reference to that last week, and then this week, was surprised to see a news story on the issue at Sustainable Table.
Until the time that humanity starts growing meat in laboratories, I hope that several things happen.
One, I would like to see more people come to terms with the fact that when they eat meat, they are eating a bit of dead animal. In facing this truth, I would very much like to see more consumers looking into how meat is produced in our country, and asking some very simple questions about the factory farming system, which I believe is harmful to the ecosystem, to the animals it produces, and to human health.
Two, in asking these questions about factory farming, I would like to see consumers seeking alternatives to the meats produced in this manner. Some will likely choose to become vegetarians, and that is fine–I believe that is a very ethical choice for many people, and I support the right of anyone to choose to eat a vegetarian diet. Others will still want to eat meat, but will decide to find other sources besides factory farmed meats.
Finding alternative sources of meat is still difficult in some places, but due to rising consumer demand for organic, grass-fed, free-range meats, more farmers are beginning to step forward to satisfy this growing market. And while prices on some of these meats are higher than the national grocery store average, prices will likely begin to drop as more farmers begin offering sustainably-raised meat.
For information on how to find alternatives, visit The Meatrix, which includes a great Flash animation parody of the film, "The Matrix." In addition to the film, there are a large number of links on the site to help consumers find and connect with local farmers whose animals are treated in an ethical fashion.
Third, I would like to see consumers just think a little bit more about where our food comes from in general. Not just meat, but everything we eat. Where does it come from? What goes into its production? Why does processed food cost less than fresh food? What are farm subsidies, and who gets them? How does the global economy affect small farms, both in the US and abroad? For a list of books on the subject, check out my previous post, "The Empire Strikes Back".
Another source of news on all things having to do with the United States food systems and the economy, check out Parke Wilde's excellent blog, US Food Policy.
Finally, I would like to see recognition of the fact that all of life feeds on life in an endless cycle that has been in existence for as long as our planet has been habitable. In understanding this, I hope that one day, all humans can learn to respect the animals who die so that we can eat meat, and demand that while those animals live, that they be treated ethically and humanely, and that they be killed in as painless and least frightening way possible.
Because, to me, one of the best measures a civilized society is not in how we treat our greatest citizens, but in how we treat the least powerful among us.
There are no beings on earth with less power to resist humanity than domestic animals.
I hope that one day, humanity realizes this, and rises to the challenge of treating domestic food animals with the respect and honor that they deserve.
87 Comments
RSS feed for comments on this post.
Sorry, the comment form is closed at this time.
Powered by WordPress. Graphics by Zak Kramer.
Design update by Daniel Trout.
Entries and comments feeds.