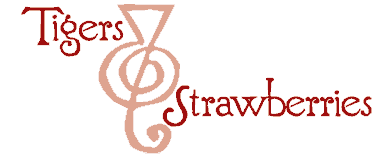 Cook Local, Eat Global
I wait the entire year for summer tomatoes.
The rest of the year, I don't bother eating any fresh tomatoes. There is no point. The hothouse or hydroponic tomatoes in the grocery store do not even deserve the name, "tomato," they are so unlike the real article–they completely lack the flavor, texture and juice of a ripe tomato, even if they manage to be beautifully red.
Genetic engineering can do wonders with plastic fruit.
From July to September, when tomatoes are at their peak, I make gallons of fresh salsa, and have been known to eat it three times a day: with huevos rancheros for breakfast, on a quesadilla for lunch and on grilled fish for supper. Zak didn't used to really like salsa much, until I first ran into heirloom tomatoes and started making salsa with them. Before that time, he would eat the juice from the salsa, but would not consume the tomatoes–he hated the flavor and the texture.
I discovered heirloom tomatoes about seven years ago at the farmer's market in Columbia, Maryland, and was instantly enchanted. I bought probably ten pounds of them, in a mad array of colors, shapes and flavors. While lugging them home, I realized that there was no way I could eat all of them myself, so I plotted to make a salsa that used every color of the rainbow, and while it utilized chills, the wickedly hot peppers would carry the backbeat and let the tomatoes step up to the mic and sing lead, with onions, garlic and cilantro harmonizing. Lime juice, salt and a touch of cumin would finish out the rhythm section.
Because of all the colors, I named it, "Calico Salsa," and with its inception, I convinced Zak that he really did like fresh tomatoes.
Now, he waits all year for the first big bowl of Calico, and we eat it with everything, though he is most apt to eat large amounts of it with quesadillas.
Most salsas are either cooked or raw; this one is both. Some of the tomatoes I leave uncooked so as to show off their lovely colors and fresh flavors to maximum advantage; others I roast in order to bring out the sweetness and caramelize the juices, while breaking down the pulp into a thick paste, which gives body and depth to the salsa. I leave the small chiles raw, along with the onions; the thick-walled chills and any red or yellow bell peppers are roasted. If I can find purple or chocolate colored bell peppers, I leave them raw and cut them up finely in order to preserve their color. The red onions I use raw, and garlic is used raw, though I have used roasted garlic in the salsa to good effect.
You can use any mixture of heirloom tomatoes to make the Calico, but there are a few things I will insist upon. One–I really highly suggest that if you can get Green Zebra tomatoes, that they go in the salsa. For one thing, they are gorgeous little fellows, as you can see from the photograph–kiwi green on the inside and lime green striped with yellow on the outside. Because they are so lovely, I do not cook them, but cut them up and add them to the salsa raw. In addition to being pretty, the Green Zebra has a spicy, tangy flavor that really rounds out the sweetness of the other tomatoes.
I also like to use yellow, orange or red Roma or paste tomatoes in this salsa, and these I roast. The reason is simple–first of all, roasting them deepens the flavor–it intensifies the sweetness of the tomato, and when you roast a Roma tomato, it makes the pulp break down into a thickening paste. I let the skins char and blacken completely, and then, after they are cool enough to handle, I squeeze them out of their skins and cut off the core. The rest, I mince up by hand–a few strokes of the chef's knife and the tomatoes fall into a thick pulp that adds body to the salsa.
Other favorite tomatoes for this salsa include the Brandywine, Cherokee Purple and Green German and Hillbilly. Each one has a different color and the flavors are all quite interesting and unique. The Brandywine has a flavor that is very balanced between sweet and acidic, while the Cherokee Purple, which is a burgundy-plum color with green shoulders, has a musky note to it. The Green German is quite acidic and somewhat fruity tasting–like a plum almost, and the Hillbilly, which is a big yellow beefsteak with streaks of red running through the flesh is heavy, full of juice and very tangy, with a sugary finish.
I always add minced up lime zest and fresh cilantro for a floral, herbal top note and balance the acidity with a squeeze of lime juice.
Canning this salsa isn't a very good idea; it cooks it down as you process it in the hot water bath, and it completely changes the character of it, such that the myriad textures, colors and flavors are lost, and it becomes just another salsa. Freezing is equally fruitless, so this salsa is a summer tradition in our house. We know that the hottest days of summer have come when the first huge bowl of Calico appears in the fridge, and then feeding frenzies ensue.
Morganna's favorite way to eat them is with tortilla chips; in order to eat locally this month, we are buying only Jose Madrid Brand chips which are made in Zanesville, Ohio, along with some really fine bottled salsas. Jose Madrid salsas are what we have in the wintertime, when the voluptuous tomatoes of summer are but a dim memory, but our tastebuds long for an echo of their flavor. I first discovered their products at the North Market in Columbus, but was thrilled to find that they also sell at the Athens Farmer's Market.
I have no idea if the corn they use in making their tortilla chips is grown in Ohio; at least for the red and blue chips, I sincerely doubt it. Both of those varieties of corn, which were traditionally grown by different tribes of Native Americans, tend to be desert varieties with very specific cultural needs; one of my goals after we terrace our backyard and put in a garden is to try and grow some grinding corn so I can make my own tortillas and tamales, and while I would love to grow blue corn, I am not certain it would work out.
But, it is good to know that when we bring Morganna back to live with us, she can enjoy locally made tortilla chips with her favorite salsa in the world.
Needless to say, everything used in this salsa came from the farmer's market, except for the lime, the salt, pepper and adobo seasoning. Everything else is local and very, very fresh.
Calico Salsa
Ingredients:
3½ pounds multi-colored heirloom tomatoes
1 medium poblano chile
1 large jalapeno chile
1 small bell pepper (purple if you can get it, yellow, red or orange if not)
1 medium red onion
2 cloves really fresh garlic
1 serrano chile pepper to taste
juice of one lime
zest from one lime
large handful of fresh cilantro, minced
salt and pepper to taste
1/8-1/4 teaspoon Penzey's Adobo Seasoning (or use ground cumin and coriander to taste)
Method:
Wash tomatoes, peppers and chilis. For green and yellow striped tomatoes, and pale yellow tomatoes, roughly chop and place in a bowl, scraping into the bowl as much juice as is possible.
Roast other tomatoes, poblano and jalapeno (and bell pepper if it is red, yellow or orange). Set the broiler in your oven on high, put a rack up close to the heat, and set up a roasting pan with a V-shaped or flat rack, and place vegetables on this rack. Roast, turning once or twice, until the skins are charred and blackened, then remove from the broiler, and allow to cool. Reserve syrupy juice in the bottom of your roasting pan. These caramelized juices are filled with flavor.
While veggies roast, dice red onion and bell pepper (if you didn't roast it) into a fine dice (brunoise, for you culinary nerds out there), and mince serrano, garlic and lime zest. Add to chopped tomatoes.
Skin tomatoes,chillss and bell pepper. Mince poblano and jalapeno and roughly chop/mash roasted tomatoes. Dice the bell pepper finely. Add syrupy goodness from bottom of roasting pan to the bowl, along with poblanos, tomatoes and garlic.
Add cilantro, adobo seasoning or cumin, and salt and pepper. Add lime juice to taste, balancing the sweetness of the roasted vegetables with the acid of the lime.
Note:
This salsa is best served chilled–I like to allow it to chill at least five or six hours before serving in order to let the flavors settle in together and get friendly: overnight is even better, but I seldom can wait that long.
When it is just made, it is like a group of people, all singing different songs at their own paces and in different keys. You can tell it is music, but you are pretty sure it isn't very good. But once the flavors all settle in together, the salsa becomes a choir, every voice discernible and present, but all singing in close harmony.
6 Comments
RSS feed for comments on this post.
Sorry, the comment form is closed at this time.
Powered by WordPress. Graphics by Zak Kramer.
Design update by Daniel Trout.
Entries and comments feeds.