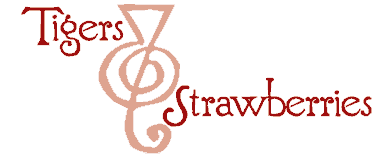 Cook Local, Eat Global
It is hard to eat locally when you cook a lot of Asian foods.
For example, the dinner we had Friday night was not exactly what a purist locavore would have approved of.
To be sure, the ground pork came from Bluescreek Farms in Marysville, Ohio, and the onions, garlic and cucumber came from the farmer's market here in Athens. The noodles were plain soft wheat fetuccini from Rossi Pasta–which very closely approximated fresh Chinese wheat noodles.
But the rest of it–eh–not so much. The Chinese ingredients were all from–guess where? China. Soy bean pastes and sauces, Shao Hsing wine and toasted sesame oil all came from the motherland, while the ginger and tofu were from California, and the carrots–well, I don't know where they came from, as I bought them a while back. Near as I can tell, they came from my vegetable drawer.
But, I was in the mood for something quick, filling and delicious, and I had ground pork thawed out, and all of the ingredients in the pantry, so za jiang mein it was.
Za jiang mein is to Beijing what spaghetti with meatballs is to middle America. A hot, filling, flavorful dish of meat sauce and wheat noodles. There, however, the similarity ends; the seasonings in za jiang mein are completely unrelated in flavor to the tomato and oregano-laden Italian-American dish. The meat sauce is at once sweet and savory, salty and hot, rich and oddly light, usually due to the addition of raw or blanched vegetables as a garnish.
I first ate this dish at a pan-Asian restaurant called Noodles Corner in Columbia, Maryland, and fell in love with it immediately. It consisted of fresh egg noodles with a topping of a rich minced pork and pressed tofu sauce garnished with raw cucumber shreds and cilantro. The waiter told me that it was a dish that originated in Beijing, where it was made in homes, small cafes, and in street stalls, and that some people made it spicier and some made it sweeter. The main flavoring, he told me, was bean sauce or bean paste–the Chinese version of miso.
I tried making it years ago with miso and it turned out godawful. I have since learned that while the fermented soy bean pastes and sauces of China are similar to miso, they are not the same, and really shouldn't be used interchangeably.
I finally decided to recreate the recipe myself Friday evening, because I was craving it something fierce.
I consulted three different recipes, from three different Wei Chuan cookbooks: Classical Chinese Cooking Noodles, Chinese Home-Cooking Noodles, and Chinese One Dish Meals. The three recipes were similar, but differed in the amounts of the various bean sauces that were used to give the dish its characteristic complex sweet-salty-rich flavor. I added ginger and garlic to the dish, because I know that they used them at Noodles Corner, and I also used the pressed tofu cut into tiny dice.
Here is a good place to talk about soy bean sauces. As I mentioned before, these fermented soybean products are similar to the Japanese miso, but have a completely different flavor profile. Sweet bean sauce should not be confused with red bean paste, which is a sweet product made from adzuki beans which have been cooked with sugar, and is used as a filling in sweet buns or pastries. Sweet bean sauce is made from fermented soybeans and isn't actually sweet–it just isn't as salty as regular bean sauce or chili broad bean sauce. One of the recipes I looked at used three different kinds of bean sauces, and I used them all–soy bean sauce, Sichuan broad bean paste with chili, and sweet bean sauce.
That was the correct answer.
I went ahead and used a good amount of Shao Hsing wine, just as they do at the Hometown Oriental Deli and Carryout where they make this dish and call it "King Du Noodles." That little dive in Columbus is a great place for homestyle foods, primarily Cantonese, though the family who owns the place is all from Hong Kong. Because of their background, the foods are a bit more complex than most purely Cantonese foods, and represent the wider tastes of Chinese regional cuisine. They also specialize in roasted duck, pork, braised pork belly and soy sauce chicken, but I digress.
Finally, I used chicken broth instead of water to make the sauce, as I saw no reason to diminish the flaovors in any way.
The Wei Chuan recipes all included shredded raw carrot as a garnish, so I used that, as well as the cucumber shreds, though I was the only one who ate those. Neither Zak nor Morganna will be convinced that cucumber is a good tasting vegetable, so I don't push it.
The dish is astonishingly simple to make, tastes wonderful and comes together very quickly. Morganna loved it–it was her first time eating it, and she and Zak declared this a keeper of a recipe, though I think I will refine it the next time I make it.
I think I will add minced black mushroom caps and the mushroom soaking water to the sauce, and for fun, I may add a bit of Sichuan peppercorn. I also think that cilantro would be an amazing addition, as I could just imagine how that fresh green flavor would contrast with the rich, deeply-flavored sauce.
All in all, for such an easy dish, the flavors are amazingly complex: the sauce is sweet and salty and mildly spicy with a strong flavor of wine. The noodles are toothsome and slippery without being slimy; their velvety texture contrasts beautifully with the fresh crisp crunch of the raw vegetables. Za jiang mein is a testament to the power of the simplicity of home cooking to speak to the soul of a hungry diner.
Za Jiang Mein
Ingredients:
2 tablespoons peanut oil
1 medium onion, thinly sliced
1″ cube fresh ginger, minced
2 garlic cloves, minced
4 ounces pressed spiced tofu, diced finely
1 pound ground or minced pork
1 tablespoon sweet bean sauce
1 tablespoon Sichuan hot bean sauce (broad bean paste with chiles)
1 tablespoon soy bean paste or sauce
1 teaspoon sugar
3 tablespoons Shao Hsing wine
1/2 cup chicken broth
1 1/2 tablespoons cornstarch dissolved in 1 tablespoon cold water
1 teaspoon sesame oil
1 cup shredded carrot
1 cup shredded cucumber
1 pound cooked fresh egg noodles, cooked al dente and drained
Method:
Heat oil in wok for stir frying. When it is done, add onions and cook and stir until they are just beginning to take on color. Add ginger and garlic, stir fry until fragrant–about forty-five seconds or so. Add pressed tofu and continue stir frying another minute.
Add pork, soy bean pastes/sauces, and sugar, and stir and fry, chopping at the meat to separate it with your wok shovel. Cook until most of the pink is gone from the meat.
Add wine, cook off alcohol. Add chicken broth and cornstarch mixture, cook, stirring, until thickened.
Remove from heat, drizzle with sesame oil.
Divide noodles into bowls, and top with meat sauce and vegetable shreds. Serves around six moderately hungry people if there are other dishes, or serves four really hungry people with no other dishes.
Note:
Some places make this spicier than others. At Hometown Oriental Carry-Out, they add a lot of chile paste for me, because they know I like spicy food, and the dish is usually fragrant with white pepper. It is amazing–even if they don't use the tofu or the shredded vegetables. It doesn't matter–it is still a wonderful dish that I crave when I am really, really hungry.
It is especially good in the wintertime, though I will eat it whenever. I love spaghetti, but I think I love this even more.
9 Comments
RSS feed for comments on this post.
Sorry, the comment form is closed at this time.
Powered by WordPress. Graphics by Zak Kramer.
Design update by Daniel Trout.
Entries and comments feeds.