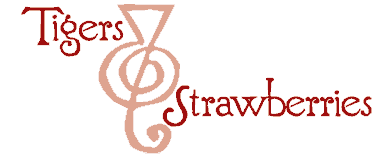 Cook Local, Eat Global
When it gets unbelieveably hot in August, sometimes the last thing I want to do is cook.
Often, the second-to-last thing I want to do is eat.
When I am sweaty and miserable, food is generally the last thing on my mind. The first thing on my mind is where I can find a nice cold body of water I can sit my sticky self into and never leave. Or, rather, not leave until October, when the temperatures decrease to the point where normal human beings can walk around in the sun without fainting.
Long August afternoons when the heat makes nothing sound appetizing call for stern measures in the kitchen. Cold dishes are the only cure for what ails the overheated cook. Minimal cooking times and equipment, the ability to utilize leftovers and whatever fresh produce lurks in the refrigerator, and light, snappy flavors that will stimulate a sluggish appetite are the lifesavers of the summer kitchen.
Hunan Cold Spicy Noodles fulfill each of these rather stringent requirements with ease.
You only need to cook the noodles, and you can do those ahead of time, in the dead of night, when the temperature has at least dropped five degrees or so.
You dirty only a few utensils–the pasta pot, a cleaver or knife, a cutting board, a bowl, a whisk or a jar, and your fingers.
Leftovers can make the noodles as plain or as fancy as you like, and the dish keeps perfectly in the refrigerator for whenever hunger strikes with a vengeance.
I learned this dish at the behest of a friend who fell in love with it at a very short-lived Chinese restaurant that opened up in Athens about ten years ago or so. Though the dish was served as an appetizer, it was what she ordered for lunch every day after she had walked downtown to attend classes at Ohio University, because it was the only thing she could consider eating after pounding the pavement in the insanely humid August weather.
After the little restaurant closed and we moved to Maryland, she beseeched me to figure out how to make "that nice Chinese noodle salad we used to eat."
I looked in cookbooks and found nothing, but going from my memory of how it tasted and her description, I came up with a recipe that is remarkably like the one in Henry Chung's Hunan Style Chinese Cookbook. In his cookbook, he gives a recipe for the dressing, which is the heart of the dish and instructs the cook to use it for cold, marinated summer salads such as are popular in the region of Hunan, which is apparently afflicted with long, humid, beastly hot summers like we have here in Southeastern Ohio. (I always assumed, since I couldn't find the recipe in any cookbooks that the name of the dish had little to do with Hunan province, and that it might have just been named that by the owners of the restaurant to sound trendy. However, I am happy to find out years later, that the recipe probably is pretty well authentically Hunan.)
I made this salad for Morganna to take with her for lunch on her first day of school yesterday, and shredded up the leftover yakitori to add a bit of protein to the mix. I used carrots, too, but no cucumber, even though it is traditional. Morganna doesn't care for cucumber; she thinks it both feels and tastes funny, so I left it out and instead used extra cilantro and scallions, both of which she does like.
Hunan Cold Spicy Noodles
Dressing Ingredients:
(I am giving these ingredients in proportions, rather than in specific measurements, so you can make as much or as little dressing as you need. It is a very forgiving recipe.)
1 part thin soy sauce
1/2 part Chinkiang vinegar
1/2 part white rice vinegar
1/4 part sesame oil
1/4 part sugar or honey(optional, or to taste)
1/4 part minced fresh ginger
1/4 part minced fresh garlic
1/4 part minced scallion
1/4 part minced cilantro
chile garlic paste to taste
black or white pepper to taste
Method:
Stick ingredients in a jar, screw cap on tightly and shake until combined.
Ingredients for Noodles:
Fresh or dried Chinese wheat noodles (I used Rossi Pasta linguine for this), cooked until al dente, rinsed in cold water and drained
1/2 teaspoon sesame oil
Shredded vegetables–about half as many in volume as you have noodles
Shredded cooked meat–optional
Big handful of fresh, coarsely chopped cilantro
1/4 cup coarsely crushed dry roasted peanuts (optional)
Method:
Put noodles in a bowl and toss (it is easiest to do this with clean hands) with sesame oil to make certain that the noodles do not stick together.
Add dressing, and toss until noodles are completely coated with dressing.
Put into serving bowl, and arrange shredded vegetables and meat prettily on top, then sprinkle with chopped cilantro and if using, peanuts. Cover and chill until service.
Toss just before serving to combine.
9 Comments
RSS feed for comments on this post.
Sorry, the comment form is closed at this time.
Powered by WordPress. Graphics by Zak Kramer.
Design update by Daniel Trout.
Entries and comments feeds.