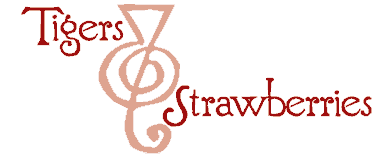 Cook Local, Eat Global
October is my favorite month.
Autumn finally regales us with her glory, as she enrobes herself in a cloak of fiery color and shakes out her hair in a flurry of damp, chill breezes.
The nights grow subtly longer, and crickets, nightbirds and toads sing a lullaby to summer as clouds skitter across the somber face of the moon.
Crisp atumnal air calls out for deep, assertive flavors, a prelude to the heavier meals of winter when all the world sleeps, and our bodies crave comfort and warmth.
Root vegetables arise from the fecund earth, filled with sweetness, thier skins in jewel tones from amber to amethyst to rubine; the late fruits of the now-drooping tomato plants glimmer like smooth jade. Russet-skinned apples and pears hide honey-sweetness beneath thier dull skins like secrets held close to the heart of a confidante. The cool nights coax autumn greens into unfurling verdant leaves to the sky, thier flavors a suble blend of bitter salt tears and pungent pepperiness that is tempered by a kiss of sugar that appears magically after the first frost.
Pork lends itself perfectly to the seasonal fruits and roots of October, and is as at home in the autumn kitchen as it is on the summer grill.
A simple spice rub and dusting of flour before sauteeing pork loin chops brings out their flavor, while a pan sauce of reduced wine, vegetable broth, soy sauce and honey creates a sparkling russet glaze that enrobes the meat in moisture. On another night, apple cider replaces the wine and dried cranberries will add a piquant note of whimsy to a dish which is always good, but never tastes exactly the same way twice.
Versatility in the kitchen relieves boredom of the palate.
When I was a child, I had a love-hate relationship with beets. I loved the color of them; the garnet-wine hue was intensely attractive to me, and I liked the way that they turned transluescent when they were cooked and glowed on a white plate like rondels of stained glass.
But I hated the way that they tasted. I didn't even like them pickled, though I loved helping Grandma when she put them up in jars, glistening in rows like gemstones captured in glass. I liked the smell of them, and the way the juice stained our hands pink; my eyes ate the vivid color of them, but my tongue would have nothing to do with them. I tried them every year and hated them, until one year, sixteen years ago, I began to crave them.
I was pregnant with Morganna and my mother-in-law was cooking Harvard beets–baby beets in a sweet and sour sauce. The smell caused me to salivate immediately and I remember diving into the pot with a fork, and plucking one out before it was fully cooked and popping it in my mouth.
It burst beneath my teeth in a shower of honey and vinegar, with juice tinged with the flavor of the earth itself.
I moaned, and from that time on, I have adored beets in many guises.
Golden beets are just as beautiful as the more usual red ones, though they are colored like topaz instead of garnet. They are also just as sweet, and I like to roast both kinds in the oven, just drizzled with olive oil, until they are tender, then peel them and feature them in salads. Together, the colors are evocative of a sunset as they glisten against a bed of autumn greens like arugula or mizuna. Paired with sweet honey pears, walnuts and goat cheese, then dressed with a simple balsamic vinaigrette, beets make a gorgeous salad filled with all of the flavors of autumn: bitter and sweet, earthy and peppery, milky, mild and tangy.
October Beet Salad with Mizuna and Pears (serves 3)
Ingredients for the Salad:
2 medium sized beets
1 tablespoon olive oil
2 honey pears, washed, dried, cored and thinly sliced
1/4 cup crushed walnuts
3 tablespoons crumbled goat cheese
3 cups mizuna leaves, washed, dried and torn into bite-sized pieces
Method:
Heat oven to 375 degrees. Line a baking pan with foil, and rub with a little of the olive oil.
Trim greens and large roots from beets, scrub skin thoroughly. If you are worried about juice staining your hands, wear latex gloves while handling beets. (Golden beets stain less.) Dry beets and put into baking pan, then drizzle with olive oil.
Put pan into oven and roast, uncovered, until beets have wrinkled, somewhat dried out looking skins and have shrunken a bit and are easily pierced with a fork. (Depending on the size of your beets, this can take from forty-five minutes to an hour.)
Remove from oven, allow to cool enough to handle. Using a paring knife and your fingers, peel off skin–it should be quite easy to remove. Cut beets in half laterally, then slice them into thin half-moon shapes.
Place one cup of mizuna leaves on each salad plate, and sprinkle one tablespoon of crumbled goat cheese over each plate. Arrange slices of beets and pears attractively over the greens, and sprinkle with walnuts.
Just before serving, drizzle with balsamic vinaigrette.
Ingredients for Balsamic Vinaigrette:
1 part balsamic vinegar
3 parts extra virgin olive oil
1 part honey
tamari soy sauce to taste
Method:
Mix vinegar, oil and honey together; I like to put them in a bottle, put the lid on it and shake them to combine.
Season to taste with soy sauce; the flavor should be sweet and sour with the pepperiness of the olive oil, with the salt from the soy sauce just a hint in the background.
Notes:
Mizuna is a type of Japanese mustard green. It is very mild and has attractive, very jagged leaves that are long and narrow. It grows in clumps, and has a thick central rib that is very crisp and has an icy sort of flavor, while the leaves themselves are peppery. It is very good raw; I am not as fond of it cooked.
My dog, Liriel, and our cat, Minna, both love mizuna and will beg for it when I bring it home from the farmer's market. As long as I give them leaves, they will eat them.
The beets are very good marinated in the vinaigrette, and could be served as a chilled dish on their own that way. Or you could heat them and call the vinaigrette a sweet and sour sauce.
2 Comments
RSS feed for comments on this post.
Mmmm…beets! I love them! Since golden beets have come along, there's finally some reasonable justification for the local colloquial name for the others, which are usually called "redbeets", all in one breath. I suspect that it's a translation from some other language in which parsnips were called white beets.

Comment by Dakiwiboid — October 12, 2005 #

LOL!

I love them both–I like using them both together–they look so pretty in salads that way.

Have you seen the striped chioggia beets?

Comment by Barbara Fisher — October 12, 2005 #
Sorry, the comment form is closed at this time.
Powered by WordPress. Graphics by Zak Kramer.
Design update by Daniel Trout.
Entries and comments feeds.