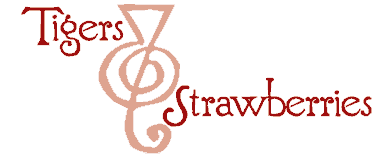 Cook Local, Eat Global
When Morganna was about two, I worked in a Chinese restaurant as a waitress. This meant that Morganna ate a lot of really good Chinese food from the time she could toddle, and this affected her palate from the very beginning.
She used to love to go to dinner with me, and she adored the owner, Mei, and as I opened the door, she would wriggle from my arm, hop to the floor and run up to Mei, calling, "Mei, Mei–Mordanna want dofu!"
Mei would catch her, grab up a highchair and giving Morganna a kiss on the cheek, would settle her at the table, amid much laughter and giggles. "What else do you want, eh?" she would ask.
"Noodles!" Morganna would cry. "And rice!"
And Mei would tickle Morganna under the chin and go off to get a bowl of fried wonton strips and sweet and sour sauce, and tell Huy, the chef, that Morganna wanted bean curd with black mushrooms again.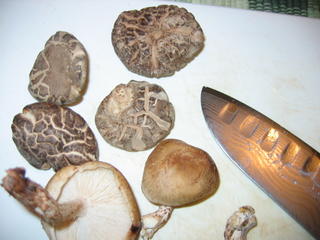 I thought about that dish again, when I saw Sarah Gilbert's post last week on Slashfood, asking for some good, simple recipes for extra firm tofu that didn't require a bazillion weird ingredients or a ton of time to prepare and cook.
She had used my recipe for Ma Po Tofu as an example of something that sounds fabulous, but which would take a long time and trips to various supermarkets for her to make, so I resolved to make a version of Morganna's first favorite Cantonese dish. Not only would it serve as a trip down memory lane, but it would also make for a simple to make stir fry for the specialized ingredient impaired. (I always forget that most American cooks do not have three kinds of fermented bean paste, five kinds of soy sauce and dried shrimp in their pantries at all times. I have to work on that, I suppose.)
I ended up not remaking Morganna's favorite so much as using it as a springboard for a dish that sounded good to me at that time.
Now, here is the deal about this recipe–you don't have to follow it exactly. If you don't have ginger, don't use it–use more garlic. If you don't like chiles, then leave them out. If you want to add sweet red pepper instead, more power to you. And if mushrooms really squidge you out–don't use them.
But please, do eat greens. They're good for you.
Also–feel free to substitute ingredients. For example, the greens I had were fresh tatsoi. If you have no idea what that is, or where to get it–use bok choi. Or mustard greens. Or chard. ("Bright Lights," a variety with pretty, different colored stems would be cool.) Or heck, turnip greens.
I don't care, just make sure they are fresh and snappy and green.
Also–you notice that I used both dried and fresh shiitake. That is because I had them. If you don't–don't sweat it. Use some other kind of mushrooms–portabello would be fine, as would plain old white mushrooms. Dried porcini or morels would work. Just remember to save the soaking water from the dried mushrooms and use some of it in your sauce.
Speaking of the sauce, and the marinade–dry sherry is the usual stand-in for Shao Hsing wine, but you can also use any dry white wine you have. Chardonnay is fine. Pinot Grigio would work well. Chablis–whatever. It won't taste authentically Chinese, but it will taste good, have no fear.
I figure that every American probably has soy sauce in the kitchen somewhere. If not, you can get it at any grocery store unless you really do live out in the middle of Nowhere Holler. And even then, on the outskirts of Nowhere Holler, there is a small store that has a lone bottle of Kikkoman on a dusty shelf in the back. I have seen it at the Hillbilly Mart in the backwoods of West Virginia, so I know whereof I speak.
(I bet you want to know if there really is a convenience store called the Hillbilly Mart. There is. Now, I bet you want to know why the heck I have been there. That is because my Mom used to work there. Yes, she did. No, I am not making this up.)
And as for broth–look, I like the little Pacific Foods four-packs of one cup organic, free-range aseptically packaged broths, but you can use whatever you want. You can use a bit of boullion from one of those cube things, too–but I would rather you use the low-sodium kind. They actually have a flavor other than salt. Rapunzel makes a nice low-salt vegetable broth cube. (Here is a comparison of various vegetable broths from Vegetarian Journal that includes sodium levels in each.)
As for the stir-frying–if you don't have a wok (and why don't you–after reading this blog, you should probably want to run right out and get one) you can use a frying pan. You might make a bit of a mess with wilting the greens, but well, you will do a good job browning the tofu.
And if you make a mess, that will give you incentive to go out and get a wok.
Now we come to the fanciful name for this dish comes from the new movie, "Serenity," which is based on Joss Whedon's cancelled but amazingly cool and addictive science fiction series, "Firefly." Morganna wanted to name the dish for Jayne Cobb, one of the characters from the show, because it was something like she would imagine he would make in the kitchen. She wanted to call it, "Jayne's Tofu Greens Mess," or the like, but I vetoed that on the grounds that he would not be allowed in the kitchen for fear of food borne disease. (Yes, Jayne is male.)
We made a compromise with the present name, which relates to the show, the film, and the fact that the tofu has a lightly crispy brown coat.
Yes, in addition to having food geeks in this house, we have science fiction geeks. Some of us are the same people. Accept and move along.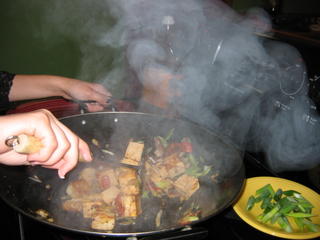 Browncoat Tofu, Mushrooms and Greens
Ingredients:
16 ounces extra firm tofu (If you can, get some of the Spring Creek tofu–it is the best I have ever had.)
1/4 cup soy sauce
1/2 cup Shao Hsing wine (or dry sherry)
1/4 cup cornstarch
4 tablespoons peanut or canola oil
3 large cloves of garlic, thinly sliced
6 scallions, white and light green parts thinly sliced on the bias
1/2″ piece fresh ginger, peeled and thinly sliced
1 ripe jalapeno, sliced thinly
freshly ground black pepper to taste
1 dozen mushrooms, fresh or rehydrated, sliced
1 teaspoon sugar
1 pound fresh greens, washed, dried, and trimmed to bite sized pieces
1/4-1/2 cup broth (vegetable, chicken or pork–I don't care which)
green tops to the scallions, cut on bias into 1″ lengths
Method:
Cut tofu block in half parallel to the cutting board. Cut each half into nine cubes, then cut each cube in half just like you cut the block the first time. (If you try to cut large slabs of tofu that thinly, it will be a pain in the butt. That is why I advocate cutting the cubes first, and then just cutting them into thinner pieces. It is much easier.)
Mix soy sauce and wine in a bowl, and put tofu in to marinate for ten minutes. After ten minutes, turn it over and marinate the other side. (I did this while I cut up everything else. Or, you could do this the night before, or in the morning, and let it marinate while you sleep or work.)
Take tofu out of the marinade, shaking some of the excess liquid off. Put cornstarch on a plate and toss the tofu in it to dust all sides of each piece.
Heat up wok until it smokes, then add oil. Allow to heat up until it is nearly smoking, then add the garlic, scallions, ginger and chile, and cook, stirring, until fragrant–about one minute. Add as much black pepper as you like at this time.
Carefully set the tofu pieces in the wok or pan, and allow to sit without stirring for about a minute or two to let the tofu brown on the outside. Turn each piece so and repeat on other side, then add mushrooms and sugar and stir fry as normal. Add the marinade.
Add the greens and the broth–and if you have mushroom soaking liquid, add that at this time. Cook, stirring, until the greens wilt and a dark sauce has formed, clinging to everything.
If you use the optional sesame oil, drizzle into wok.
Toss in scallion tops, give a good stir, and turn out onto a platter.
Serve with steamed rice.
That is about as simple as I can make it, even if the story of its inception is complicated.
14 Comments
RSS feed for comments on this post.
Sorry, the comment form is closed at this time.
Powered by WordPress. Graphics by Zak Kramer.
Design update by Daniel Trout.
Entries and comments feeds.