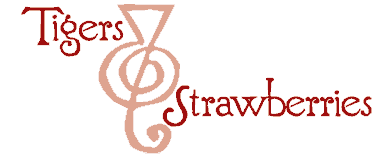 Cook Local, Eat Global
About a week ago, Kate at the Accidental Hedonist posted about the obsessive folks who attempt to perfectly recreate MacDonald's foods at home, and she said, "Why?"
Well, I posted in favor of hacking recipes from restaurants, but not McDonalds. Never Mickey D's–that I don't get. Because if you want a Big Mac, go out and get one, dammit. By the time you spend all the money to try and find the "perfect" ingredients, then you will have spent more than it would cost to just buy one. Turning fast food into slow food is just weird.
But trying to recreate a dish you have had in a favorite restaurant is a sport. Or at least, it is to me. It is an exercise in patience, cunning, research skills, deductive reasoning and most importantly, taste memory.
Like the entree pictured above.
I haven't tasted that dish in over a decade, but have longed for it every day of those years.
It was my favorite dish on the menu at the Chinese restaurant in Huntingon, West Virginia, where I worked as a waitress. It was one of the most expensive items on the menu and was an amazing combination of flavors, textures, complexity and simplicity. I sold a lot of orders of it to people who would ask what I liked best, and then who would become hooked on it after one bite and would order it over and over.
It was called on the China Garden menu, "Mongolian Beef," and while it was certainly beef, I doubt seriously if it had anything to do with Mongolia. I have never found anything else on any other Chinese restaurant menu labelled "Mongolian" that tasted like this dish. I suspect that it was a dish that Huy made up himself and just labelled it with a name that he thought people would like. Or, that it was a dish that was similar to the stuff that other restaurants call Mongolian Beef, but that Huy's sauce was just superior and his presentation was unusual.
And it was very different from the typical run of the mill Chinese restaurant food that one would expect to find in Huntington West Virginia (which was true for much of their menu). For one thing, it involved small medallions cut from the beef tenderloin. Very few Chinese places use such expensive cuts of beef. For another thing, the beef was presented over a bed of cold cucumber slices, with a sauce that was spicy and sweet, savory and brown, a little tangy and very, very flavorful, but without tasting obviously like any combination of Chinese sauces. It was garnished with scallions, but it also had slices of onion cooked in the wok to a browned "wok-hay" filled fragrance that would just make one's mouth water.
When you ate it, the interplay between the crisp cucumbers and the meltingly tender, medium-rare beef with its perfectly seared crust was amazing. The sauce was a wonder–it clung perfectly to the steak, yet was generous enough and hot enough coming out of the wok to partially cook the cucumbers so that they had a velvety outside and a crunchy inner core. The cooked onions were a sweet background note while the scallions burst like a green and pungent symphony on the tongue.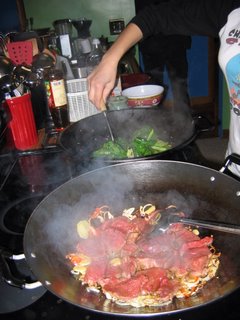 On our anniversary on Sunday, I decided that I was going to buy a tenderloin from Bluescreek Farms, roll up my sleeves and just cook the Mongolian Beef and stop fretting over it.
Part of the reason I decided to take the plunge now is because I found a couple of recipes in Grace Young's The Breath of a Wok, and Ken Hom's Easy Family Recipes from a Chinese American Childhood which had sauces in them that I had learned over the years would create much the same flavor complex as was present in the China Garden original dish. In addition, I had started cooking with bean sauce, and the flavor of it, as I licked it straight off of a spoon brought the "aha!" moment–it was a component of the mysterious brown sauce that enrobed Mongolian Beef so magnificently.
Taste memory is a very useful thing for a cook or chef to have or develop. I have a naturally good memory for flavors and scents, and for all that I have terrible allergies and sinus issues, I have a very sensitive nose and I am quite good at discerning flavors and scents, particularly when it comes to seasonings. This skill got honed when I learned how to cook Indian food; I trained myself by eating at a very good Indian restaurant often and then going home and tasting just bits of spices and then comparing those flavors to those in the dishes I had eaten and slowly began to understand how the spices created such symphonic bouquets in the mouth.
I have continued my training with my explorations of Chinese ingredients as well–I make a point now of picking unfamiliar sauces or condiments and bringing them home, then researching recipes that use them and then, before I break out the wok, I taste them straight from the bottle or jar.
When I did that with bean sauce the other day is when I had the final puzzle piece for the Mongolian Beef. It was the missing flavor element I had been looking for.
Or, at least, it was close enough.
So, we were having friends over tonight, and I decided that was what I was going to make, along with Hot and Sour Soup and Gai Lan with Waterchestnuts (which you can see Morganna cooking next to me in the background there–we cannot wait for the new stove which will have more room for two woks to be going at the same time). I figured that if I was going to buy an entire tenderloin, then we should share it with some folks rather than make utter pigs of ourselves.
As it was, while I cut the tenderloin into medallions, I was worried that there was too much beef, but it tasted so good that we ended up with only one little piece left. I stopped cutting at just the right place–we have a nice sized filet mignon sitting comfortably in the freezer, waiting for a rainy day.
So, what am I going to do now that I have that beloved favorite dish in my grasp?
Share it with you, of course.
Since I know that Huy has retired and the restaurant is no longer open, I feel as if I can do so without feeling guilty at all.
Mongolian Beef
Ingredients:
1 1/2 pounds beef tenderloin, silverskin trimmed
1 tablespoon thin soy sauce
1 tablespoon dark soy sauce
1 1/2 tablespoons cornstarch
1 cucumber peeled and sliced into 1/4″ thick diagonal slices
1 ripe jalapeno cut into thin diagonal slices
2 1/2 tablespoons peanut oil
1 medium onion cut in half and sliced thinly
1 1/2″ cube of ginger, peeled and thinly sliced
2 ripe jalapenos, sliced thinly on the diagonal
2 cloves garlic, peeled and thinly sliced
Sauce Ingredients:
(Mix together in a small bowl and have ready)
1 tablespoon hoisin sauce
2 tablespoons oyster sauce
1 1/2 tablespoons bean sauce
2 teaspoons raw sugar
1 teaspoon chili garlic sauce (or to taste)
2 teaspoons Shaoxing wine
1 teaspoon Chinkiang rice vinegar
1 scallion trimmed and cut into 1/2″ long diagonal slices
Method:
Cut tenderloin into 1/2″ thick medallions. Toss with two soy sauces and cornstarch and allow to marinate at least twenty minutes.
After cutting cucumber and first jalapeno, use them to completely line a serving platter, with the cucumber in the center, and the jalapeno as decoration along the edges as shown above.
Heat wok until it is smoking. Add peanut oil and heat until it shimmers. Add onion slices and stir fry until they turn golden. Add ginger, jalapeno and garlic to wok and stir and fry until garlic begins to turn golden.
Add meat in a single layer, and let sit undisturbed for at least one minute, or until the meat is seared well on the bottom. Begin stir frying with the goal of simply searing the outside of the meat, while the inside stays medium rare.
When meat is fully browned on the outside, add sauce ingredients all at once, and stir quickly until it thickens.
Pour immediately onto the platter over the cucumbers and sprinkle the scallion bits over the steak.
Serve right away with steamed rice and some sort of crunchy leafy green vegetable. Like Gai Lan.

food recipes Chinese cooking beef ginger
7 Comments
RSS feed for comments on this post.
Sorry, the comment form is closed at this time.
Powered by WordPress. Graphics by Zak Kramer.
Design update by Daniel Trout.
Entries and comments feeds.