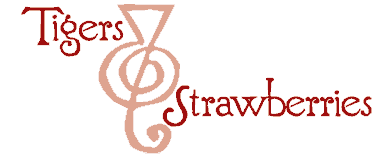 Cook Local, Eat Global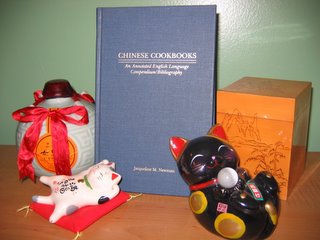 A minority of the books I am gathering in my Chinese cookbook collection are not actually cookbooks, but touch on some aspect of Chinese food culture. I have historical treatises, translations of old Chinese works on the subject, books about learning to read Chinese characters that involve food, and pictorial reference works on ingredients and dim sum.
However, the most important book I have picked up for this collection that isn't specifically a cookbook is Jacqueline M. Newman's Chinese Cookbooks: An Annotated English Language Compendium/Bibliography. Published in 1987, this work is sadly not only out of print, but exceedingly rare on the used book market, in large part because it was put out by Garland Publishing as a social science reference book. Most copies of it are thus to be found in libraries and private reference collections, and so when they do appear on the market, it is rare to find a copy for less than seventy-five dollars or so.
I lucked out when I found a copy of it on ebay about a month and a half ago–signed by the author–for under twenty dollars. Needless to say, it is sitting on my desk as I type.
What is so special about this book?
Well, Jacqueline Newman, herself a collector of Chinese cookbooks, and a professor of Family, Nutrition and Exercise Sciences at Queens College, CUNY, and as such, she recognized the emerging importance of the study of cookery in the social sciences. She put this compendium together as a tool for anyone undertaking to study the history and development of the Chinese cookbook in English. This study is important for many reasons: for one thing, it shows how food traditions change over time among an immigrant population, it shows how immigrant cultural identity is often influenced by and affects food culture in general, and it can trace the amount of acceptance of Chinese foodways among the larger culture and how it changes over time.
Cookbooks do not just teach us how to cook. Even if they are confined to a bare description of dishes and cooking techniques (which is not true of most cookbooks), these details can teach a careful scholar a great deal about the author of the book and the cultural milieu from whence it was written. When the author gives cultural details and personal stories as backgrounds for the recipes, the amount of information the cookbook conveys rises exponentially.
In compiling her compendium and annotated bibliography, Newman recognized the importance of cookbooks, and essentially put together a valuable research tool.
Newman has been a scholar of Chinese cookery for many years and has written other books on the subject as well; most recently, she penned the excellent reference work, Food Culture in China, a volume of the Greenwood Press' "Food Culture Around the World" series. She also has edited the critically acclaimed and always interesting magazine on Chinese food and culture, "Flavor and Fortune." In the pages of that magazine and many others, including professional journals, she has published a plethora of works on the subject of Chinese food with topics ranging from history, cookery and culture, to cookbooks and medicine.
In addition to being an author, Newman has served on the board of directors of several national and international organizations related to food and cookery, including The James Beard Foundation and the American Institute of Food and Wine. She has also served as a judge on the Chinese Restaurant News' committee to rank the top 100 Chinese restaurants in the United States in 2004.
But back to the book itself–while it isn't a cookbook, I have found it to be quite useful in my pursuit of a my goal of collecting the important works of Chinese cookbooks written in English; Newman's insights have been quite useful, particularly as they pertain to the earlier works, many of which are rare and difficult to find. It is also good to have an idea of the exact contents of a book before deciding whether to purchase it or bid on it sight unseen; while ebay sellers provide photographs of the covers of books, they are often quite sketchy as to the contents. In the sense that I can get a mental picture fixed in my mind of the contents of a book, I can better judge whether I wish to aquire it or not, or if it is likely to contain useful information in my never-ending quest to understand the complexities and subtleties of Chinese cuisine.
books book review Chinese cookbooks food history
9 Comments
RSS feed for comments on this post.
Sorry, the comment form is closed at this time.
Powered by WordPress. Graphics by Zak Kramer.
Design update by Daniel Trout.
Entries and comments feeds.