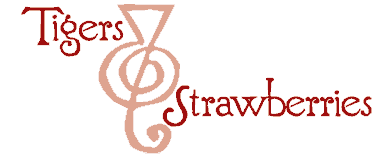 Cook Local, Eat Global
Morganna's friend Emma, the eternally bouncy, hopped up to me this afternoon and said, "We would like to make chocolate chip cookies, please," then flashed a pixie-like smile.
How could I refuse?
Making spur-of-the-moment cookies with my best friend Diane, is one my most cherished memories of middle school and high school. We'd start in the afternoon, or if she was spending the night, after we'd watched umpteen episodes of Star Trek, and would make wretched messes in my mother's kitchen, with much giggling, tasting of raw cookie dough and mismeasured ingredients.
My mother always kept the stuff to make some sort of cookies around, so that Diane and I could dig through her cookbooks and file of hand-written, egg and dough-stained recipes and create something to fill our cravings for something sweet and filling.
Diane had little experience with electric mixers, so the first time we delved into cookie baking without my mother standing over us, she had lifted the beaters from the bowl while they were still running and flung a whirlwind of dough all over the kitchen.
I remember it took us hours to clean up every scrap of dough that night; I was worried Mom would freak out, but since it was Diane's doing and she had never touched a mixer before in her life–well, when Mom saw it, she laughed. Then, we laughed, and spent what seemed like an eternity cleaning it all up.
There were even specks on the ceiling.
Luckily, I have a Kitchenaid, so Morganna and Emma didn't have the chance to fling dough from here to eternity.
But, they certainly did eat their fill of it uncooked; Morganna is of the opinion that this version of chocolate chip cookies tastes just as good raw as it does baked.
It is an adaptation of the classic Toll House recipe, which of course, is the version I grew up with. I changed it because Zak told me that he didn't like chocolate chip cookies, and I couldn't let that situation stand–how can anyone not like chocolate chip cookies?
So, I played with the recipe and added a few twists on the basic flavor. Generally, I use all brown sugar in these cookies, which results in a darker, chewier cookie, but in this batch, Morganna and Emma decided to follow the tradition of using half white sugar and half light brown.
The vanilla they used was double strength Penzey's–in order to get the same effect with normal vanilla extract, use twice as much of it.
Because of the toffee bits in these cookies, they are crisp on the outside, and chewy on the inside, and they tend toward the fragile. Let them cool for at least two or three minutes on the cookie sheet before removing them to a rack. Otherwise, they are apt to fall apart or droop between the wires of the rack and deform into rather ugly sculptures. I also tend to take them out of the oven when they are slightly underdone, because I want them to finish baking on the sheet. This ensures that the centers stay chewy while the outer layer is still crisp. If you let them darken all the way, they will come out crunchy–it is the extra sugar from the toffee that seems to cause all of this finicky behavior.
It was good to watch the girls have fun baking together, and as you can see, it brought back memories of many hours spent in Mom's little yellow kitchen with my best friend, making cookies that we always meant to take to school to share, but somehow we never had enough left. (Though, we did share with Mom and with Gram, up the street, and often the next door neighbors. We never ate all of them, though I think we tried once or twice.)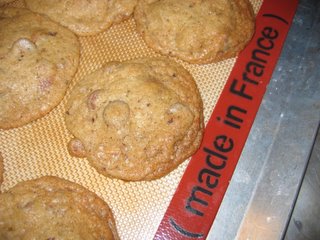 Toffee-Chocolate Chip Espresso Cookies
Ingredients:
2 1/4 cups all purpose flour
1 teaspoon baking soda
1 tablespoon espresso powder
1/2 teaspoon cinnamon
1 teaspoon salt
1 cup unsalted butter, softened
1 1/2 cups light brown sugar, packed
1 teaspoon double strength vanilla extract
2 eggs
1 12 ounce package milk chocolate morsels
4 ounces Heath (or other toffee bar) bits
Method:
Preheat oven to 375 degrees F.
Combine flour, baking soda, espresso powder, cinnamon and salt in a small bowl. In a mixing bowl, cream butter and sugar together until light and fluffy. Add vanilla, and the eggs, one at a time, beating to combine.
Gradually add flour mixture, beating thoroughly between additions, until all flour is used.
Mix in chocolate morsels and toffee bits, either by hand or with the mixer, depending on how well your mixer tolerates very stiff doughs.
Scoop with a small cookie scoop onto cookie sheets lined with silpats, and bake for 10 minutes. Allow to sit on sheets for three minutes, then remove to racks to finish cooling.
recipes cookies chocolate food & drink
8 Comments
RSS feed for comments on this post.
Sorry, the comment form is closed at this time.
Powered by WordPress. Graphics by Zak Kramer.
Design update by Daniel Trout.
Entries and comments feeds.