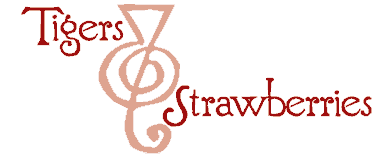 Cook Local, Eat Global
So, Kate of the Accidental Hedonist scooped me on this bit of controversy, but since it is an issue near and dear to my heart, I figured I'd post about the flurry of shock and outrage across the pond over an episode of superstar chef Jamie Oliver's new show where he slaughters a lamb on camera.
This way, instead of boiling into a rant that will have me frothing at the mouth and gibbering incoherently on her blog, I could jump up and down about the stupid hypocrisy of the human race in the comfort of my own damned blog.
Anyway, there is that monster Jamie Oliver, off to the left, in a still from the show (courtesy of Kent News), doing the heinous deed of slitting the wooly critter's throat, with the help of a more experienced sheep-killer–his host and the patriarch of a country Italian farm family who gave Oliver the honor of slaughtering the lamb for a feast.
Note that Mr. Oliver's head is turned away–he is just the picture of the bloodthirsty sort who enjoys frightening children and shocking their mummies and daddies.
It is obvious to me that he did not relish the experience, but he managed it, and I must applaud his brave words before setting out to give Britain a taste of real reality TV. He said, "It's a beautiful creature, but it is tasty and we are top of the food chain. A chef who has cooked 2,000 sheep should kill at least one, otherwise you're a fake."
Not surprisingly, lots of people are het up over the entire issue. The website for the Daily Mail has around 315 comments following their story on Oliver's experience with the lamb. A good many of them are evincing great shock and dismay at this bloody bit of video.
Even though there was a warning of graphic content on the show before it aired, people are complaining that their children are going to be scarred for life because they saw the truth of where their little lamb chops come from. To be fair, the Times ran a signed column by Martin Samuel yesterday that defended Oliver's action, saying that all he did was show a bit of gritty reality to his viewers, and that anyone who is upset by it should check their grocery trolleys to see if there is any meat lurking therein. Because if there is, they are glass house dwellers who might want to set those stones back down.
And though she usually holds little truck with Oliver, Clarissa Dickson-Wright, the yet living member of the infamous "Two Fat Ladies," came out strongly in support of the episode, saying, "If I had my way, it would be shown at 6 pm when as many children as possible were watching."
Now, I am certain that any readers who have been following along with me for a while are going to know where I will be standing in this food-fight.
I am right there next to Oliver, just where any woman who got fed up with whiny meat-eaters and penned an essay entitled, "Meat Comes from Animals, Deal With It Or Eat Vegetables," should be.
I don't see the problem. He participated in a traditional killing of an animal for the purpose of eating it, and broke no laws in doing so. The animal was conscious–well, guess what folks–animals who are killed and made kosher or halal are also conscious when they are killed, because by Judaic and Muslim law, they must be killed by a single clean knife-stroke to the throat, and the heart must still be beating so that the blood can all be pumped out of the body quickly.
You don't like that?
Well, now, saying that people cannot do that is telling them how to worship, isn't it? And here in the United States, we have laws against telling people how to relate to God.
So–if it is alright for Jews and Muslims–why is it wrong for Oliver and his hosts, the friendly farm family in Italy?
In fact–why is it wrong at all to hold an animal down and quickly cut it's throat, but it is okay to string hundreds of them up, stun them with electrical shocks , and then cut their throats? Don't you think that cows that are strung up while still alive aren't terrified and in pain? Believe me–cows are big animals and do not like to be strung up by their hind legs.
Well, guess what? That is how cattle are killed in slaughterhouses all over the world. But because they are "stunned" after they have been strung up–that is more humane?
I have said it before, I will say it again.
If you are going to eat meat–recognize that death is involved, and honor the animals who die for you by recognizing their sacrifice. Look it in the eye. Know what you are doing when you bite into that lambchop.
Or bloody well don't bite into it at all.
Now, I have to go–I have some lamb flank steaks to slice up and marinate for my Beijing Lamb and Leek Stir Fry.
(No, really–that is what is planned for dinner tonight. Coincidence, or fate–you be the judge.)
21 Comments
RSS feed for comments on this post.
Sorry, the comment form is closed at this time.
Powered by WordPress. Graphics by Zak Kramer.
Design update by Daniel Trout.
Entries and comments feeds.