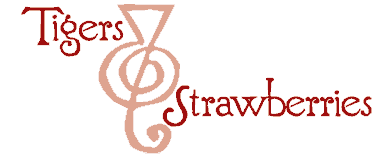 Cook Local, Eat Global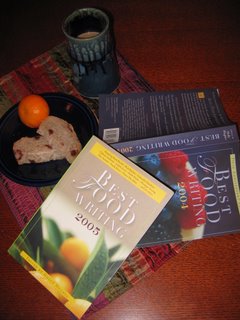 So, of course, I had noticed these anthologies of the Best Food Writing of whatever year, edited by Holly Hugues, when they first appeared annually starting in 2000.
But I hadn't really read any of them until this May when I picked up the fifth anniversary edition, Best Food Writing 2004 while I was in Tennessee tending my aunt while she tended my uncle who was in the hospital.
Whenever I read an anthology, I always read the editor's introduction; over the years, I have found that much of what goes into any given anthology depends upon what is in and on the editor's mind at the time the collection is put together. Thus, an introduction can serve as a quick and dirty overview of the editor's selection processes, preferences and prejudices.
I hadn't read the Holly Hughes' introduction to the 2004 edition in the bookstore–in fact, I didn't browse the book at all–and it is a good thing that I was lax in my usual critical pre-purchase perusal.
Because if I had read the introduction, I would never have bought the book, which would mean that I would miss out on some fine essays and rollicking remembrances.
What was it in the introduction that would cause me to ditch the book, unread, right there in the bookstore?
It was this little jab the editor took at the food bloggers:
"…A plethora of food-themed weblogs have sprung up on the Internet with tempting names like chocolateandzucchini.com, meathenge.com, mylatesupper.com, iwashustreallyveryhungry.com, and nicecupofteaandasitdown.com. They're just what you'd expect from internet writing–sloppy, unflitered, ungrammatical, self-involved prose (folks, don't give up your day jobs)–but all the same, isn't it curious that there's such a large community of people out there who have so much time to think about food?" (pp xiv)
She goes on to ruminate on what a food writer is, what food writing is and why humans like it so much, but the first time I read the introduction, those words were lost on me as my brain had already seized up and slammed into my forehead when it came to that snarky little aside, "(folks, don't give up your day jobs.)"
At that point, I had only been blogging for about three months, but for those months, I had endeavored to put up at least one post a day, for anywhere from five to seven days a week.
That is a lot of writing, for those who don't engage in this sort of thing.
And here was this woman tossing aside all of the work that I had done, and all the work the other bloggers do, with casual wave of her hand and an insult thrown in just to add to the injury.
Ironically, one of the pieces chosen to grace the pages of the anthology was a wry and rather cheeky critique of food magazine's editorial ideas of what makes for a dinner party menu that isn't hell for the typical cook to execute, written by none other than food-blogger turned "real writer," Julie Powell. The piece appeared in the pages of the New York Times–and honestly, I read it long before I knew who Julie Powell was or what her Julie/Julia Project had been, and I remember laughing aloud at the way she satirized the silly fusion menus one can find in some food magazines. Her first person antics as she dashes hither and yon in search of obscure ingredients made me giggle when I read them in the New York Times, but when I saw the piece in Hughes' anthology, I gritted my teeth.
Not at Julie Powell, but at Holly Hughes.
Apparently, because Julie Powell got a book contract, and started writing for the New York Times, that made her a "real writer," worthy of respect and above casual insults.
Yet, the only difference between Powell and say, Clotilde of Chocolate & Zucchini was a book deal. It didn't matter that Clotilde and many other food bloggers had been feted in the media around the world, it didn't matter that Clotilde herself was working on a book proposal at the behest of a New York publisher, what mattered to Hughes was that Powell had "made it" and the rest of the food bloggers "better not quit our day jobs."
That cheap shot nearly kept me from bothering to pick up this year's edition of Best of Food Writing, but seeing that pieces by Robb Walsh and Diana Abu-Jaber were included induced me to take up the book and peek cautiously inside at the introduction.
I wanted to see if Hughes had retained her snippy attitude toward food bloggers.
I found that her frosty disdain for food bloggers had thawed a great deal in the course of a year.
In the last paragraph of her introduction she writes, "This doesn't mean, though, that passionate amateurs shouldn't be invited to the table. At the end of this book, you'll find a sampling of excerpts from various food-oriented Weblogs (a.k.a. blogs) I've found on the Internet. After days and days of browsing through blogs, I can say that there's a lot of sloppy writing out there, but there's also some very good stuff, full of a refreshing curiousity and excitement about food. These people are writing about food–shopping for it, cooking it, eating it–because they love food. And that's what makes all the best food writers such a pleasure to read." (pp xii)
Whoa.
That isn't a complete reversal of opinion, but it is pretty damned close.
Somewhere in the course of a year, food blogs went from being an object of scorn to something worth browsing through because the authors of them -love food.-
What could have caused such a dramatic change of opinion?
I don't know. It could be the knowledge that Powell's blog in book form was coming out this year, with a lot of planned hoopla and fanfare. It could be the continued positive media coverage of the food blogosphere.
Or, it could be a simple softening of an editor's attitude toward "unfiltered" media because she realized that blogs and bloggers were not going to just disappear–in fact–they were rising in popularity.
Let me explain–because "filtered media" is a bit of jargon that not every reader is going to get.
Traditional media–print, radio, film and television, have "filters" in the form of editors, publishers, producers, directors, stations and studios. These "filters" act in different ways to take the creative output of the writer and through successive stages, change it in various ways to improve upon it, change its form, or otherwise make it more "palatable" to the market or audience for which it is intended. Filters are necessary in traditional media, because, like it or not, the truth is, writing is a commodity in the media, and although a writer is the one who produces that commodity without which the media would cease to exist–they are not considered competent to make that commodity fit for public consumption.
That is the job of editors.
Editors (and in television and film, producers) are the first line of defense in the traditional media against a "bad" product. In the print media, that means a product that doesn't sell in the form of books, newspapers or magazines. In the radio and television industry, that is a product that doesn't bring in ad revenuw, and in the film industry, that is a film which sells no tickets.
Do you see where I am going with this?
Blogs, by and large, are unfiltered, in the sense, that they are produced solely by the writer. There is no editor shaping the author's words into a more marketable form, nor is there an ad department doing market analyses and selling ad space.
In the blogosphere–it is all about the writer. The author calls the shots, and she can write about whatever she likes, in whatever way she likes without worrying about what an editor can and will say about it.
That is bound to make an editor feel a tad bit nervous–knowing that there are folks out there who are writing their hearts out on a subject that is her bread and butter–but they don't give a fig what she thinks about what they write.
They aren't writing for her.
They are writing for themselves and their readers–a group which grows by leaps and bounds every day. They are writing because they want to–not because they are getting paid to do it. They are writing for the sheer joy of it, because they love food, they are knowlegeable about it and they have ideas they want to convey to the public.
Perhaps last year, Hughes was confident that blogs were just a fad that would fade, and so she felt comfortable slinging barbs without worrying where they might fall.
But this year, when the food blogging commmunity just kept growing, and more than one food blogger had a book on the way, she rethought her position and realized that perhaps folks who write without worrying about money and what editors thought of them might have something interesting and useful to say, and so she took another look.
It could be any of these reasons, or none of them; I don't really know why Hughes' tune changed so drastically.
But I am glad it did–because next year–she may have quite a few seasoned bloggers–folks who have been writing nearly every day for several years–submitting some polished work for her to review that never saw a "filter," and yet still managed to be passionate, witty, and full of the juice that makes for great food writing and reading.
I think that would be just awesome–the traditional media supporting the new media–and vice versa–working together, rather than against each other.
Because the truth of it is–even professional food writers don't get rich writing about apples, restaurants or sustainable agriculture. The folks who get paid to write about food are primarily doing it because it is what they are passionate about–it is what they love.
They are in the same boat as we bloggers, only they get paid to do it.
It doesn't make them better than us, only different.
Maybe Holly Hughes figured that out.
food & drink books blogs media
14 Comments
RSS feed for comments on this post.
Sorry, the comment form is closed at this time.
Powered by WordPress. Graphics by Zak Kramer.
Design update by Daniel Trout.
Entries and comments feeds.