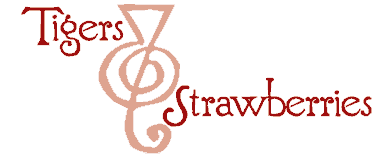 Cook Local, Eat Global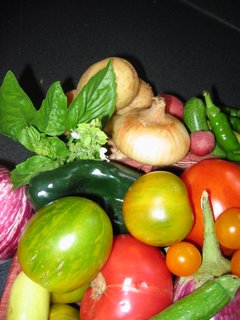 I love vegetables.
In fact, I was just now, not five minutes ago, merrily munching on some raw carrots.
But, the fact is, I cannot stand raw food faddists, or the spurious health claims that they make.
Why is this?
Well, I'll tell you.
I have some experience in raw foods, because when I was a personal chef, a pair of my clients were raw food faddists. And if I had known when they called me up to hire me, how flaky their nutritional ideals and beliefs were, I would never have worked for them.
Because, when they hired me, they told me they were vegans.
Vegans! Great. I love vegans. Vegans are generally very nice people who like tofu and beans and grains and all of those lovely foods that I know how to cook. Vegans, I know from.
But, I should have known, because when the lady called me up for a consultation, she said, "Can you do juicing? We drink a lot of juice."
I had never touched a juicer in my life, but I figured, "How hard can it be to drive one of those bad boys?"
So, I said, "Sure."
The lady paused and then said, "Can you make us raw foods? We are trying to eat a lot of raw foods in our diet, you know they are healthy."
I was a naive little personal chef. I had visions of vegan Vietnamese spring rolls and salads. I love to make salads and wonderful dressings based on pureed fruits. So, I said, "Oh, of course."
I didn't know that what she meant by "We are trying to eat a lot of raw foods," was, "We are True Believers in the Anti-Aging Effects of the One True Faith of Raw Foodism."
You know, if she had spelled it out to me clearly, I would have started babbling in a different language and claim that she had the wrong number and then just never answer the phone when she inevitably called back.
Because losing a client, even a potentially well-paying one, was preferable to my descent into the "Hell of the Wide-Eyed, Unsupported, Unscientific Health Claims of the Flaky Raw Foodists."
It started slowly, innocuously. I started with cooking them fairly standard vegan foods, which they lapped up with great glee. I stir fried tempeh with ginger, garlic and tamari, I made brown basmati pillau, and even vegan lasagne with faux bechamel–though it was ruined by that wretched tofu-cheez nastiness.
I even made vegan sushi. And vegan Vietnamese spring rolls.
And I learned how to drive not one, but two models of juicers, and life was pretty good for a while.
Until the "cookbooks" appeared.
I say "cookbooks," because they all featured uncooked recipes.
And they all featured pictures of the widely-smiling, emaciated authors, on the front or back covers.
And most of the recipes sounded, frankly, vile.
But, they were my clients, and I was infected with the American saying, "The customer is always right."
So, I started "cooking" raw foods for them.
I learned to sprout lentils, wheat and barley.
I ground up perfectly good nuts, seeds and dried fruits into splicky purees.
I used their oven on low to dehydrate various mysterious glops and pastes into faux "baked goods."
I made ersatz "pasta" out of strands of summer sqash that I employed a spiral cutter to create, then dressed it with a sauce made from raw tomatoes, peppers, onions and garlic with a healthy handful of chopped fresh basil.
I made "raw" soups out of winter squashes that tasted like melons, and almond "cheese" dumplings that tasted like neither almonds, nor cheese, nor even dumplings, but they looked okay floating in the orange "soup."
I even made a dessert that still gives me nightmares–raw "brownies."
These consisted of pureed dates and bananas, mixed with shredded fresh coconut meat, carob powder and chopped walnuts. This brown, slimy goop was then shaped into vaguely rectangular form, (they were more like flattened ovoid logs) and put into a very low oven to dry for oh, about twelve hours.
They were among the most unappetizing things I have ever made in my life. They tasted–slithery, and oddly too sweet, and they looked like nothing other than something that an unlucky jogger might step on in the park.
I still get queasy when I think about them, nearly five years later.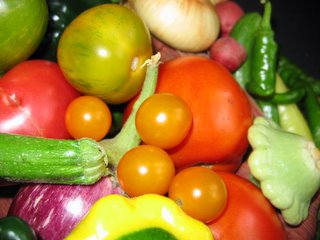 I put my foot down, however, when it came to the "raw pizza." The recipe directed me to take wheat and barley, both of which are high protein items, sprout them, then grind them into yet another unappealing paste, then spread it into thin sheets and dry it in a 110 degree oven for over twelve hours.
I refused.
Proteinous foods like grain mush are perfect hiding places for food-borne bacteria. Bacteria need several things to survive, thrive and breed like mad. Food, moisture and a habitable temperature, preferably between 40 and 140 degrees, are all that bacteria really need to move in and take over.
That crust recipe was a disaster waiting to happen.
So, I explained the reason why I wouldn't make it, and my clients backed down, thankfully, though after that discussion, I found myself on the receiving end of lectures on nutrition, enzymes and raw-foodist philosophy. My employer took on my eating and cooking habits with missionary zeal, and she claimed that cooked food was poison, and that if you cooked foods you destroyed the natural enzymes that were in them, and so our bodies had to use our own enzymes to digest food, and that led to depletion of our life force, disease and old age.
I looked at her.
She was on the far side of middle age, and her face lifts were no longer helping.
She used to be a glamorous woman, but had gained weight, and now was unhappy with her appearance.
And she was entering the twilight of her life, her path leading inexorably towards death.
And she looked to the miracles of raw foods, enzymes and vegetative life force to save her.
At that moment, I pitied her greatly, and hated those smiling scrawny bastards who had written those books and suckered her in with lies, pseudo-science and hype, just so they could play cult-leader and make money off of poor souls like her.
She was afraid of growing old, getting ugly and dying.
And instead of seeing that we all age, true beauty comes from within, and death is a natural endpoint to a life well lived, she retreated from logic and sense, and fell into the waiting arms of true-believing food-faddist predators who just love to soothe the fears of the gullible, while lining their own pockets with money fleeced from their frightened followers.
I ground my teeth in frustration, and the next time she started her preaching to me, I tried a gentle application of logic, sound nutrition and scientific evidence.
To utterly no avail.
I explained to her my credientials. Not only had I been trained in culinary school, and knew a great deal about food in general and cooking in specific, I had taken many nutrition classes as electives. In addition, when I was getting my bachelor's degree, I was for a time a pre-med major, as I wanted to pursue training as a veterinarian, and thus had taken microbiology, biochemistry, anatomy and physiology classes.
I then explained that the enzymes in food are all destroyed by the acidic environment in our stomachs before they can get to the small intestine where digestion takes place. I told her that our body makes our own enzymes out of the food we eat through chemical synthesis, and that so long as we eat a nutritionally sound diet, we will not run out of enzymes. I explained that cooking does destroy some vitamins, but it also makes the proteins and complex carbohydrates in foods more digestible, and that some phytochemicals, such as the cancer-fighting lycopene in tomatoes, was more fully released after cooking.
Her eyes glazed over, and I saw the haze of disbelief pass like a curtain across her mind.
In the end, I was glad that we moved back to Ohio, and I couldn't work for my client anymore.
I just couldn't bear one more moment of fanatical spouting of unscientific, nutritionally unsound claptrap from a woman I had come to care about to the point that I was actually worried for her health. I couldn't bear watching her turn herself into a vegetable-sucking zombie–a woman who had a brain, but refused to use it to test the claims of her raw-foodist gurus.
So there it is–that is why I hate the raw food fad.
Generally, I will cater to whatever diet a person favors–the decision of what to eat and how to eat it is a highly personal one, and I have no business telling other people that they need to eat something else because their diet offends me.
However, I do despise people who promulgate unsupportable, wildly-unbelievable unscientific beliefs such as "cooked food is poison," and "raw is law."
I just want to bonk these numbnuts in the head with fully cooked bone-in leg of lamb and scream, "Human beings have been cooking foods for over 10,000 years! If cooked food were poisonous, we would not be alive to have this stupid conversation you blithering imbecile!" (Of course after bonking them over the head with the lamb, I'd want to then lecture them on food-borne bacteria and how cooking food tends to prevent our ingesting of these nasty bugs and -dying-.)
I cannot abide people who claim that raw food is -the- original, natural human diet–the one our paleolithic ancestors ate, because I know better.
In order to eat these raw diets, one has to use a dehydrator, a food processor, a juicer and various other smaller bits of equipment in order to pre-digest some of the food so it will not just go straight through the gut unabsorbed.
The fact is–if early humans (who, as far as we know, lacked electricity to run their Cuisinarts and VitaMixes) had tried to eat that way, they would have died from caloric deficit. The amount of energy put into preparing a raw food meal without electrical kitchen appliances, with its emphasis on ground up sprouted grains, lentils and nuts, is way more than caloric gain one would get from eating it.
That said, I do not doubt that people should eat some more raw vegetables and fruits, and that some raw food dishes are clever, interesting and tasty. In fact, I learned one stuffed mushroom recipe that utilized soaked, ground barley, that was very tasty.
But there is a difference between making flavorful, healthy food that enhances a varied, balanced diet, and promoting a dogmatic unscientific belief that smacks of dietary religion.
I mistrust fundamentalist behavior and beliefs wherever I find them.
Even in the kitchen.
[food & drink] [raw foods] [vegan] [fad]
13 Comments
RSS feed for comments on this post.
Sorry, the comment form is closed at this time.
Powered by WordPress. Graphics by Zak Kramer.
Design update by Daniel Trout.
Entries and comments feeds.