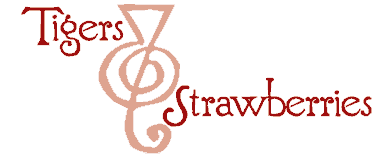 Cook Local, Eat Global
I have been remiss in my weekend cat blogging duties recently, so I am attempting to rectify the situation today, even if I am getting around to it a bit late.
That is because I have been moving stuff into the kitchen all day and preparing for the cookie and brownie making blitz that will come tomorrow. Morganna and three of her friends and I will be baking goodies for her choir performance on Tuesday. They are going to sell them to raise funds for new choir uniforms for next year.
It should be fun, if very–active and somewhat hectic.
Meanwhile–here is an action shot of the three youngest cats. Gummitch on the right, looks like he would just as soon snuggle down for a nap, but Lenier and Tatter seem intent upon mischief. Tatter looks like she is about to say something, but I am not sure what.
For more weekend cat blogging, go see Claire and Kiri at Eatstuff.
11 Comments
RSS feed for comments on this post.
Sorry, the comment form is closed at this time.
Powered by WordPress. Graphics by Zak Kramer.
Design update by Daniel Trout.
Entries and comments feeds.