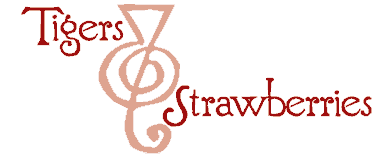 Cook Local, Eat Global
One of my chiefest joys in teaching cookery is that I can help foster cultural awareness and understanding for people from different lands in my students. In the process of opening their palates to new flavors, one has a chance to open the eager taster's minds as well, to new and different ideals and philosophies.
I take this chance whenever it is presented to me.
Morganna has been following in my footsteps; this semester in school, she took a class called "World Foods," which is a clever way to get kids to take Home Economics and learn to cook by presenting basic culinary skills in the context of learning a variety of international foods. Each semester, the students pick the ten countries they most want to learn about, and then ten different menus are presented in the course of the class, with each menu presented within the cultural context of the country. Students learn about the geography, dominant religions, holidays, agriculture, economic system and some of the history of each nation they study, and then they split up into teams and cook dishes representative of that country.
In addition, each student chose a country to do an in depth project on that included a research paper, oral presentation with visual aids, and a dish typical of the country to share.
Morganna chose to do India, and the dish she decided to prepare and present was Chicken Biryani.
However, in order to cook a biryani, which is a dish which consists of meat and rice cooked together, one must first make a korma, which is a rich dish of meat, fowl or vegetables braised in a creamy sauce based on ground nuts or dairy products such as yogurt or cream, or a combination of any of the three. Once the korma is made, the traditional and proper means of making a biryani is to partially cook basmati rice in boiling water, drain it, and then layer it in a casserole with the korma and sprinklings of saffron-tinted and flavored milk. Then the casserole is tightly covered and cooked in a very slow oven until it is done.
Biryani, and for that matter, kormas, are dishes based on the very fancy and rich cookery of the Mogul courts. The Mogul Empire was established in northern India during the sixteenth century by Babur, a descendant of the fourteenth century Mongolian leader, Tamerlane. This empire flourished until the British overthrew them in 1857, though in truth, the power of the emperors had been in decline for a period of over one hundred years prior.
Under Mogul rule, art, architecture, literature, music, and all manner of cultural pursuits, including cookery advanced and flourished. This is the time period when Persian influences were brought into the Indian cookery tradition of the north, influences which can often be traced linguistically. For example, the word, "pillau," which is used to denote a flavored rice dish, comes directly from Farsi, the language of Persia.
Persian influences on Indian cuisine include the use of fresh and dried fruits, nuts, ground spices and extensive use of dairy products in non-sweet dishes, particularly those including meat. (This does not meant that these ingredients are not used in sweet dishes at all–it is merely that I am pointing out that a hallmark of Persian influence is the use of these ingredients in savory meat-based dishes.)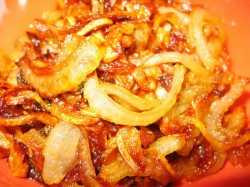 I learned to make korma from cookbooks and from eating the excellent versions of korma to be had at Akbar in Columbia Maryland. I used my developing ability to unravel the flavors of various Indian spices to good effect every time we ate at Akbar, and I found that my korma improved every time I adjusted it to more closely resemble that which I had eaten at that restaurant.
I further refined it upon the instruction of my Pakistani personal chef client's mother, and it was under her influence that my ability to make korma imroved by leaps and bounds. She was a very generous lady and was very happy to tell me how she cooked the dishes I ate at her home and her daughter's home. When she tasted my efforts, she never stinted on praise and criticism, and itis through these discussions that I found myself growing more facile in Indian cooking techniques.
The one thing she praised effusively was my willingness and ability to deeply brown onions; she said that the one flavor that many Americans trying to learn Indian cooking tend to lose is the essential quality that is imparted to various dishes by perfectly browned, deep reddish-colored onions. She said that without these onions as a flavor base, many Americans make Indian food that turns out insipid and pale, lacking in character and strength.
So, every time I cook Indian food with Morganna, I am emphasize the importance of the completely browned onions, and she is learning to be tireless in standing over a pot of thinly sliced onions, stirring ceaselessly until they reduce down to a double handful of meltingly soft russet striings. For the korma, these are scraped from the pan, and added to the spices, garlic and ginger, to be ground into a paste. It is important to allow the cooking oil and ghee to drain from the onions before you grind them, because I use the highly flavored oil to cook the slivers of chicken. Doing this maximizes the browned onion flavor of the dish.
As we were cooking last night, Heather (who, with Dan, has just returned from the UK where they ate a lot of very good curries!) asked how I manage to cook the yogurt in the korma such that the yogurt does not separate and curdle into a mess.
There are several important points to consider in adding the yogurt to the dish. The first is to use only full-fat yogurt. If you use low fat, or even worse, nonfat yogurt, you run much more of a risk of the yogurt breaking down and curdling. The second is to mix the cream layer that is at the top of the full fat yogurt thoroughly into the the container, and then, gradually adding the yogurt to the dish, allowing it to cook down until it clings to the meat before adding a little more of the yogurt.
I add it in two tablespoon increments, until eight tablespoons total are used. Then, I add the heavy cream and allow it to simmer briefly to reduce the sauce to the clinging thickness that I find most appetizing.
Many korma include ground nuts as an enrichment to the sauce; cashews or almonds are most popular. Some restaurants use the nuts strictly as a garnish, sprinkling them over the finished dish. Sliced almonds scattered with fresh or dried rose petals or fresh pomegranate seeds are particularly pretty. Minced mint or cilantro leaves are also attractive. I know that my clients liked it when I presented korma with a sprinkling of freshly browned onions, cooked until barely crisp, along with roasted cashew halves.
However, since we were making this dish for a group of people whose food allergies we did not know, we left the nuts out of the recipe.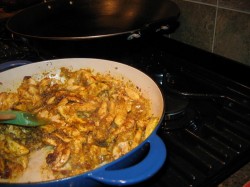 Chicken Korma
Ingredients:
2 tablespoons ghee or butter
1 tablespoon canola oil
1 large onion, thinly sliced
1/8 teaspoon salt
3 large garlic cloves, thinly sliced
1" cube fresh ginger, peeled and sliced thinly
1 tablespoon cumin seed
2 tablespoons coriander
3 whole cloves
¼ teaspoon ground cinnamon
1 teaspoon whole black peppercorns
1 bay leaf
½ small dried pakistani chile pepper (or to taste)
¼ teaspoon cardamom seeds
¼ teaspoon turmeric
½ teaspoon paprika
1 pound boneless skinless chicken breast, cut into thin slices 1"X2"x1/4"
8 tablespoons full fat yogurt
1/3 cup heavy cream
salt to taste
toasted sliced almonds for garnish if desired
Method:
Heat oil and ghee in low, wide, heavy bottomed pan. Add onion, and salt, and cook, stirring constantly on medium heat until onions are dark reddish brown. Remove from heat and drain onions, leaving cooking fat in pan. Put onions into spice grinder, blender or food processor with spices, garlic and ginger and process into a smooth, dark brown paste.
Heat oil and ghee in pan again, and when it is nearly smoking add chicken slices and spice paste, and cook, stirring, until most of the pink is gone from the chicken.
Add the yogurt, two tablespoons at a time, allowing it to cook down until it thickly coats the chicken, then add the next two tablespoons, and continue this process until it is all used up. Add the cream, and cook until the chicken is just done.
Add salt to taste.
Now on to the secret of a fast and easy biryani that is not in the least bit authentic, but it is the way my client's mother and aunt told me. Instead of taking the half cooked chicken korma, and half cooked rice and putting them together with saffron milk and extra water into a casserole and baking it in a slow oven while, "Praying that everything gets done at the same time" as they said, one could simply cook the rice seperately with saffron, in a rice cooker, and then blend it with the korma after both are cooked, then garnish the dish lavishly as one would do for a real biryani. They said that when they wanted the taste of a biryani, but lacked the time and energy to cook it by the proper method, they would take this shortcut and that most people in their family could not tell the difference.
Whether you take this shortcut or not is up to you, however, I have to admit to using it last night when we made "biryani" for Morganna's classmates. I might have insisted on the traditional method if I had not just cooked dinner, but as I was already tired, I cheated and used the easy method taught by my Pakistani friends.
11 Comments
RSS feed for comments on this post.
Sorry, the comment form is closed at this time.
Powered by WordPress. Graphics by Zak Kramer.
Design update by Daniel Trout.
Entries and comments feeds.