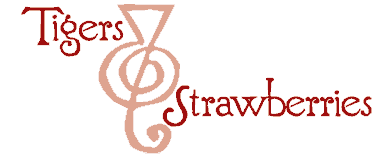 Cook Local, Eat Global
sleeping in the bed, and the little one said, "Roll over! Roll over!"
So they all rolled over and one fell out, there were six in the bed and the little one said, "Roll over! Roll over!"
There were five in the bed….you get the idea.
I don't know how many of you know that counting song–it starts at ten, and it is usually bunnies, but in my house, it starts at seven and it is kitties.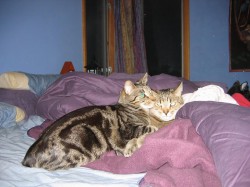 Of course, the way the song ends is, "There was one in the bed, and the little one said, "Goodnight!"
However, there is seldom ever only one kitty in my bed.
There is always at least two.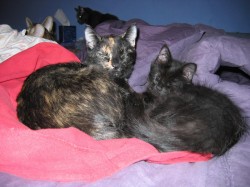 And while my kitties have you here, looking at their cute fluffiness, they want me to remind you of the folks in Kashmir who lost homes and loved ones in the earthquake. They'd very much like it if you stopped by at Chez Pim and click on one of the links to her Menu for Hope campaign to raise funds through UNICEF for these folks. So far, the campaign has raised over $6,500 dollars , and more food bloggers are participating every day. Pim had some technical difficulties, but she is back and better than ever, so my kitties tell me (they get up and read the Internet before I do–or at least, they get up and sit at and on my desk before I do).
7 Comments
RSS feed for comments on this post.
Sorry, the comment form is closed at this time.
Powered by WordPress. Graphics by Zak Kramer.
Design update by Daniel Trout.
Entries and comments feeds.