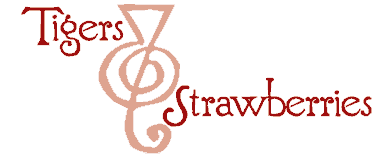 Cook Local, Eat Global
I know that Whole Foods often gets called, "Whole Paycheck" by its detractors, and is often decried for putting smaller, locally owned natural foods stores out of business, but I rather like them. Now, not on any account do I think they are the greatest thing since sliced bread, but I do think that being able to shop in such a store once in a while is a pretty good thing, and a fun experience. When we lived in Providence, Rhode Island, we used to shop there fairly frequently, and I often found some interesting cheeses and produce items I had not ever seen before and so got the chance to try them and maybe add them to my pantry on a semi-regular basis. I also found that thier "365" brand staple items were comparably priced to regular grocery store items and often of better quality.
Well, the last time we went to Columbus, which would be last week, I discovered that they had opened a store there, much to the consternation of the folks at Wild Oats and Trader Joe's, I am sure. When we went back yesterday to finish our Yuletide shopping excursion, we stopped in and discovered that not only had they opened a store, they opened -the second largest- Whole Foods in existence.
The place was like an airplane hanger–it was cavernously huge, and I noted, a lot of that space was wasted in making the aisles unecessarily wide.
Even though the place was packed with patrons, curiously poking and prodding the produce, sniffing the flowers, tasting the cheeses and asking incessant questions about the wine, there was more than enough navigation room in the aisles. It is possible that after they achieve the full complement of customers that I will bless the designer who made the aisles roughly as wide as a typical country lane, but right now, it just made the place look and feel curiously empty.
The other first impression we made was of the smell. For all that the store is huge, well-lit and airy, there was a lingering, unpleasant scent that was less than inviting. It gave the impression of a dank cave, as we wandered through the floral section. Zak noticed it and in his usual gentle fashion, wrinkled his nose and muttered to me, "What the hell smells like ass in here?"
"Maybe it is the flowers," I said, nodding toward some potted, blooming orchids.
"I thought flowers were supposed to smell good," he hissed.
I shrugged, steering toward the produce section. "Maybe they grow them in ass."
Zak kept muttering, but I made my way through the beautifully arranged produce, bypassing all of the "normal" stuff and heading straight for the chiles, herbs and other fun stuff. It was there that I found a huge mound of fresh galangal, and next to it, fresh turmeric root. I blinked, picked some up and sniffed it, and then grabbed a bag and put some pieces in.
Turmeric is a relative of both ginger and galanga, and while it is most familiar to us as a bright yellow powder that gives mustard its color, it is in its unprocessed state a fairly flavorful, brilliant orange rhizome.
And I had never seen it offered fresh before, and thus, I had to know what it tasted like. Into the basket it went.
The mushroom section was nothing less than a temple to edible fungus–the number and kinds of fresh mushrooms on offer as above what I had seen even in places in California. It was amazing. But, bowing to the fact that Zak doesn't really like mushrooms and barely tolerates the ones I put into the food as it is, I walked past the mushrooms, and was stopped by one source of the funky smell: a giant display of wheels of cheese, and cut wedges.
Of course, I picked up a wedge and took a deep sniff of it, and was rewarded with a good snootful of nutty cheesy aroma. I couldn't help but admire a store in the US that kept cheese at room temperature, so that its full aromatic bouquet was released–most Americans are terrified of mold and and bacteria and don't want to hear about the fact that without certain sorts of mold and bacteria, cheese would not exist.
I looked at the placard that declamed the type of cheese and saw it was "Parrano," and was reading about its origin in Holland, when a very tall, somewhat bear-like shaggy gentleman came up with his shopping cart and said, "That is a fantastic cheese. It tastes like parmesan, but is smooth and soft like gouda. If you go into the cheese department, they will give you a taste of it."
I looked up and smiled, and nodded, then stuck it in my cart. "You sold me on it."
He blushed and then blinked. "Oh," he added, looking down at his clothes. "I work here–I'm not just some random weird guy trying to get you to eat cheese." He blushed, and grinned back at me. "I forgot that I wasn't in uniform."
I smiled at him and assured him that I didn't think he had any untoward intention whatsoever (I have never had someone try a cheese-based pickup line, so I was pretty sure he was just a fan of the curd) and I waved him on his way and kept travelling through the giant land of food.
As I wheeled along, the bad odor strengthened until I got hit by a huge wave of fishiness.
Displayed in ice-covered glory about twenty feet away was a giagantic fresh seafood department. I could see piles of thawed squid, red snapper, sea bass, shrimp, tilapia, tuna and salmon, but I stayed firmly put. Finally, holding my breath, I ventured forth to get a closer look.
The fish all -looked- fine, but inhalation was a dangerous thing.
Zak, who grew up in Baltimore and Miami–two havens of seafood–shook his head and turned away.
The website may claim that they have fresh seafood flown in six times a week, but judging from the smell–it cannot be as fresh as they might like. It is certainly not fresh enough to tempt me into trying it; our local Kroger's seafood aisle does not have a bad smell at all–only an oceany fragrance.
I simply refuse to buy seafood in a shop that smells like rotted fish guts. That may attract sharks, but it does not attract me, nor any other shopper who knows diddly about fish.
So, we headed to the olive bar, which offered twenty different kinds of olives.
We came back with manzanilla, pink olives with coriander, oil-cured Moroccan olives, Basque marinated olives, and some wee tiny ripe ones whose name I cannot for the life of me remember, but which taste delightful.
The actual cheese section is right next to the olive and olive oil section (the long row of olive oils prompted manic cries of "EVOO! EVOO!" from Zak who has taken to tormenting me with that particular Rachaelism) and is pretty amazing in the variety of interesting cheeses on display. The folks in the cheese department were all as friendly and helpful as their off-duty comarade; I appreciated that the staff was made up of folks who really love and appreciate food. We picked up several more cheeses, though I was happy to note that most of the prices they had on cheese was comparable to the prices at Curds & Whey, the small cheesemonger at the North Market.
I was rather worried that because Whole Foods can buy in more volume than the small, local cheeseman, that they might hurt his business by offering the same product at lower prices.
Thus far, this does not appear to be the case.
By the time we finished with the cheese aisle, we were tired of looking and shopping. The store was just too big, so we bypassed the packaged foods and staple items, breezed through the chocolate section where we did pick up a few things for gifts, and then sauntered through the prepared food stations.
We stopped and gaped, but we did not buy anything–the prepared food section is huge, absolutely gigantic. It was plain to me where Whole Foods in Columbus expects to make most of their money–in the home meal replacement business. Not only is it huge, but you can sit down and eat what you pick up there, or take it home, as is obviously intended.
There is also a huge bakery department, but the samples of some of the "artisan" breads I tasted lacked character. The crumb of the Italian country bread was nice enough, but it was obvious to me that they did a single or perhaps double fast rise at a warm temperature. There were none of the excellent flavors that develop if slow, cool temperature fermentation of the dough is undertaken as is done in the creation of real artisan breads.
So, we took our olives, cheeses and chocolates to the checkout lanes, and made small talk with the very friendly cashier. I was interested to note that they offer classes at Whole Foods in all sorts of cooking and food related topics, some of them taught by non-staffers. I may end up trying to teach a few classes there, but I may not–it is quite a shlepp.
All in all–it was a pleasant enough, if somewhat surreal experience, shopping in such a gigantic Whole Foods store. But, I have to admit–the fish department was disappointing, and while I liked the cheese section, I can get as good a selection and just as good prices at the North Market. The meat section tempted me not at all, and the bread was beautiful to look at, but nothing special to taste.
I suspect that Whole Foods will do quite well in Columbus, and I wish them well.
For myself, I am sticking with Bob, the Fish Guy, the folks at Bluescreek Farms, Curds & Whey and the Bee Guy at The North Market. Bob's fish never smells of bait, the meat at Bluescreek is not only locally raised and wholesome, but tastes divine and is priced better than the stuff at Whole Foods, and I like the cheeseman and Bee Guy is great for conversation and honey.
As for real artisan bread, we have The Big Chimney Bakery here in Athens. They understand the use of slow rising and make bread to die for.
So, that just leaves the olive bar to attract us back.
And it will. When we are in the neighborhood, we will stop in and stock up on a variety of olives to satiate our taste for the little salty, bittersweet fruits.
14 Comments
RSS feed for comments on this post.
Sorry, the comment form is closed at this time.
Powered by WordPress. Graphics by Zak Kramer.
Design update by Daniel Trout.
Entries and comments feeds.