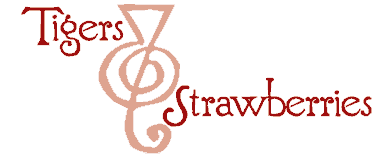 Cook Local, Eat Global
I think that Fuchsia Dunlop's book, Land of Plenty, is probably the single Chinese cookbook from which I have cooked the most recipes. My copy is already dog-eared and stained by the kisses of soy sauce and sesame oil; in the photo to the right you can see that I also have various recipes marked, waiting to still be tried out.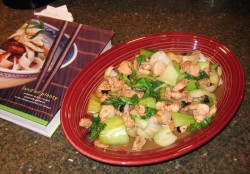 Ever since I saw the three rabbit recipes she included in the book, I have been itching to try them.
And every time I see rabbits at the North Market Poultry and Game stall, I think, "Ooh, I should get one and try one of Fuchsia's recipes," but I end up getting more lamb or perhaps some catfish instead.
Which is very odd, because I really love rabbit. I think that there is nothing finer than rabbit gravy, unless it is squirrel gravy, and some of my favorite dishes in restaurants have involved rabbit braised in some delightful fashion with lots of herbs, caramelized onion and garlic.
Well, for whatever reason, on Saturday, after I picked up the beef tenderloins for our Christmas dinner, I threw caution to the wind and picked up a bunny and decided I was going to cook it sometime this week.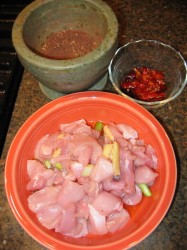 I gave Morganna the option of me cooking a typical European rabbit stew, or one of the Sichuanese preparations.
She didn't even bat an eyelash. She said, "Sichuan bunny sounds fascinating. Let's have that. Can I help cook it?"
Of course she could.
So, I read through the recipes and ended up choosing "Rabbit with Sichuan Pepper" on page 173, though I modified it somewhat, because as most of my readers should know by now, I am nearly constitutionally incapable of simply following a recipe, no matter how wonderful it is.
I just cannot do it.
But before I go into the recipe, let me say a few words about rabbits, and the structure of thier bodies.
There is a reason why most recipes for rabbit involve frying the meat or roasting it, or stewing pieces still on the bone.
That is because removing the bones from a rabbit is tedious, irritating and not terribly simple.
If you eat a braised rabbit dish that appears to have no bones, that is because the critter was cooked until the flesh fell off the bone into delectable little shreds of sweet goodness.
I mean, look, I can bone out a chicken without blinking an eye. I can take a full chicken carcass and reduce it to frying parts and then whip the bones out before most people can open a box of KFC and dig in. I went to culinary school and got good at those things, and so, I am not generally afraid of boning anything.
But you know, I realized something as I fiddled around with the rabbit: mammalian structure is not quite as convenient to removing bones as avian structure is.
And of course, the flesh and tendons in rabbits are a bit different.
We did manage, eventually. Morganna was frustrated enough to consider using her teeth, but that was strictly frowned upon, so she gave up on that idea.
So, if anyone out there decides to do the recipe as Fuchsia writes, "1 1/4 pounds rabbit meat, on or off the bone," make it on the bone. Just hack that sucker apart with a cleaver like I should have done in the first place, and leave the bones in. They'll add flavor, and just warn your family that there are bones so they know not to chip teeth on them.
I swear that is what most Chinese folks would have done.
I changed the cooking directions a bit–I was supposed to deep fry the meat and then drain it and pour almost all of the oil out of the wok, then add the Sichuan peppercorns and dried chiles, then go on to construct a sauce.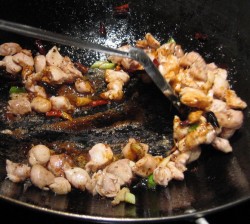 As I noted before–I don't like to do deep fry if I can avoid it. So, I cut the pieces of rabbit into smaller cubes, and stir fried it. It still turned out phenominally well; the slightly gamey flavor of rabbit really stood up to the fire of the chiles and the icy heat of the Sichuan peppercorns.
I also ground the peppercorns, because I don't like the texture of them left whole in sauces. That meant that I used a good bit less of them–only about a teaspoon of the ground, instead of the two tablespoons of the whole that is called for in Fuchsia's recipe.
I also added some Shanghai bok choi at the end, mainly because I was too lazy to cook a second dish tonight! I think it was fine with it, but I should probably try tmaking it without sometime.
And I will make it again, though I think that I will use fewer chiles next time. I used the Tien Tsin chiles from Penzey's and they are really beastly hot. She calls for "a generous handful" of dried Sichuan chiles, but I think that my modest twelve chiles might have been too much. This stove heats the wok so hot that the oil really can penetrate the chile and be infused with its fiery essence.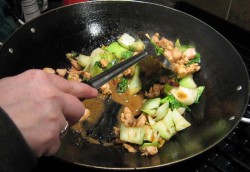 Rabbit with Sichuan Pepper

Ingredients:
1 1/4 pound rabbit meat, deboned if you are crazy like me, and cut into 1/2 inch cubes
3 scallions, white parts only, thickly sliced on the diagonal
1/2″ cube fresh ginger, peeled and smashed with the side of a cleaver
1 tablespoon Shao Hsing wine
1 1/2 teaspoons cornstarch
2 1/2 tablespoons peanut oil
8-12 Tien Tsin dried chiles, snipped in half, with most of the seeds removed
1 teaspoon freshly ground Sichuan peppercorns
2 teaspoons dark soy sauce
1/2 teaspoon raw sugar
2 heads Shanghai bok choi, rinsed, trimmed and cut into 1″ chunks (optional)
1/2 cup chicken broth
1 teaspoon sesame oil
Method:
Toss rabbit meat with the scallions, ginger, wine and cornstarch. Allow to sit and marinate at least thirty minutes, although, I think a couple of hours is better.
Heat wok until it smokes, add peanut oil. Toss in the chiles and ground Sichuan peppercorns, and stir, frying until very fragrant–about thirty seconds (This is one of those times that if you have a vent hood, you really need to use it. The hot chile oil is nothing to play with onces it becomes aerosolized.)
Add the rabbit and the marinade–watch out for splatters from the wine. Spread out into a single layer on the bottom of the wok and allow to brown on the bottom before starting to stir fry–about forty-five seconds to a minute. Then stir fry like mad. When most of the pink is gone, add the soy sauce and sugar, and stir and fry to create a thick sauce. If any of the marinade has begun to stick to the bottom of the wok, use the soy sauce to deglaze.
Add the bok choi, if you are using it and the broth. Stir and fry until the bok choi is crisp-tender, and the sauce has reduced and clings thickly to the meat and greens.
Remove from heat and add the sesame oil and stir it in well before pouring contents of wok into a warmed serving plate.
Serve with -lots- of steamed rice–this is another "cai" which is so spicy it forces you to eat a lot of rice.


Now, if you liked that recipe, I have to tell you there are many more where that came from in Land of Plenty. And if you would like a chance to win a copy of the book, along with an autographed copy of Henry Chung's Hunan Style Chinese Cookbook, (that book is out of print and hard to find, btw) and some Sichuan peppercorns and Tien Tsin chiles, then head on over to A Menu for Hope, and donate five dollars to Unicef to help the folks in Kashmir who have been devestated by the earthquake. If you want a chance to win these goodies, just put in your personal note that you want a chance to win them, and remember–you get a chance for every five dollars you donate! And, if you don't want my goodies–hey, there are plenty of other prizes and gifts for you to check out at Chez Pim.
But of course, you are also quite welcome to just donate some cash to help the people of Kashmir. So far, over $11,000 has been raised by food bloggers through the Menu of Hope campaign, and we have two more days before it ends. I'm really thrilled to see how much love there is among the food-bloggers and our readers–but, of course, I would very much like to see Unicef get as much help as possible, so if you haven't donated–and you can, please do. The people of Kashmir need you.
Thank you all.
15 Comments
RSS feed for comments on this post.
Sorry, the comment form is closed at this time.
Powered by WordPress. Graphics by Zak Kramer.
Design update by Daniel Trout.
Entries and comments feeds.