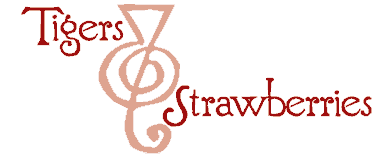 Cook Local, Eat Global
Clare at Eatstuff was all set to have the worst Christmas of her life.
Her beloved cat, Kiri, had slipped out a window at her parent's home, and disappeared.
He was gone for five days and she despaired of ever seeing him again.
However, at 2:30 AM on Christmas morning (Claire and Kiri are in Australia, dontcha know?), she heard something on the back porch, and then heard faint mewing.
And there he was.
So, it turned out to be the best Christmas ever!
In order to celebrate with Claire and Kiri, I am presenting two seasonal photographs.
The first one is of my beloved Grimalkin, underneath our Christmas tree a couple of years ago. It was the last real live tree we had–last year we got a fiber optic tree and it is a temple of tackiness. It is splendid, especially with the hundreds of extra lights Zak loads it down with every year.
But doesn't Grimmy look festive under the tree? She loved sleeping under the real tree, but isn't enamored of the faux one. Lennier, on the other hand, likes to lay under it and gaze up at the blinking multi-colored lights. We think it is because it reminds him of the "mothership." (He is, after all, an alien in a cat suit.)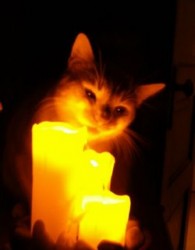 This next picture is not one of our cats; this is a lucky photograph taken by my dear friend Tom, who caught his cat, Rusty, gazing down at the "candles" in his bedside fountain, before taking a sip of water. Considering that this was taken in just the light of the LED candles, it is a great shot and it really is terribly festive and seasonal, so I begged Tom to be allowed to use it on my blog for this weekend's festive catblogging extravaganza.
For more weekend catblogging, go visit Claire and Kiri at Eatstuff. And if you have cats who would like to wish the foodbloggers of the world a Merry Christmas, post them on your blog, and leave your URL in a comment in Claire's blog and she will add your link to her page.
Merry Christmas, one and all. I hope I will be able to do a quick post tomorrow–but with the feast I am cooking, I may not be able to. If not, look for me again, the evening of Boxing Day. (That's December 26th….)
12 Comments
RSS feed for comments on this post.
Sorry, the comment form is closed at this time.
Powered by WordPress. Graphics by Zak Kramer.
Design update by Daniel Trout.
Entries and comments feeds.