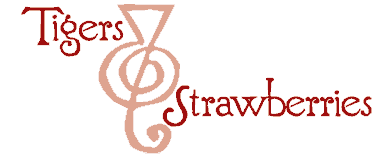 Cook Local, Eat Global
We went back to Whole Foods in Columbus today, as we drove in to take Heather knife shopping at Sur la Table, where she can test drive the knives and I get a great discount.
And since we were in town, why not take Heather and Dan to Whole Foods.
The first thing I noticed when we walked in was that the ass-fragrance was no longer a force which slammed into the patrons' nostrils at the door.
In fact, there was the pleasant smell of citrus from the produce section and flowers from the floral department.
Even after I put a pound and a half of fresh turmeric root in my cart and headed toward the fish section, I was not assaulted by odiferousness.
However, once I got up to the fish counter, and leaned in to take a look, the heavy smell of fish once again got to me. It was bad enough that I will not buy fish from them, but at least the smell is confined to within a few feet of the fish counter.
That is much, much better.
I also discovered something while we were there.
See–before we went there, we went to the North Market, and I saw Meyer lemons. Oh, how I love me some Meyer lemons. Their floral fragrance, the sweet yet sour juice, the medicinal tang of the peel–oh, I adore them. And I saw them at the produce place at the North Market, but then I saw the price and nearly keeled over dead, right there in front of them, between the pomegranates and the quinces.
$6.99 a pound.
You read that right. $6.99.
There was nearly a dead redhead right there, on the floor.
After we had been all through the Whole Foods, and were about to go to the checkout line, I came to my senses and remembered the Meyer lemons, and raced back to the produce section, deftly avoiding the dear little old ladies and the certain death of a yuppie man navagating his cart by the stars while doing day trading on his celphone.
They had Meyer lemons.
At, get this–$1.99 a pound.
I did a little victory dance right there among the citrus fruit. I started singing, "I've got sunshine, on a cloudy day," while I ripped open a plastic bag and began piling those beautiful dandelion-yellow fruits, full of juice and sweetness, into it.
I ended up with nearly three pounds of those little beauties, much to the amusement of the day-trading yuppie.
Then, I dashed back towards the cart, and nearly plowed into my cheese-department friend from our first visit, who as recognized by my compatriots who had only read his description in the blog. I apologized profusely, told him he had lovely taste in cheese, and continued onward, finally safely depositing my precious cargo into the cart without mishap.
The moral of this story is–corporate businesses sometimes do have an advantage over local businesses, and sometimes the consumer wins.
Oh, and then we went on to Sur la Table, and with the last of my Generic Winter Holiday money, I bought a knife I did not need, but lusted over anyway.
As I told Zak, I would rather have a knife than beautiful clothes.
The other moral to this story is this: if you love a woman, you give her BTU's and steel.
I am a very beloved woman.
8 Comments
RSS feed for comments on this post.
Sorry, the comment form is closed at this time.
Powered by WordPress. Graphics by Zak Kramer.
Design update by Daniel Trout.
Entries and comments feeds.